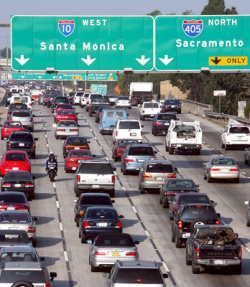 Before I moved to Los Angeles, I lived in Manhattan, where all I needed were my two feet, taxi fare or a metro card to get around. Then, I moved out to this traffic jam city and have been trying new ways to get to and from work ever since. I don't even have that bad of a commute ,as my office is only 9.2 miles away, but it still takes me anywhere between 45 minutes to an hour. I have found a few tricks here and there, but I'm not an expert, so I'm calling upon those who are. Maybe they can help us navigate LA better and hopefully save us a few minutes of our lives outside of our cars.
According to traffic information provider INRIX, the worst travel hour in Los Angeles is on Thursday's from 5 to 6 p.m. and not Fridays, which is nationally the worst day to commute. Also, if you can help it, avoid the Hollywood Freeway going Southbound approaching Vermont Ave., which INRIX found in their National Traffic Scorecard Report to be the city's nastiest bottleneck.
"I don't think there is anything typical any more for Los Angeles freeways. What once was called rush hour, turned into rush hours, then that morphed into basically one long, non-stop, never ending rush to stop or so it seems," says Kajon Cermak, Board Operator & Traffic Queen for All Things Considered on local NPR member station KCRW.
For the afternoon and evening commute, below are Kajon's tips on some shortcuts, preferred routes and secrets for driving in Los Angeles:
Pacific Coast Highway is better than the 405, although there is slowing especially between The McClure tunnel and Chautauqua going North. With on again off again to Topanga Canyon, it can then be wide-open going through Malibu.
On the West Side, Sepulveda Boulevard parallels and is clear more often than the 405.
Going downtown from Santa Monica, the East bound 10 is always a mess for the evening commute. On a good day, speeds are hovering between 30 and 35 mph, but on particularly bad days Venice Blvd. is a good alternative.
In Hollywood, you can shave off a few minutes by trying Franklin Avenue instead of Sunset, or Hollywood Boulevard.
Take Malibu Canyon/Las Virgenes to Pacific Coast Highway to avoid the 101 & 405 freeways
Laurel or Coldwater Canyon between the Valley to the West Side to avoid the 405, always stop and go but beautiful scenery
In Orange County, take the 73 to avoid the south 5
Surface streets on the West Side, use 23rd Street/Walgrove vs. Lincoln Blvd.
You can also keep track of Caltrans and local road construction in order to plan an alternate route on KCRW's traffic site www.kcrw.com/traffic.
KTLA Traffic Reporter and native Angelino Ginger Chan says L.A. traffic is a tough nut to crack and that she uses seven different sources to help gather the most accurate and updated information for her viewers.
As a result, Ginger also shared some recommendations on how to avoid being parked on local freeways:
Avoid traffic by taking the streets. "I prefer to be moving than sitting so I will take streets like Washington instead of the 10 E between the 110 and the 5... If the 110 is a solid ride, I like Figueroa going S and Broadway going N," says Ginger.
If traveling E into the San Gabriel Valley from Downtown L.A. and carpooling, then the 10 would be a better bet than the 60, because there's a carpool lane.
Be aware of crashes, construction, and sigalerts, so you can take an alternate route and sometimes that means a different freeway, multiple freeways, or the streets.
For drivers who can do it, the best way to avoid traffic is to take public transportation, especially when going to games or other big events.
For quick traffic news flashes you can also follow Ginger on Twitter @ktlagingerchan
Worst case, there's always the advice of late Hollywood actress Bette Davis, who said on Johnny Carson's show, "Take Fountain!" - a minor east-west street, between and parallel to Sunset Blvd and Santa Monica Blvd, two very tourist-congested arteries. My husband also swears by this street.
What are some shortcuts and LA traffic tips that you swear by?
Popular in the Community