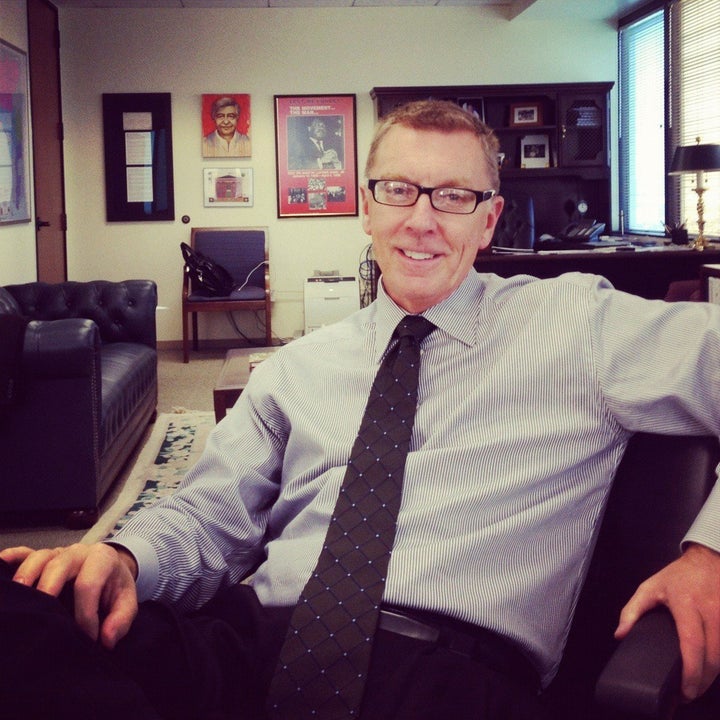 The largest school district in California and the second largest in the nation, LAUSD, delivered a memorable civics lesson to the children of Thomas Starr King Middle School by granting the students' public request for a ban on food trays made of polystyrene (commonly referred to by the DOW Chemical patented name Styrofoam). The students took collective action to request a ban on polystyrene food trays after they learned during a class trip to a Los Angeles recycling center that food contaminated polystyrene does not get recycled; instead it goes straight to the dump. When the students saved their lunch trays from just one day and hung them from a campus tree, they were amazed to see how much nonrecyclable waste they were contributing with the trays. Then they wrote to their local leaders and the school district asking for a ban on the polystyrene trays.
The students discovered that research and writing are powerful tools of democracy when Superintendent John Deasy granted their request. Deasy cited two powerful reasons for granting the students' requested ban on polystyrene food trays: (1) the environmental impact of the non-biodegradable polystyrene on neighborhoods, rivers and beaches; and (2) the health and safety of the children. The U.S. Department of Health and Human Services categorized Sytrene as a "reasonably anticipated human carcinogen" in 2011. The 2011 USDHHS document cites several studies showing that Americans are dosed with styrene literally from our first taste of mother's milk. Mothers release styrene and other chemicals stored in their bodies through their breast milk. Primary exposure to styrene comes from food and drink contaminated with styrene that has leached from polystyrene containers. Humans store styrene in our adipose tissue (fat).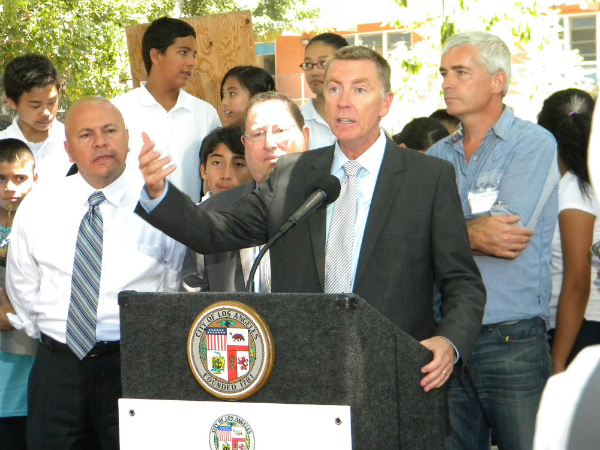 LAUSD Superintendent John Deasy; Photo by Kymberly Calvert
Deasy said, "We don't want to take the chance of our students eating off products made with Styrene. Furthermore, we want to be custodians of not only doing right by the students, but by doing right by the planet they will inherit."
The LA Unified ban takes on added significance in the next few days as state legislators vote on a bill to ban polystyrene food containers statewide (Senate Bill 568-- Lowenthal is now facing a floor vote in the California Assembly.) 65 California cities and counties have already banned polystyrene food containers and SB 568 would expand the ban statewide.
President of the Thomas Starr King Parent Association, Tomas O'Grady, is hopeful about the outcome of the state legislation. Holding up a certificate of appreciation for their civic action sent to the Thomas Starr King students by Assemblyman Mike Gatto, O'Grady said:
"We know our local Assemblyman Mike Gatto will support the statewide ban on Styrofoam food containers. And we urge the other Assemblymembers to follow the lead of the students, to follow the lead of 65 cities and counties that have already banned foam food containers and have not in the least bit affected business. It's the right, responsible thing to do for a healthy environment."
Calling all HuffPost superfans!
Sign up for membership to become a founding member and help shape HuffPost's next chapter