It is truly incredible what can be achieved when a neighborhood unites.
Though one would never guess by looking at it today, the site of Chicago's newest city park was a contaminated eyesore not long ago. This turnaround has everything to do with local citizens working together for something better, say community leaders in the Little Village neighborhood, where the park is located.
"It feels good to get to this point and see the impact on the neighborhood," Antonio Lopez -- executive director for the Little Village Environmental Justice Organization, a group that campaigned to make the park a reality -- told The Huffington Post. "We're just a few days in and to see the community members out there and see the look on their face after we got to this point is really amazing."
(Story continues below.)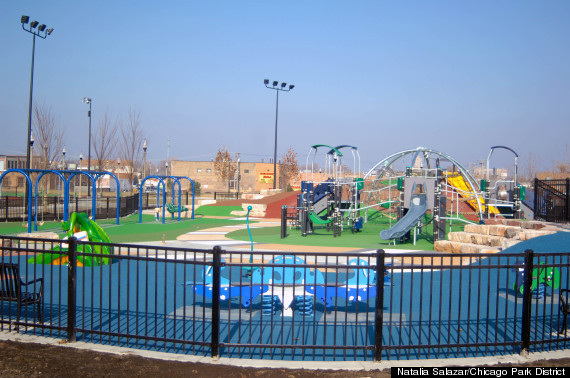 La Villita Park, as it has been unofficially dubbed until the City Council signs off on the name in January, opened Dec. 14.
The 22-acre La Villita Park, which officially opened Dec. 14, was built on a site formerly used by a company called Celotex (which is now owned by Honeywell) to make, store and sell asphalt roofing products. As far back as 1989, the Illinois Environmental Protection Agency was alerted to pollution deriving from coal tar that was present on the property. The area was eventually designated a federal Superfund site after it was determined that cancer-linked polynuclear aromatic hydrocarbons had been identified in soil on the site, as well as in surface soil in some nearby residential yards.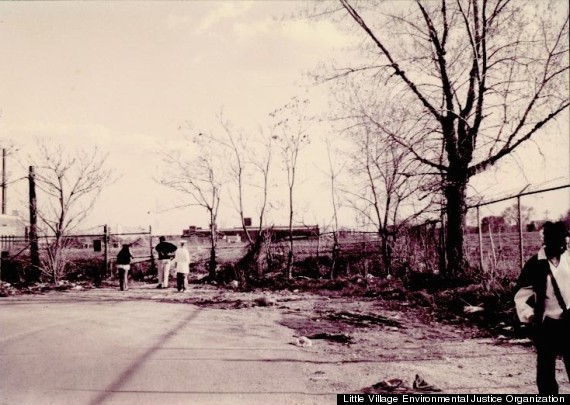 Seen here in 1999 is the site of what is now the La Villita Park on Chicago's southwest side.
The park includes an array of features geared toward neighborhood youth who, until the park's opening, lived in what had been designated by the city as one of Chicago's two neighborhoods most in need of open park space. It boasts artificial turf soccer fields, two basketball courts, a skate park, trails and a large playground. A natural grass baseball and softball field will be opened later.
Its $19 million price tag was split between the city, the Chicago Park District and two state grants.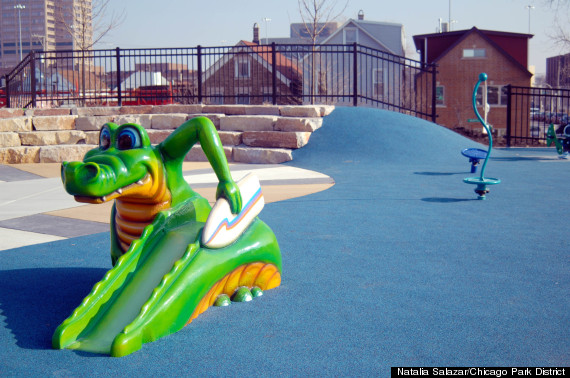 La Villita Park today.
La Villita did not come easily. Neighborhood groups including the Little Village Environmental Justice Organization worked tirelessly for years to draw attention to the contaminated site and demand that it be cleaned up. Prior to the Chicago Park District obtaining the land and starting work on the new park in 2012, a truck-parking business was illegally operating on the site. The business owner fought the city over the park's sale price, while the neighborhood's youth were forced to continue playing in the streets instead of in green space.
Given all the obstacles, the park's opening has been a powerful moment for community organizers.
Lopez told HuffPost that LVEJO's biggest challenge was to make the case that the opening of park space was not simply a matter of community "beautification." He believes the park's impact reaches far beyond that factor.
"It was such a hurdle to demonstrate this as an urgent environmental injustice and a public health nuisance," Lopez said. "These are environmental justice efforts. This is about equitable community development where community members are involved in every process of the planning, design and naming of it."
Though the park is now open and memories of the Celotex blight are already fading, Lopez's group is not stopping there. They plan to take an active role in creating programming to fully take advantage of the new park space and push for the building of a field house, which would allow the park's facilities to be used more during the cold winter months.