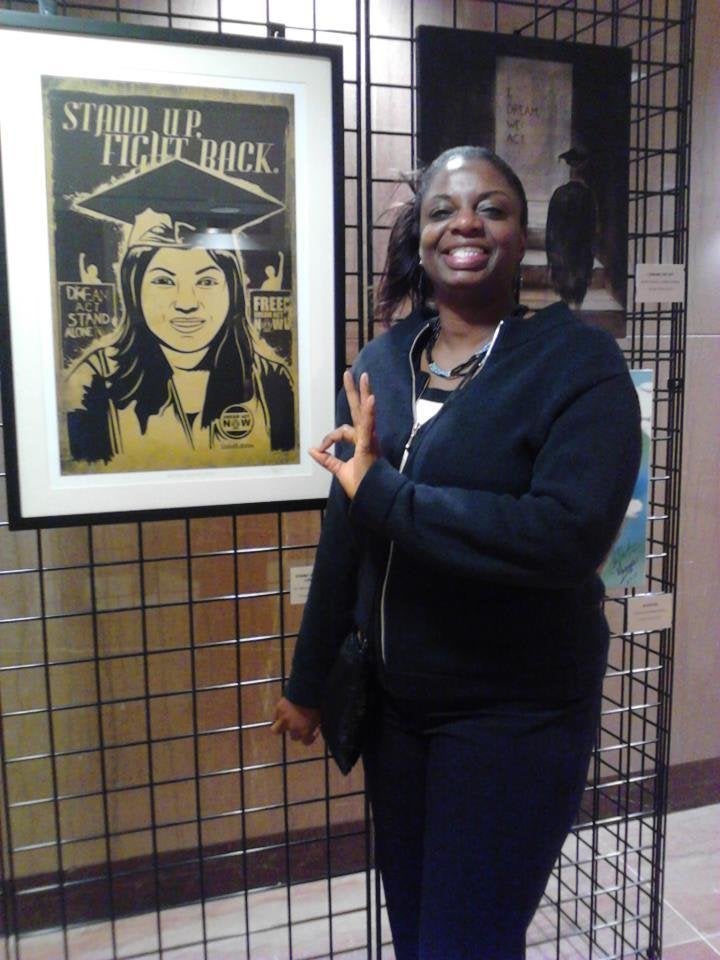 Girshriela Green was unemployed and on welfare when she got a job at Walmart in Crenshaw, Calif. When she started as a part-time sales floor associate, Green told The Huffington Post, she thought the job would be a career opportunity and was optimistic about her future. Her goal was to get off of welfare and be able to support her three daughters on her own.
But after three years on the job in Crenshaw, a low-income neighborhood of Los Angeles, Green's prospects seem to have worsened. After she was sidelined by a serious workplace injury, Green is at home collecting permanent disability benefits. She is still on welfare and struggling to make ends meet.
'A LOT OF PEOPLE WANT YOUR JOB'
Green's starting wage in Jan. 2009 was $8.20 an hour. Walmart categorized her as a part-time employee who didn't work enough hours to qualify for benefits, but she said she actually worked eight to ten hours a day, Monday through Friday, because the store didn't have anyone else to do her job.
In a year, she received only positive evaluations, four promotions and three raises and rose to manager of the health and beauty department, making $9.80 an hour.
However, not long after her last promotion, Green started experiencing pain in her arm. When she reported the injury to her managers, she said they threatened her, saying "a lot of people want your job." Even when she turned in an emergency room doctor's note prescribing light duty, she was put back to her regular tasks, Green said.
Making matters worse, at about the same time, three out of the five associates she oversaw gradually lost hours and were eventually let go. As a result, it became a struggle to finish all of their work, plus all of hers, Green described. She said that she began to work two hours overtime regularly -- for which she was not paid at an overtime rate but only at her regular rate -- and that the pain got so bad that she was essentially working with one arm.
When she told the store manager and co-manager that she needed help, they maintained that none was needed.
On one mid-July evening, Green, according to her estimates, moved at least 100 20- to 80-pound boxes of beauty products from delivery pallets to storage shelves. It was not an unusual shift for her -- neither was the fact that she was working alone and overtime.
The next morning, as she described it, "I went to reach for a box, and my whole left side felt like it all pulled at once. All I could do is scream, and they rushed me out of there." Her assistant manager took her to the company's doctor, who told her that she had injured her left arm and that she wasn't to lift more than 5 to 10 pounds. She went back to work on "light duty restriction," but, because the pain persisted, she was sent home shortly after and put on workers' compensation.
'I CAN BARELY GET MY GIRLS TO SCHOOL'
At first, she was labeled as "temporarily disabled" and received a bimonthly workers comp check of $511. About a month ago, her status was changed to "permanently disabled," which ironically qualified her to go back to work. Green's bimonthly workers comp check was reduced to $460.
"Permanent disability means you can return to work," explained David Goldstein, who has served as a workers' compensation lawyer for 27 years. "Your doctor will either say you have no restrictions at work, X restrictions, XYZ restrictions, etc. At that point, your employer determines if they can accomodate your restrictions. If not, they can let you go."
Green is currently represented by legal counsel, who helped her get another doctor when Walmart's doctor said he would only look at her arm, not other parts of her body that were also in pain, according to Green. Her new doctor found that she had a severe neck injury, and while Walmart has paid for a major surgery that she needed, Green's lawyer is currently trying to get the company to pay for a second surgery she needs on her arm, she said. The lawyer declined to speak with HuffPost or provide documents, citing "attorney client privilege" because the case is still open. Upon her lawyer's advising, Green declined to share specific details of her injury due to the ongoing case.
Because of the severity of Green's injuries, she said her lawyer and doctor have been able to extend her medical leave for longer than Walmart's one-year limit. However, about a month ago, Green started receiving letters threatening her with the loss of employment if she doesn't come back to work, she said. When she calls to follow up, her managers tell her to ignore the letters and wait for them to call her.
Green is suffering from sharp pain and muscle spasms in her neck, lower back and left arm, shoulder and leg -- and from insomnia because of the pain. She suffers from anxiety about money and her employment, and the anxiety makes her muscle spasms and pain worse. "I struggle to pay rent, keep the lights on, keep food in the refrigerator. I can barely get my girls to school. Bus passes, even with a discount, are $25," she said.
Green says that if it wasn't for the monthly $200 she receives in food stamps from the federal government and the monthly $120 she receives in cash aid from LA County, she doesn't know what she would do.
One study by University of California, Berkeley researchers in 2004 found that families of California Walmart employees rely on taxpayer-funded health care about 40 percent more than families of all other large retail employees. The Walmart employees' reliance on welfare costs taxpayers an estimated $86 million annually, $32 million in health care and $54 million in other assistance, the report found.
In response to HuffPost summarizing Green's account of her story to Walmart spokesperson Steven Restivo, Restivo declined to respond to the specifics of Green's story and to the accusation that Walmart employees disproportionately depend on state aid. He also declined to respond to workers' claims that the department store's understaffing leads to unsafe conditions. Instead, he issued the following statement:
With more than 72,000 associates in California, we continue to offer good jobs with competitive wages and benefits as well as opportunities to build a career. As we open new stores here, we will continue developing an engaged workforce by providing all of our associates with opportunities to learn, grow and advance.
Green explained that, as a result of understaffing, all the departments at Walmart stores fall behind. "There's more stuff in the basement than on the shelves because we don't have the manpower. Customers ask us for products they see in the newspaper, and then get angry at us when they're not on the shelves."
She continued, "We blame each other for having to do the work that the shift before us left undone," she explained. "It's a vicious cycle. It's unhealthy and unsafe."
Several current Walmart employees in LA echoed the same sentiment at a rally last week. Angie Rodriguez of the Baldwins Hills store told HuffPost that now, after the store's staff was from cut from 800 to 500 workers, she has to do a job that multiple individuals used to do together. Venanzi Luna and Evelyn Cruz of the Pico Rivera store said that their staff has been cut from about 600 employees in 2005 to less than 300 now.
Luna and Cruz also said that they would never report an injury because they feel Walmart is looking for pretexts to cut back staff even more. Luna recalled the time she cut her finger on the job. Rather than report it, she chose to sew her own stitches from a drug-store kit.
WATCH:Walmart workers can be seen protesting worker safety in the video below.
One glimmer of hope for Green is a labor group conceived by the United Food and Commercial Workers (UFCW) union, called "OUR Walmart." Because Walmart has proven nearly impossible to unionize, UFCW created OUR Walmart to fight for Walmart employees' rights, with unionizing still as an end goal.
"I was feeling broken, really defeated. I thought, 'Wow, I worked so hard, and here I am, back on my couch, hurt,'" Green said, describing her introduction to OUR Walmart. "When the call came, I let my answering machine pick up because I could barely get up. I heard this guy say, 'If you want to see change in your workplace and if your workplace is not safe,' and before he could say his name and number, I picked up." Not long after, she joined the organization.
Green shared what OUR Walmart means to her: "I realized that it wasn't just our store."
"Something needs to change because if our stories of disrespect and disregard are identical nation-wide, then we're not the problem. Walmart is."
In the Crenshaw store alone, Green says OUR Walmart's efforts have gotten three associates their jobs back and improved evaluations.
In late February, Walmart announced that it was bringing California's first Neighborhood Mart, which is one-fifth the size of Walmart superstores, to Chinatown in downtown LA.
About the coming Chinatown Walmart, Green commented, "Opening another Walmart is like a slap in the face. Why would we continue to let them do this when a nation full of people are saying the same thing?" She added, "I just don't understand why city officials are letting them do this."
Walmart says it will pay its approximately 65 future Chinatown employees something close to Walmart's California $12.74 average hourly wage.
Green said she remembered hearing a similar figure when Walmart moved into Crenshaw.
"Next time they sell these dreams, which are actually nightmares, make them put their promises in writing," she said. "Because their word is no good."
Related
Popular in the Community