Billy the elephant, who has been at the LA Zoo for 23 of his 27 years, is overweight, depressed and sexually frustrated, according to a lawsuit put forth by real estate agent Aaron Leider.
The animal rights community is closely watching the long-running lawsuit, which will be heard in court this week and began Monday in downtown Los Angeles, the Daily News reports.
The suit alleges that the LA Zoo exhibit's ground is too hard -- causing Billy to suffer from cracked toes and weary joints -- and the space is too small. Leider said during the trial Monday that Billy is in a heightened state of sexual arousal -- known as musth -- for much of the year and cannot follow his instincts to travel long distances in search of mates. Instead, Billy bobs his head for hours and walks in circles, which some experts say is a sign of emotional turmoil and sexual frustration.
City attorneys, however, dismissed the accusations, saying that the zoo pampers its elephants with a two-story barn with radiant-heated floors, carrot-tossing games, daily "elephant pedicures" and an animal psychiatrist on hand, the Los Angeles Times reports. "If only people were treated so well," Deputy City Atty. John Carvalho said.
Regarding the accusation of sexual frustration, Carvalho brought up the two elephants that joined Billy in Nov. 2012, "He [Billy] can vocalize with Tina and Jewel, he can see Tina and Jewel and he can touch Tina and Jewel."
Leider is calling for the exhibit to close and the elephants to be sent to a sanctuary. However, the defense is pointing to santuaries' shortcomings. Brenda Scott Royce, director of publications for the Greater Los Angeles Zoo Association, who has worked for both zoos and sanctuaries, says that sanctuaries often have to rely on donations and have lower standards for accreditation. She wrote about the LA Zoo in a 2008 blog for The Huffington Post:
Animals at the Los Angeles Zoo lack for nothing. They have five full-time staff veterinarians, leaders in their field, on site not only to care for them in emergencies, but to provide routine preventive care using the latest digital diagnostic equipment. They receive fresh produce daily and their diets are determined by professionals trained in the field of animal nutrition, not dictated by what donations were able to be scrounged up that day.
Much to the chagrin of animal activists, Billy was the only elephant at the LA Zoo from 2007 to 2010. In 2010, despite a strong campaign from animal activists calling for the exhibit to be closed and Billy to be sent to a sanctuary, the LA City Council voted in favor of a $42-million expansion of the elephant exhibit. The new exhibit, The Elephants of Asia, opened in Nov. 2010 and stretches across 3.8 acres that include mud holes, sand, grassy hills, swimming pools and a waterfall. At that time, two female elephants, Tina and Jewel, were transferred to the exhibit from the San Diego Zoo. See all three elephants and the new exhibit in the video above.
Leading up to the controversial City Council vote, several celebrities spoke out on the issue. Actress-singer Cher, retired "Price is Right" host Bob Barker, actor Robert Culp, actress Lily Tomlin and comedian Kevin Nealon all called for the exhibit to close. On the other side, an unlikely duo -- rocker Slash (Guns N' Roses, Velvet Revolver) and "Golden Girl" Betty White -- joined forces to advocate for the new expansion.
Click through photos below of Billy and the LA Zoo's Elephants of Asia exhibit: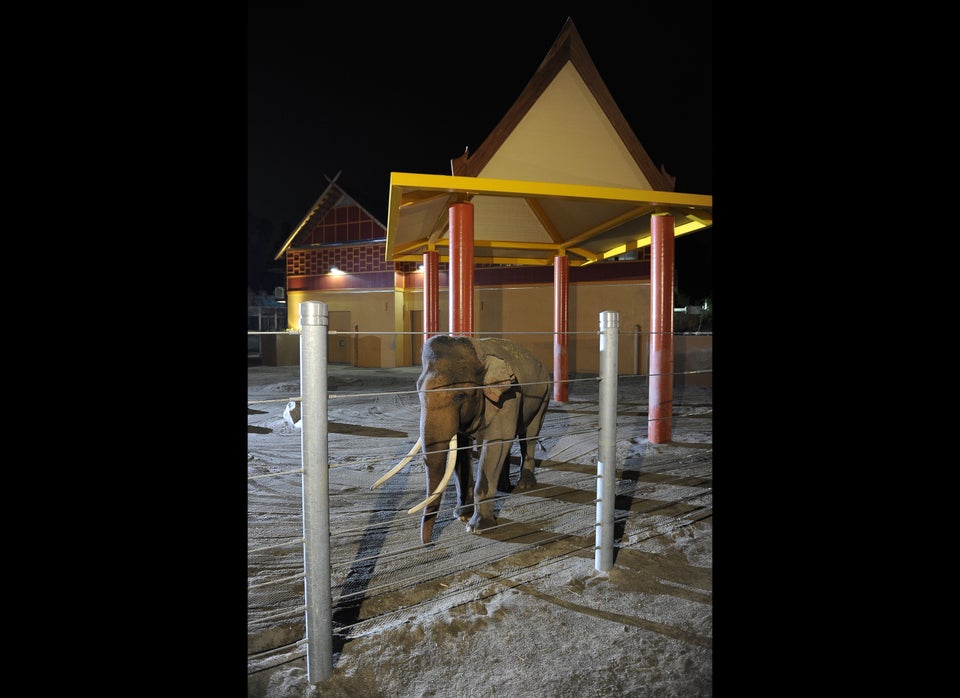 Billy & the LA Zoo's Elephants Of Asia Exhibit
Related
Popular in the Community