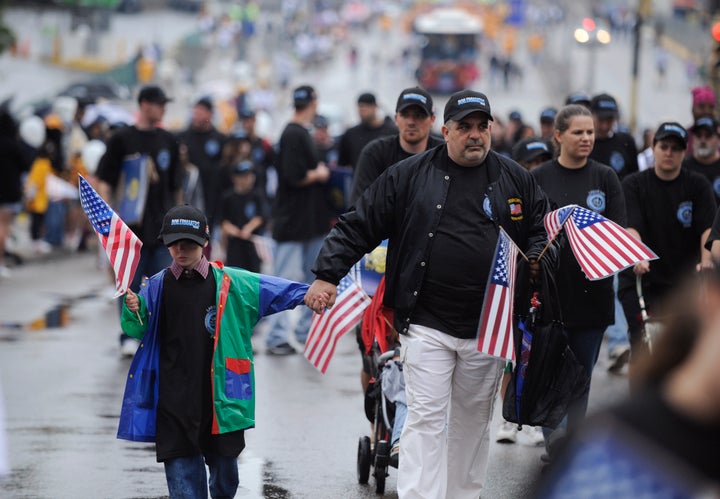 WASHINGTON -- Unions in Pittsburgh are bringing a special focus on jobs and the unemployed to their Labor Day parade this year, dubbing the event a "March for Jobs." Organizers expect more than 70,000 people to march in Monday's event, but they've made clear to politicians perceived to be hostile to the labor movement that they will be turned away.
"This year we are inviting union and non-union, laid-off, unemployed and underemployed workers and their families to march with us on the eve of President Obama's much anticipated announcement of a jobs program aimed at putting America back to work," said Jack Shea, president of the Allegheny County (Pa.) Labor Council.
"We will be marching to show President Obama we are behind all serious efforts to create jobs and encourage him to pull out all the stops by putting the power of the federal government fully behind an aggressive jobs program," Shea added.
Pennsylvania AFL-CIO spokesman Marty Marks said that only friends of the labor movement, regardless of political party, are invited to march in the Pittsburgh Labor Day parade. The local labor council reimburses the city for parade-related expenses.
About six Republican politicians were invited to march this year, along with a larger number of Democratic officials. Invited guests include U.S. Rep. Tim Murphy (R), U.S. Sen. Bob Casey (D) and state Sen. John Pippe (R-Allegheny).
Two prominent GOP politicians who were not invited to march were U.S. Sen. Pat Toomey and Gov. Tom Corbett. When asked what the labor council would do if they said they wished to participate, Marks replied, "We would politely decline their participation."
In fact, the Allegheny County Labor Council has already turned down Joshua Wander, the sole GOP candidate for Pittsburgh City Council. Shea told Wander that the parade was invitation-only and the council had already endorsed his opponent, according to the Pittsburgh Tribune-Review.
"Many candidates do march," Wander told the newspaper. "I not only wanted to walk as a candidate, but I also wanted to walk for the Republican Party."
Marks said that while the Labor Day event always features unemployed workers marching with their affiliated unions, this is the first year there will be a special place for the unemployed in the parade to emphasize the need for job creation.
"We represent workers, not just union workers. The work we do helps all workers, and we don't want these people forgotten," said Marks, addding, "We want to put the focus back where it needs to be. It needs to be on creating jobs, and helping these people we want to feature in our parade because they deserve it. They're working Americans who want to work. America wants to work, Pennsylvania wants to work, and we want people to know it and not forget it."
The Pittsburgh parade kicks off at 10:00 a.m. on Monday, preceded by a press conference with unemployed workers at 9:30 a.m.

Popular in the Community