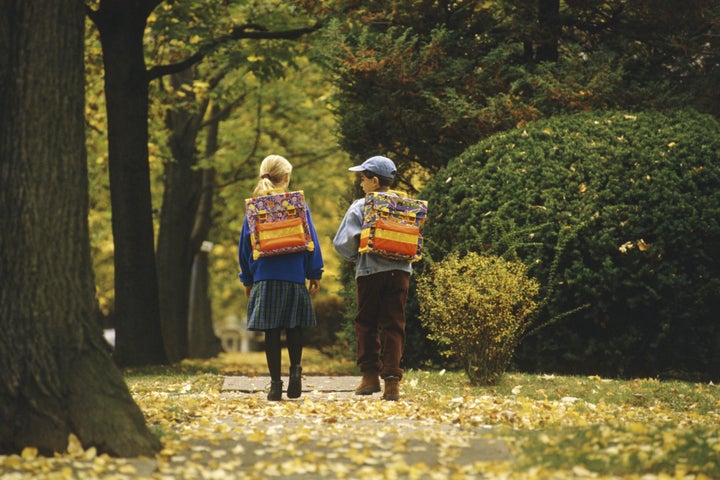 It's that time of year again. Fall is about to be upon us. Many people associate the beginning of fall and the Labor Day weekend with the start of the school year. Blank notebooks, pristine binders, new teachers, new learning. Beginnings.
Most adults don't have annual opportunities to begin again. Our beginnings are punctuated events that can occur any time during the year: a new job, a new living situation, a change in family circumstances (a birth, a death, love lost, love found). Because of the association between fall and new beginnings, I think Labor Day is a better time to think about the changes you want to make in your life -- not New Year's.
So think about making a different kind of "resolution." Not the usual kind of resolution that is ultimately a negative: To lose weight (don't eat as much), to exercise more (don't be a couch potato), to drink less (don't drink as much) and so on. Don't get me wrong, if these kinds of resolutions work for you, more power to you. Be resolute. For most people though, such resolutions are short-lived.
I'm proposing a different kind of resolution -- a Labor Day resolution. To use the end of summer and beginning of fall as a time to take stock of ourselves and the direction of our lives. Rather than thinking of a specific behavior we might want to resolve to change (the typical New Year's resolution), take Labor Day, or the month of September, as an opportunity to think about the coming year and what we want out of it.
For instance: What kind of experiences do you want to have this year? Are there places you've yearned to go (Yosemite, Washington, D.C., Cambodia), settings you've wanted to be in (more rural, more urban), activities you've wanted to try (bungee jumping, making sushi)? Are there particular people you'd like to spend more time with?
What kind of knowledge do you want to acquire? This question is complex, because there are many different kinds of knowledge. In answering this question, you might be interested in knowledge best acquired by taking a class (online or on campus) or reading a book on your subject of interest.
Perhaps you've always wanted to know more about Shakespeare's plays or about psychology. Or perhaps the kind of knowledge you'd like to acquire is skill-based. You want to learn how to code in HTML, or learn to cook (or become a better cook). Or maybe you want to learn about gardening or cabinet-making, or learn to play the guitar -- for real, not with Guitar Hero.
In what ways can, or should, you challenge yourself this year? How can you "stretch" yourself to do something you usually wouldn't do, perhaps out of fear or possible embarrassment?
Once you have an idea of the kinds of Labor Day resolution(s) you'd like to make, the important next step is to prioritize your list of ideas. Figure out which one to tackle first, perhaps because it's the one you're most motivated by (learn to play guitar so you can serenade your lover or child), or the one that seems easiest to do something about (watch a YouTube video on how to make sushi).
After you've decided what idea to focus your energies on, figure out what you need to do to make that idea a reality. Should you sign up for a course? Yes, if putting money down will increase your motivation and follow through. If money down won't help you follow through, perhaps you can take a free online no-credit course on the Internet that you watch at your leisure. What about that sushi-making video? Maybe you should put a half-hour time slot in your calendar to trolling for a video that fits your needs.
You might find that the new experiences, knowledge or challenges aren't all that you thought they'd be. They fall short. They disappoint. That doesn't mean it was a mistake to try. Au contraire! If you don't try, you can't know whether it's your cup of tea.
It's only through trying that you can figure out whether the guitar is really the right instrument for you. Or maybe, in the process, you discover that you're not as interested in learning to play an instrument as you thought. Alternatively, you might find it's the perfect instrument for you. In either case, you've learned something about yourself and tried something new. That's great.
Use Labor Day as an opportunity to think about your coming "academic" year: what experiences you want for yourself, and how to make them happen. Unlike students, our "school year" is not set up for us -- we must set it up ourselves.
Robin S. Rosenberg, Ph.D., ABPP is a clinical psychologist in private practice in Stanford, Calif. Rosenberg specializes in treating people with eating disorders, depression and anxiety. She often writes about the psychology of superheroes and has co-authored several psychology textbooks, including "Abnormal Psychology" and "Introducing Psychology: Brain, Person, Group." To find out more about Dr. Rosenberg and her work, read her Psychology Today blog and visit her on Red Room. For Dr. Rosenberg's brief, easy-to-read guide Improving Your Relationships with Your Body, click here.