Unions are important, but their visibility isn't as high as it used to be. Sure, we brought you the weekend. But as Labor Day comes and goes, signaling the end of summer, a business onslaught as people get back from their vacations, and the beginning of shorter days, there's more to that final summer day of rest than a barbecue. Beyond the weekend -- what are labor unions doing for us now?
A bit of history might help shift this into perspective.

Before there were unions, workers labored 12-16 hours a day, six to seven days a week. Now -- it's 40 hours a week in most of the industrialized world, thanks to unions who took to the streets as far back as the mid-1800s. That movement grew to demands for weekends off for church, family and leisure activities. Compressed work-week schedules have been led by union leaders, as a way of offering flexibility and balance for workers.
The fight, however, is far from over. Now in the forefront of many conversations is the importance of a living wage.
The first federal minimum wage, established in 1938, was just 25 cents an hour; before that employers could legally pay as little as they could get away with, helping create the economic conditions that led to the Great Depression.
Just as the labor movement battled employers for minimum wage then, the fight continues today. Now, minimum wage is a meager $7.25 on average. Adjusted for inflation, it should be nearly $22 per hour. Americans now face the greatest stratification of wealth since the Gilded Age, with the top 10 percent wealthiest possessing 80 percent of all financial assets. On top of that, we work longer hours, with fewer vacations, and retire later than our European counterparts.
Although you may not belong to a union -- you will certainly benefit from what they fight for.
If we continue down a scenario of removing middle class jobs, and replacing them with minimum wages ones, it might look like a scene from The Hunger Games or other dire dystopian movie.
But wait, it's not: lower-wage occupations constituted 21% of recession losses, but 58 percent of recovery growth.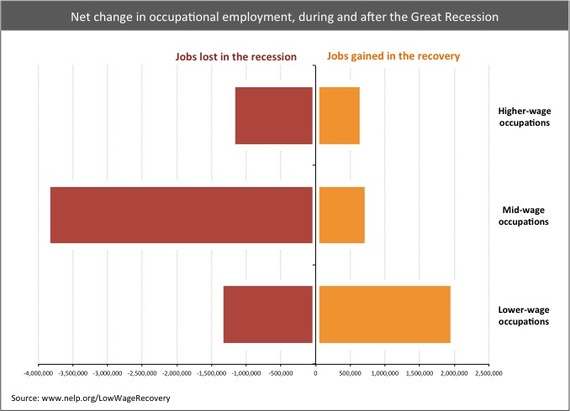 (See full graphs here.)
It has been shown that the compounding effect of making low wages, in addition to student debt loans, may create a hole that none of our 20-something friends can dig out of.
According to the Bureau of Labor Statistics data, full-time middle-aged earners made a median $898 per week in the first quarter of 2014 while those between 25 and 34 made just $727.
Without solid wages, savings, or the traditional pensions that unions still fight for, the future might look like this:
Roving caravans of senior citizens now follow seasonal labor opportunities in the western deserts of the United States. In the twilight of their years, dwindling pensions have made them victims to financial insecurity, congregating in such great numbers -- over 50,000 in 2011 -- which they get special rates for the season to park and live in their 16-foot RVs in what have been dubbed "Amazon Towns."
That's already real.

Our kids no longer work in the mines and many go to college (though don't get me started on the heavy weight of college debt that burdens these young workers). But unions are starting to work with new forms of organizations, like OUR Walmart or Working America, that are new takes on an old refrain -- workers rights. Despite a frozen federal minimum wage, cities and states across the country are raising the local minimum wages under pressure from local activists and the labor movement. And though many of us still feel chained to our desks, unions surely should be thanked for the weekend, for medical leave, and for their efforts ending child labor.

Issues that required union solidarity at the turn of the twentieth century have been replaced by new struggles in the 21st.

As former Labor Secretary and political economist Robert Reich, who champions a $15 an hour minimum wage, says: "Unionization is not just good for workers in unions, unionization is very, very important for the economy overall, and would create broad benefits for the United States."
This Labor Day, let's not only celebrate the triumphs of the labor movement's past, but focus on the fact the problems in labor haven't been solved, they've only changed form -- and could make for an eerie future.
Popular in the Community