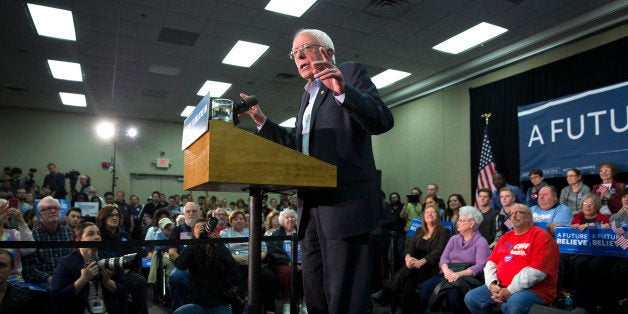 This week, on my fifth trip to Iowa in recent months, once again I have been stunned by the increasing excitement of working women and men as they volunteer in droves and discuss Bernie in workplaces, union halls and communities. This excitement cuts across unions and includes workers at the sandwich shop and hotel clerks. Six months ago writers stereotyped Bernie's support as affluent and middle class. Seeing workers in call centers, smelters at Alcoa, John Deere skilled trades, or just ordering at the sandwich shop the support is contagious and nearly universal.
In these last days in Davenport, volunteers streamed into the campaign office by the river, excited to report on activity at their local union regardless of endorsements by the national union for Clinton or Bernie or none at all. The office and count y campaign is run by Hannah, a kindergarten teacher who took a year off from a job she loves in New Orleans. Her mother is a nurse in Ohio who volunteered for two weeks with the same grit and commitment. The office was filled with postal workers and city workers, technicians and factory workers enjoying the excitement, hugging each other and so eager for their next assignment. By Friday night they were driving in by the dozens from as far as Ohio and Tennessee so excited to help, assuming they would find a floor to sleep on if not a shower, heading out to hang door knockers for Bernie or jump on the phones.
Davenport and the quad cities have been decimated by decades of bad trade deals and opposition to the latest, Trans Pacific Partnership, is nearly universal. So many here understand what too many electeds do not--whether you are directly impacted or not by job loss or lower pay, the community suffers as housing prices plummet, real estate taxes drop, public services get overwhelmed and fewer tax dollars to pay for those services.
Thursday night I visited UAW local 434 in East Moline, nearly 100 political activists who work at John Deere. Production at the plant is down to 1500 but spirits soaring as these active members discussed their own version of the political revolution from state legislative races to the White House. Democracy in action as they signed up to volunteer for Bernie on Sunday whether they lived in Illinois or across the river in Iowa. Many signed up to host the volunteers with beds or floor space.
Friday afternoon I was in the Steelworkers local 105 hall in Bettendorf. Local President Brad Greve had printed up his own personal endorsement to distribute to the members. "Bernie understands the need to take our country back from the corporate big dogs and make it work for us the hard working average citizens."
Today optimism and hope rule in Quad Cities. Even the local newspaper has endorsed Bernie. Friday night 1500 jammed a ballroom that holds half that number to hear Bernie say it once more, "Enough is Enough." Bernie started his Iowa campaign in Davenport last June. Friday night he was introduced by a college student, who works delivering sandwiches for Jimmy Johns. His student debt is mounting much faster than his $7 an hour wage can offset. Yet I had met him at the campaign office and admired his energy and commitment as a top volunteer while working and going to school. The audience stood in silence as he told his story recognizing in him themselves or their children and yet remembering a time when tuition at public colleges was free or at least cheap enough that a part time job would cover it.
Then Bernie spoke -- 55 years older than that young worker, but jamming together like they were in the same band. This is the magic of this campaign and it's clear that working class Iowa is standing up and fighting back!
Popular in the Community