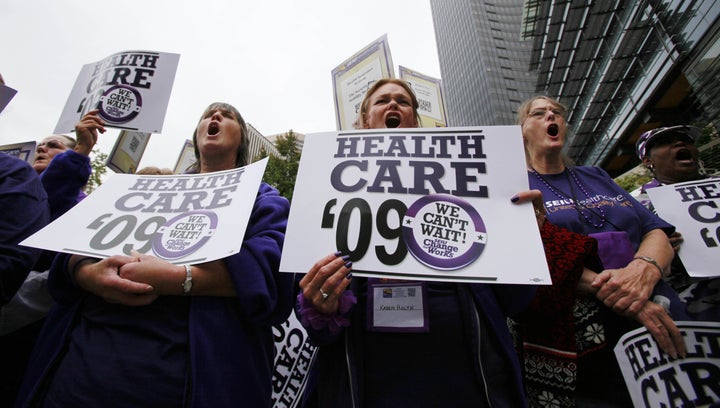 One of the nation's most powerful union leaders warned conservative Democratic senators on Thursday that there would be a "price to pay" if they voted to sustain a Republican filibuster on health care legislation.
Andy Stern, president of the Service Employees International Union, said he could "honor all the Nelsons" in the Senate "whether Ben [of Nebraska] or Bill [of Florida]" if they chose to ultimately oppose a reform bill on philosophical grounds. "What I don't find acceptable," Stern told the Huffington Post, "is that we are going to use procedure to stop discussion."
There are 60 senators caucusing as Democrats, and that should mean something, Stern said. "If the Democrats have told people like ourselves, supporters for a long time, 'Just give us 60 votes. Give us the money, give us 60 votes and we will show you what we can do.' Well, it's show time," said Stern. It takes 60 votes to overcome a filibuster.
"The Democrats could close the door in the Senate and take a vote right there," he said. "The question really for them, which is much bigger than health care, is are they going to shoot themselves in the foot on bill after bill by allowing individual senators to all the sudden become king or queen for the day?"
Speaking in the halls of The Atlantic's First Draft of History conference, Stern predicted that a health care reform bill would make it to the president's desk before Thanksgiving. And when asked about recent reports that the SEIU would be willing to drop demands for a government-run insurance option -- provided that there were other means of reducing costs and expanding coverage -- he stressed that the union remained "fully committed" to the public plan.
"We just can't understand why it now can't happen," he said.
The SEIU chief also accused Republicans of trying to run out the clock on the reform debate -- a strategy that he described as more than just cynical politics. "They have no health care plan and they are letting people continue to suffer," he said.
"I think what Rep. [Alan] Grayson is right about is that the Republicans have no plan," Stern said, referring to the Florida Democrat who said earlier this week that the GOP approach to health care would result in more Americans dying.
"And while they have no plan, people are suffering and people are dying. That is an issue and they should be held accountable. And the insurance companies are even worse because people have been paying for their health care can't get it when they need it and then they suffer and die."
Popular in the Community