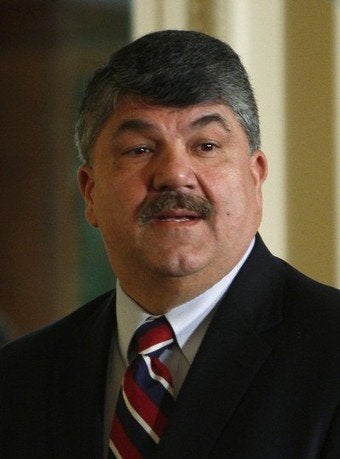 Labor leaders are not yet ready to commit to supporting comprehensive health care reform legislation despite meeting with the president to discuss their concerns with aspects of health care legislation.
Union leaders, who are fighting a proposal to tax high-end health care plans (which would hit many union and non-union workers), have been working closely with House Democratic leadership to fight the provision and are slated to go to the Hill to talk strategy soon. (Updated Below)
House Speaker Nancy Pelosi (D-Cali.), along with Rep. Joe Courtney (D-Conn.), have both stressed their opposition to the so-called Cadillac Tax, on both policy and political grounds. In its place, they want to finance reform by issuing a tax on the wealthy -- a provision that labor supports.
But the deck seems stacked against them -- both the Senate and the White House are committed to including the excise tax in the final health care bill, citing the benefit it has in reeling in health care costs. In an hour-long meeting on Monday, the president did his best to present the benefits of the proposal in an effort to alleviate some of labor's concerns.
Details of the White House meeting are scant, with union sources staying uncharacteristically mum. But sources tell the Huffington Post that Obama re-affirmed his support of the excise tax while also signaling that he would try and find ways to dull its affect on working families. Several compromises were broached, including the possibility of raising the tax threshold from family health care plans valued at $23,000 to those valued at $25,000.
Whether this is enough of a concession to win labor's support, which seems unlikely, or at least mollify their opposition remains to be seen. But, at this juncture, the impasse over the excise tax seems quite vast -- to the point where it is no longer unreasonable to wonder if it could trip up the broader reform effort.
House leadership is increasingly convinced that enacting a Cadillac tax will prove disastrous for the party in the 2010 elections. In addition to forcing a portion of their constituencies to pay more in health care costs (or purchase less favorable coverage), lawmakers who spent 2008 campaigning against this excise tax will have to explain to voters why they reversed course. On Monday, AFL-CIO President Richard Trumka made the point abundantly clear when he raised the specter of massive electoral losses if health care reform, as authored by the Senate, is passed.
"It could well be" a recipe for disaster in 2010, Trumka told a group of reporters. "I just came back from southern California. I was in five or six places out there... it is amazing the number of people that come up to you unsolicited and say, 'I'm really worried about this health care bill.'"
UPDATE: A meeting between Trumka, other labor leaders, and Pelosi could take place as early as today, the Huffington Post has learned.
Popular in the Community