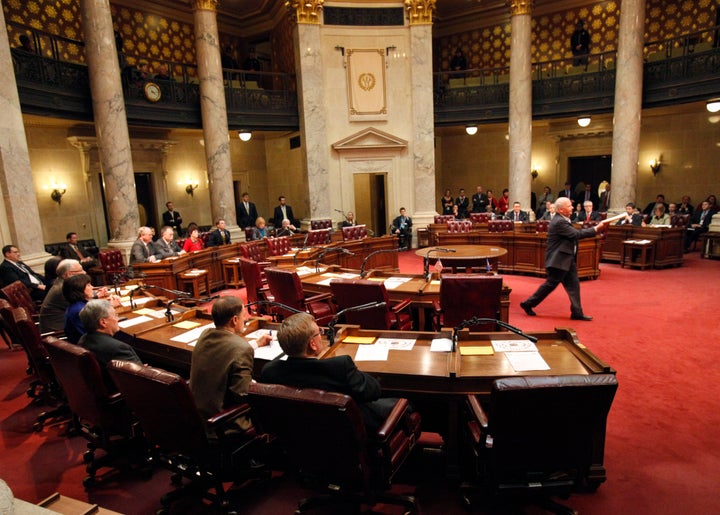 WASHINGTON -- Dealt a major setback Wednesday night in a high-stakes battle over union rights in Wisconsin, labor leaders nevertheless insisted that they would emerge from the three-week long saga energized and eager to continue fighting.
Hours after Gov. Scott Walker (R-Wis.) and his Republican allies in the state Senate took nearly everyone by surprise and pushed through a stand-alone bill stripping public employees of their collective bargaining rights, labor officials pledged to ramp up efforts to recall Republicans and challenge the legislation in court.
Only shortly before the vote took place, local news outlets reported that Republicans were splitting Walker's budget repair bill into two. While the Senate requires a quorum of 3/5 of its members to vote on fiscal statutes, just a majority is needed for other matters. Therefore, Senate Republicans broke off the most controversial portions -- including a proposal to strip away the collective bargaining rights of public employees -- into a separate piece of legislation that could be passed without Senate Democrats, who were still out of state.
Labor officials quickly lambasted Republicans, calling what they did the "nuclear option." Last month, Senate Majority Leader Scott Fitzgerald (R) had said he would not pass any portions of the budget repair bill without Democrats' participation.
"Senate Republicans have exercised the nuclear option to ram through their bill attacking Wisconsin's working families in the dark of night," said Wisconsin AFL-CIO President Phil Neuenfeldt in a statement. "Walker and the Republicans acted in violation of state open meetings laws, and tonight's events have demonstrated they will do or say anything to pass their extreme agenda that attacks Wisconsin's working families."
Neuenfeldt's comment that the GOP may have violated state laws hints at a possible court challenge should the legislation be passed by both legislative chambers and signed by the governor. Later in his statement, Neuenfeldt also said that what Republicans did "is beyond reprehensible and possibly criminal."
A clearer indication came from Madison Teachers Inc. (MTI), the union representing public school teachers in the city.
"Given the abhorrent and illegal action taken by the Senate tonight, MTI has received many calls as to whether those represented by MTI will be at work tomorrow, but rather engage in political action," read a statement from MTI Executive Director John Matthews. "MTI advises those it represents to report to work tomorrow. The Senate's improper and illegal action will be challenged in court."
One refrain in labor leaders' reactions on Wednesday was that Walker has been lying to the public. For weeks, the governor and Republicans have been insisting that removing collective bargaining rights is all about fiscal issues -- a necessary step to fix the state's economic condition. But by passing it without Democrats, unions are saying this shows that Walker has been disingenuous all along.
"Tonight, Scott Walker made it crystal clear to the people of Wisconsin -- and the entire nation -- the extent he will go to in order to pay back billionaires such as the Koch Brothers and bad actor corporations that want to destroy the middle class," said SEIU International President Mary Kay Henry. "This legislative gimmick proves Walker's attack on the middle class was never about balancing the budget; it was always about stripping workers of a voice and rewarding the cronies who helped finance his campaign."
While there was some initial chatter (and even some protesters chanting) about the possibility of a general strike -- a large-scale strike by all workers in particular industries -- labor officials say it is not in the works at all. Union leaders for both Madison and Milwaukee Public Schools teachers, as well as the Wisconsin Education Association Council, also put out a statement urging its members to go to work rather than the statehouse to protest on Thursday.
One area labor will be focusing on is stepping up efforts to recall Republican senators. Only one Republican, Dale Schultz, voted against the bill on Wednesday. A moderate who previously proposed a compromise, Schultz may therefore now find himself spared from Democrats' recall efforts. Eight Republican senators are currently eligible to be recalled, and Walker will find himself in a similar situation next year -- once he has been in office for a year.
The SEIU quickly put up a website listing rallies scheduled for Thursday all over Wisconsin. A labor official also said there will be a national mobilization day on April 4, the day that Martin Luther King, Jr. -- who was active in the labor movement -- was assassinated, and people will be encouraged to show their solidarity nationwide. The official said that the event was planned before Wednesday's vote.
Rose Ann DeMoro, executive director of National Nurses United, said there was still a possibility that Walker would retreat from this bill at the last minute and instead ask for draconian cuts that in comparison, don't seem as bad -- but really are. "It's positioning and bargaining," said DeMoro in an interview with The Huffington Post.
UPDATE: Statement from Gerald McEntee, president of the American Federation of State, County and Municipal Employees (AFSCME):

At a time when we should be pulling together to create jobs, Governor Walker and the legislators who back him are more interested in stripping nurses, teachers, correction officers, bus drivers and EMTs of their rights. This is a question of right and wrong. The governor is tearing Wisconsin apart when voters want real solutions to the problems they face.

This is about more than Scott Walker's arrogance. He is tossing aside basic American values. Public workers fought long and hard for the right to collective bargaining. Martin Luther King, Jr. died defending that right for AFSCME sanitation workers in Memphis. We are not going to allow a small group of radical politicians in Wisconsin destroy what Americans have fought generations to win.
UPDATE: Statement from Schultz, the lone vote against the bill:
As someone who as spent the better part of the last four weeks working toward and hoping for a compromise, this is a difficult night.

I've had the honor and privilege of representing folks in Southwest and South Central Wisconsin for 28 years, and where I come from 'compromise' isn't a dirty word.

I've received tens of thousands of emails, thousands of phone calls and letters, and spent hours meeting with thousands of citizens in my district. I've heard personal and heartfelt stories of friends and neighbors, and they ask for just two things.

First, be inclusive by listening and working with your colleagues on both sides of the aisle to reach a compromise which addresses our fiscal crisis. Second, public employees are willing to make sacrifices on things like wages and benefits, but we need to preserve collective bargaining as a tool which has helped keep labor peace in this state for decades.

Ultimately, I voted my conscience which I feel reflects the core beliefs of the majority of voters who sent me here to represent them.

I look forward to working with my colleagues in the days ahead as we now need to join together to work through what promises to be a difficult budget.
UPDATE: Watch video from Wisconsin Eye of Wednesday night's committee and Senate vote:
ActBlue Director of Communications Adrian Arroyo told The Huffington Post that in the three hours after the bill passed on Wednesday, more than 11,000 donors contributed to Wisconsin Democrats.
UPDATE: During a speech on Wednesday, Wisconsin's Secretary of Agriculture, Trade and Consumer Protection referred to the protests in the Capitol as a "holocaust in a horror story." Speaking about the freshmen legislators in Wisconsin, Secretary Ben Brancel said, "They came to town with a lot of ideas and a lot of concepts they could really work on and then they got stuck in the middle of a holocaust in a horror story that was going on in town...as far as people using the building all night long and some shenanigans."
After his remarks, Brancel told a reporter that holocaust was "a bad word." "It should have been total confusion in the Capitol," he said. "It was not an appropriate word to use in the context of which I used it, and I better go back to English school."
UPDATE: Statement by Randi Weingarten, president of the American Federation of Teachers:
Wisconsin Gov. Scott Walker and state Senate Republicans last night trampled the democratic process and blatantly disregarded the public will.


In an apparent violation of the state's open meeting laws, the Republican state senators have revealed themselves as people who will say or do anything, and use any tactic necessary, to pass their extreme agenda that attacks working families who are already struggling. Their actions are both reprehensible and cowardly.

In stripping teachers, nurses and other hard-working public employees of their right to bargain collectively and their voice in the workplace, Walker has shredded 50 years of labor peace, bipartisanship and democratic process.

Walker and the Republicans rammed through a bill that is nothing more than a political payback to their deep-pocketed friends. None of the provisions that attacked workers' rights had anything to do with balancing the budget. In fact, public employees had already agreed to sharp cuts in wages and benefits.

The principled stand by the state's Democratic senators gave Wisconsinites the time and opportunity to see Walker's true intentions. This fight is only beginning. Walker is losing badly in the court of public opinion. We will work with Wisconsinites to pursue legal channels to fight this unconscionable attack on working families, and to continue the recall effort against those who rammed it through.
Popular in the Community