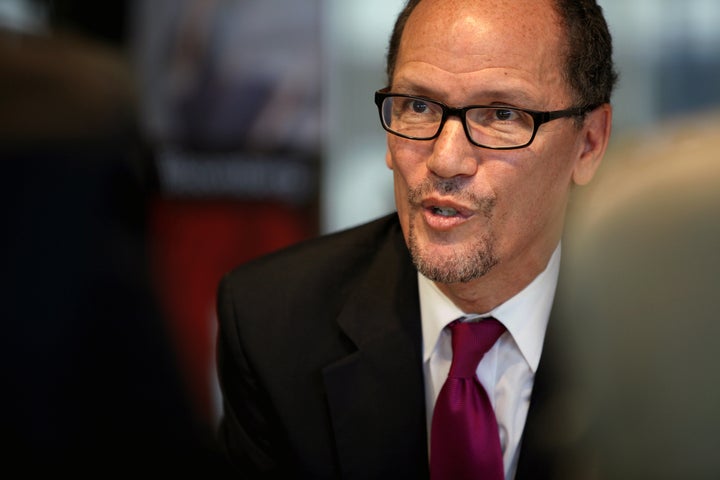 WASHINGTON -- Fast-food workers who are hoping to raise the minimum wage will find an ally in the Obama White House this week, with Labor Secretary Tom Perez traveling to Detroit on Tuesday to show his solidarity with the so-called Fight for $15.
"I'm proud to stand with the Fight for 15 movement," Perez told The Huffington Post. "And it really is a movement. It's for shared prosperity."
The union-backed Fight for $15 and its allies have roiled the service sector with intermittent strikes over the past three years, demanding a $15 wage floor and union recognition. The sight of large-scale protests has helped spur vast increases in the minimum wage in cities and states around the country, most recently in New York, where the state's wage board moved to set a $15 minimum for fast-food workers.
Perez' support of the workers shouldn't be read as an endorsement of a federal $15 wage floor -- the White House and Labor Department instead back a $12 proposal recently put forth by Congressional Democrats -- but the labor secretary said he views the Fight for $15 as a model for how workers can boost wages by banding together.
"People are increasingly understanding that they're taking it on the chin at work," Perez said. "If you battle your boss alone, it's a heck of a lot harder to succeed. But when you work in concert with fellow workers not just in your workplace but across sectors, that's how you succeed."
Perez plans to meet with Detroit workers from various fast-food chains as well as officials from the local branch of the AFL-CIO labor federation on Tuesday. Labor unions, and in particular the Service Employees International Union, have been instrumental in the fast-food strikes and local wage campaigns, pumping money and organizational support into them.
President Barack Obama has occasionally made a point of acknowledging the recent successes of fast-food workers in his economic speeches, but Perez' trip to Detroit may be the White House's clearest endorsement yet of the Fight for $15 campaign. The labor secretary's trip dovetails with a summit the White House will host in October around the concept of "worker voice," where officials plan to highlight the value of collective action in the workplace, including including ways that don't formally include labor unions and contracts.
That would presumably include the Fight for $15. Although backed by unions, the campaign so far has not unionized any fast-food restaurants. Instead, its success has come most explicitly through legislatures and the ballot box. While a $15 minimum wage seemed practically inconceivable not long ago, it is fast becoming the law in liberal cities such as Seattle and Los Angeles. Many states have rushed to pass more modest but still significant raises, with a majority of states now having a higher minimum wage than the federal level of $7.25.
With a federal minimum wage hike blocked by Republicans, the White House has been trying to encourage cities and states to raise the wage floor on their own in lieu of congressional action. Perez said he believes the $15 measures in large cities have been "very appropriate," though he added that local jurisdictions should know what's proper for their own economies.
"I believe the folks in those areas are in the best position to know what's best for their communities," he said. "I think we need a federal floor that gets people above the poverty line, but we also need actions elsewhere."
He added that the doomsday predictions about higher minimum wages haven't come to pass, pointing to Seattle, which he visited as the city enacted its $15 measure. By most accounts, the service industry is learning to live with the city's rising wage floor.
"I didn't see restaurants closing down," Perez said. "If the critics are correct, I should have brought a bag lunch."
Popular in the Community