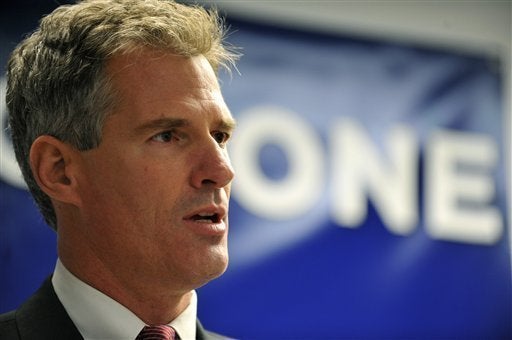 The labor community is fuming over the expedited plan to seat Senator-elect Scott Brown (R-Mass) this Thursday afternoon, arguing that Democratic leadership is torpedoing one of its most important causes -- the nomination of Craig Becker to the National Labor Relations Board.
On Wednesday, Brown shocked political observers by announcing that he was asking Massachusetts Gov. Deval Patrick to sign his election certification papers and that he would present those papers to Senate Majority Leader Harry Reid (D-Nev) the next day. The offices of Patrick and Reid, both Democrats, insist they have little institutional power to delay Brown's seating, even though the Massachusetts Republican initially pegged February 11th as his start date.
But the recriminations over granting Brown an early start date are already flying. Becker's nomination to join the NLRB was supposed to be considered while Democrats still had 60 votes. Party leadership had planned to hold a confirmation vote this week, multiple sources tell the Huffington Post.
But a series of delays, engineered primarily by Sen. John McCain (R-Ari.), pushed consideration back. And as things stand now, a full Senate vote on Becker will not take place before Brown is granted a vote -- leaving the nomination either completely dead or in deep peril.
"Democrats were outmaneuvered yet again," emailed a labor source who was granted anonymity to speak freely. "I'm used to us caving, but they didn't even [try to delay Brown's seating]. They just hit the mat.
"I love how we cave to the Republicans and won't seat our Senator, [Al] Franken. Then we reverse cave and seat their senator. I mean forget the analogy of one is playing checkers and the other playing chess. It's like one is playing chess while the other is sitting there picking their nose."
Leadership aides insist that, in this case, their hands are largely tied. "Once we get his certificate, we expect to swear him in tomorrow afternoon as early as 5 o'clock, which is earlier than he suggested," Reid's spokesman, Jim Manley, told The Hill.
"If we get the paperwork, then we are going to seat him," another Democratic staffer told the Huffington Post. "That was our commitment all along and that is what we are going to do... If they come to us with the certification papers there is very little we can do."
But the way the Becker nomination now seems poised to play out seems, at once, incredibly grueling for the nominee himself and a re-affirmation that, tactically, Republicans remain light years ahead of their Democratic counterparts.
An associate general counsel for the Service Employees International Union since 1990 and previously counsel for the AFL-CIO, Becker was targeted immediately by GOP lawmakers for being too sympathetic to labor for a post at the NLRB. The White House urged unions not to launch a public campaign around his appointment, arguing that it would pass Congress via an "inside game," a source working on the process told the Huffington Post.
The strategy nearly worked. Becker was approved by the Senate HELP committee last fall by a 15-8 vote. But he was sent back to the president at the end of the 2009 session after McCain put a hold on the nomination.
Even though Becker had to go through committee once more, things looked promising entering the new Congress. But almost immediately, the shenanigans began. McCain demanded a hearing on the nomination and his request was granted by committee chairman Tom Harkin (D-Iowa). It was the first time a hearing was held on a nominee to serve as a regular member of the board since 1980.
Still, things were on track. Becker endured questioning on Tuesday and was scheduled to have a second committee vote on Thursday (that vote is still scheduled for 10 a.m.). Once he passed, cloture was to be filed immediately, after which a 30-hour window would pass to debate the nominee. The Senate, then, would vote in full.
With Brown not set to be seated until February 11, the window seemed open to getting Becker through. With the senator-elect now being seated on Thursday afternoon, no such window exists.
For Becker and his supporters, the one glimmer of hope to getting his nomination through rests in convincing a moderate Republican senator to vote in favor of confirmation. Sen. Michael Enzi (R-Wyo), the ranking member on the committee, actually voted for Becker during the first go-around. But that was because the nomination was part of a larger package of NLRB appointments. Sen. Lisa Murkowski (R-Alaska), likewise, supported Becker during the first HELP committee vote. Since then, however, the U.S. Chamber of Commerce has elevated the confirmation into a major litmus test for GOP lawmakers. And the betting money, at least among labor sources, is that there will be united Republican opposition once Becker comes to the floor.
"If Republicans have proven anything, it's that they are far more organized and shrewd in terms of a confirmation process than Democrats," the labor source said.
Popular in the Community