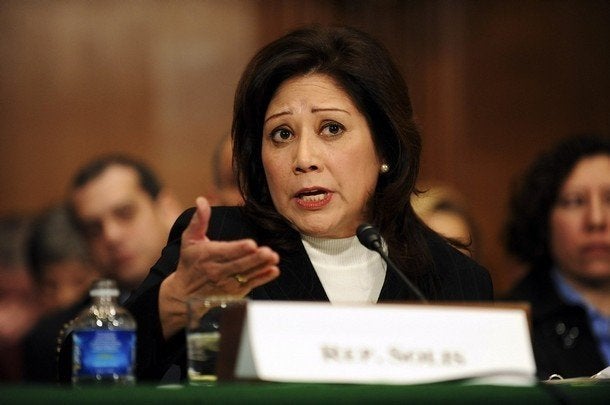 The country's largest labor and Hispanic groups are ratcheting up the confirmation fight over Labor Secretary nominee Hilda Solis, preparing a full-out political and media blitz to get the California Democrat approved and into the Obama cabinet.
"Enough is enough, the gloves are coming off on Friday," said one official with the AFL-CIO, outraged over the delays. "Labor, women's groups, Hispanic groups are opening fire. We worked with Republicans in good faith. Hilda Solis has answered all their questions but they continue to oppose her for partisan ideological reasons."
With Solis's nomination stalled again on Thursday after revelations that her husband had just settled $6,400 in tax leins against his business, unions are no longer willing to hold their breath for the sake of fewer dramatics.
"Our full efforts are being mobilized to fight back," the union official said. "Earned media and field campaign to generate calls, letters, and emails coming tomorrow. Depending on how things move paid media will be added on top of these efforts."
Implicit in the new tone -- as well as the coordinated effort -- is the notion that the White House, too, is fed up with the feet-dragging and has signaled to its supporters that when it comes to Solis' nomination it is time to fully engage.
Sen. Mike Enzi, the ranking Republican on the Health Education Labor and Pensions Committee, insisted on Thursday that committee members needed more time to "review the documentation submitted in support of Representative Solis's nomination." But those complaints, labor leaders insist, are part of a broader agenda to derail or damage the passage of the Employee Free Choice Act.
Previous to her husband's tax gaffe, Solis withstood criticism from Republicans who insisted that her work at American Rights at Work, a union ally, was tantamount to being a lobbyist for EFCA. That this would be grounds for slowing her nomination seemed overtly partisan. But such is the politics that Employee Free Choice engenders. Now, however, it seems things are going to grow even more heated.
Popular in the Community