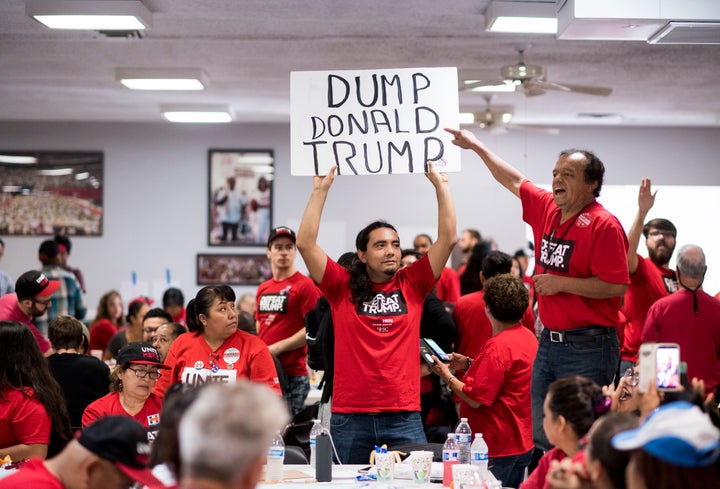 WASHINGTON ― This election cycle, the political influence of labor unions seems greater than ever. Just consider the following numbers. The AFL-CIO union federation contributed $14.6 million to super PACs. The National Education Association has donated $18.1 million and spent an additional $1.4 million. And the Service Employees International Union has donated $19 million.
Those are eye-popping sums. As the Wall Street Journal recently reported, organized labor on the whole has spent more money on this election ― steering its cash overwhelmingly to Democratic candidates ― than ever before. Overall, labor unions have donated more than $132 million to super PACs and spent an additional $35 million on federal elections.
There's just one catch. Although they represent millions of dues-paying members, the most powerful unions are nonetheless being outspent by the country's richest individuals, from both sides of the aisle.
The top five donors to super PACs in the 2016 election are all billionaires or, at least, worth nine figures. There's the environmentalist former hedge fund manager Tom Steyer. He has donated $66.2 million to NextGen Climate Action, his super PAC supporting Democratic candidates who back action to counter climate change. Republican casino billionaire Sheldon Adelson and his wife have donated $52.9 million. S. Donald Sussman, the Democratic hedge fund billionaire, has given $37.2 million to an array of super PACs. Newsweb Corporation chairman Fred Eychaner has supported Democrats with $32.1 million in super PAC donations. Facebook billionaire Dustin Moskovitz and his wife, Cari Tuna, have donated $22 million to super PACs supporting Democrats.
These donors combined to give more than $210 million ― more than all reported election spending by labor unions. In total, super PAC donations by rich people giving more than $500,000 topped $757 million by Oct. 19. That's nearly six times the amount donated by labor.
Citizens United and other court cases have opened the door to unlimited spending by businesses and unions through super PACs, ushering in a golden age of money in politics. But even though unions can now pour unprecedented cash into candidates and causes, they have portrayed themselves as reluctant players in the post-Citizens United world.
And indeed they should be, judging from how they stack up with the richest individual donors. Unions may collectively be able to outspend someone like Sheldon Adelson, but no single union could go toe-to-toe with him.
"It's so overshadowed by corporations and billionaire money. The labor stuff is pathetic in comparison," said Larry Cohen, who was the longtime president of the Communications Workers of America union. "The billionaires are realizing this is a great return on their investments. They actually make money off theirs. For labor unions... they will never match the money."
Labor unions now have 14.8 million members in the U.S., according to the Bureau of Labor Statistics. The rate of union membership in the private sector is 6.7 percent, hovering near an all-time low; in the 1950s, nearly a third of U.S. workers were unionized. As Cohen noted, much of the political energy and money spent by unions now goes to playing defense ― warding off Republican-led attacks on collective bargaining that further erode union density.
In some cases, labor unions have worked with super PAC mega-donors where their priorities overlap. For instance, the super PAC For Our Future pools money from labor unions with contributions from both Moskovitz and Steyer to get out Democratic voters in support of presidential nominee Hillary Clinton and Senate candidates Catherine Cortez Masto (D-Nev.), Deborah Ross (D-N.C.), Russ Feingold (D-Wis.) and Katie McGinty (D-Pa.).
For Our Future has deployed an army of door-knockers in presidential and Senate battleground states. Its latest get out the vote update, posted to its web site (likely to facilitate information sharing with campaigns and other outside groups), shows volunteers and paid staff had made 5 million door knocks as of Oct. 21.
Not all labor unions share the same goals as Democratic billionaires like Steyer, who want to enact more environmental regulations and block the construction of oil and gas pipelines. The Laborers International Union of North America and other building trades unions support the construction of the Keystone XL pipeline. But for the most part, these unions have still put their money into super PACs supporting Democrats.
The only deviation are their contributions to Defending Main Street SuperPAC, a group working to elect non-tea party Republicans to the House. This super PAC is funded by LIUNA and the carpenters and operating engineers unions.
Although many of them share GOP nominee Donald Trump's antipathy toward trade deals like the Trans-Pacific Partnership, unions have not contributed to super PAC's supporting the Republican nominee for president.
Organized labor has found plenty to dislike about Trump. The candidate has said he supports right-to-work laws, which are anathema to unions, and he's currently fighting a union organizing drive at his Las Vegas hotel. The National Labor Relations Board ruled just last week that Trump's hotel was breaking the law by refusing to bargain with the Culinary Workers Union, which won an election there last year.
Popular in the Community