 PHILADELPHIA -- Tens of thousands of labor movement supporters came together in Philadelphia Saturday for a rally meant to demonstrate the movement's political clout ahead of the party conventions and the presidential election.
At the Workers Stand for America rally, organized by the AFL-CIO, unions laid out what they deemed a "Second Bill of Rights" -- a set of demands that the nation's largest labor federation plans to use to try and influence the conversation during the electoral season. The group also said it would try to pressure politicians into supporting its ideas in exchange for endorsements.
Harkening back to the "Economic Bill of Rights" outlined by Franklin Roosevelt in a 1944 speech, the Second Bill of Rights calls for a right to full employment, a living wage, participation in the electoral process, the right to organize and collectively bargain, the right to a quality education and the right to decent social services.
"We'll be asking all elected officials, all Americans, to sign their name in support of those values and make it the guidepost of national economic and social policy going forward. This is not primarily about electoral politics," Ed Hill, president of the International Brotherhood of Electrical Workers (IBEW), told the crowd. "Today, we create a roar of protest over the status quo and a clear demand for a new day."
The rally included a cross-section of the American labor movement -- public employees, teachers, construction workers, electrical workers and workers in the telecommunications industries were all in attendance. Some attendees spoke about their frustration with the state of the economy and the way politicians have held unions responsible for it.
"We're tired of being taken advantage of," Joe Colucci, a native of Western Pennsylvania and business manager for the Ironworkers Local 36, told The Huffington Post. "We're bad guys because we want a pension, health care for our workers -- we're bad people because we want that? ... The one-percenters don't want us to have benefits but they want them for their families."
Saturday's rally took place under the shadow of recent tension between unions and the Democratic Party. Unions said they are frustrated that the Democrats are holding their convention in right-to-work North Carolina. The AFL-CIO said it will not contribute as many resources to this year's convention as it has in years past.
Labor's monetary contributions to the Democratic National Convention have been scaled back, and while unions typically sponsor events at the DNC, they have yet to do so this year.
AFL-CIO President Richard Trumka told The Huffington Post that Saturday's rally was part of a larger effort to build a political structure independent of Democrats.
"It's us exercising our voice for an economy that works for everybody, and ... [we are] inviting people to come and join -- politicians of both stripes," Trumka said. "This isn't about the Democratic Party or the Republican Party. This is about working people, about what's best for the country and creating an economy that works for everyone."
The general tone of the rally stood in contrast to the last major national rally that unions helped organize, the 2010 One Nation Working Together rally on the National Mall. That rally, held just over a month after Glenn Beck's Restoring Honor rally on the same space, was an effort to energize liberal voters ahead of the mid-term elections that year.
Speakers on Saturday didn't outright outright criticize the Democratic Party -- both the union leadership and the rank-and-file members in attendance showed a clear preference for Democrats. Republican National Committee chairman Reince Priebus was invited, according to Trumka, but did not attend. Prominent Democrats such as Sen. Bob Casey (D-Pa.) and Democratic National Committee chair Rep. Debbie Wasserman Schultz (D-Fla.) delivered speeches. President Barack Obama appeared in a pre-taped video message, which was received with loud applause.
Jim Underwood, a member of IBEW Local 666 who traveled to the rally from Richmond, Va., said he hoped it would "ignite something." When asked if he was excited about voting in November, he illustrated the dilemma that many union members have when it comes to filling out their ballots.
"I mean, I don't have but one choice, and that's Obama," he said. "Mitt Romney wants to shut us down."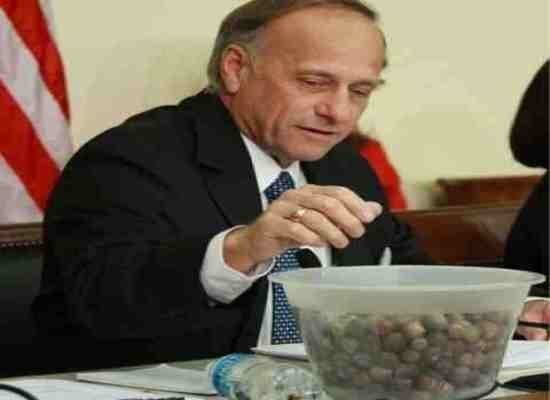 More Crazy Examples of Congressional Theatrics
Popular in the Community