Legendary pop star Britney Spears once dedicated a song to lace and leather, and it's no wonder - the trend of combining sweet and sexy has been popular for years, perhaps even centuries. It's not only apparent in our popular music and in fashion trends, but even in our food, with sweet and spicy mixtures in an assortment of international and local dishes.
But we're talking underwear here - what makes lace and leather perfect for men's kink underwear? The combination of the dark and sexy materials with masculine energy make the look the perfect addition to any guy's wardrobe - even if he is especially conservative. The material begs to be touched, so it is a great look to explore if you want to give your partner a special treat in the bedroom.
Shot by Jerrad Matthew, Exclusively for The Underwear Expert, the lace and leather looks for our "Kink" photoshoot are darkly erotic.
While lace underwear may seem too feminine for some, the Gregg Homme Blacklace Brief (featured in the shoot), begs to differ - it still comes across as decidedly masculine.
If you prefer a style that is absolutely, without a doubt, 100% "manly," try out the Male Power leather bodysuits for your kink experience - they come with studs and straps, and you'll feel every bit the stud in them.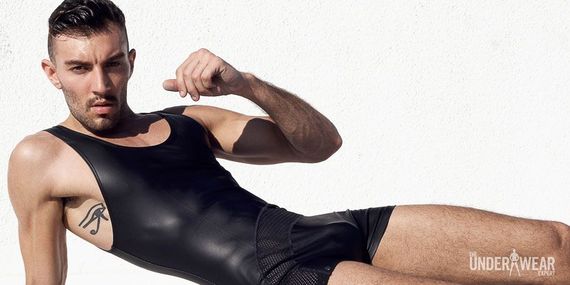 Popular in the Community