College basketball fans across the country fell for the story of an uncommon friendship between a hoops star and one of his biggest fans: 6'10" Adreian Payne, a senior on the Michigan State Spartans, and a little girl in a long blonde wig who went by the nickname "Princess Lacey."
Lacey Holsworth, age 8, of St. Johns, Mich., died early Wednesday morning, according to media reports. Her battle with a rare form of cancer led her to Payne, with whom she formed an achingly close bond that an earlier HuffPost article declared "will fill your heart with March gladness."
Her official Instagram account shared this photo around 3 a.m. Wednesday, along with the accompanying caption: "Princess Lacey has achieved the ultimate victory. She now dances among angels.... The world is a better place because you were in it. Our hearts are broken. We love you Doll. Dance all night... Mommy and Daddy, Will, Mitchell, and Luke #LoveLikeLacey."
The friendship between Payne and Lacey wasn't just unusual, it was unlikely. Many expected Payne to leave Michigan State University for the NBA after his junior year. But Payne, who had been diagnosed as cognitively disabled as a child in Dayton, Ohio, wanted to finish his coursework in sociology and become the first person from his family to earn a college degree.
Two years ago, during a team-sponsored hospital visit, he met Lacey, who had been diagnosed with neuroblastoma, an aggressive cancer that invades the nerve tissue. The little girl had a football-sized tumor surrounding her kidney and another tumor wrapped around her spine when she was diagnosed in 2011. For several months, the cancer paralyzed her. By all accounts, she was drawn to Payne from the beginning. Adreian Payne, left, meets with Lacey Holsworth, 7, and her family at the Breslin Center in East Lansing, March 15, 2013. His improved play has been impressive and yet it pales in comparison to his off-the-court story since he has befriended a 7-year-old girl during her bout with cancer. (AP Photo/Larry Lage)
Despite his life as a popular Michigan State basketball player and student, Payne visited Lacey in the hospital several times, and they began texting every day. When the Spartans competed in the Elite Eight this year, Lacey was there. When Payne competed during the NCAA slam dunk contest, Lacey sat in the stands. And when Payne was able to pick anyone in the world to accompany him on the floor for Senior Day this year, he chose Lacey.
"There's days where the smiles don't come as easily. When he can walk in the room and you can see her light up like that, it means everything," her mother, Heather Holsworth, said in a segment filmed by the Big Ten Network (scroll down to watch).
"She's like a sister to me," Payne said.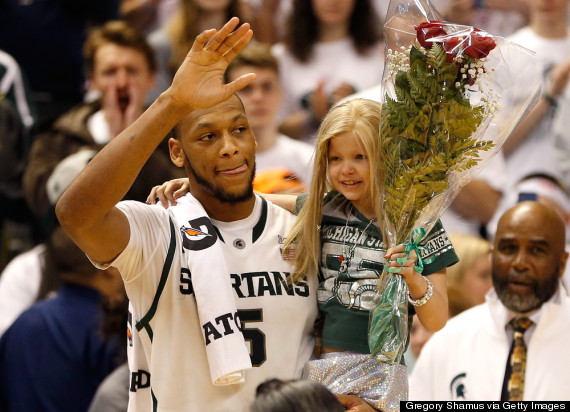 Adreian Payne #5 of the Michigan State Spartans walks on the floor for Senior night with Lacey Holsworth, a 8-year-old from St. Johns Michigan who is battling cancer, after defeating the Iowa Hawkeyes 86-76 at the Jack T. Breslin Student Events Center on February 6, 2014 in East Lansing, Michigan. (Photo by Gregory Shamus/Getty Images)
Despite injuring his ankle and missing seven games this season, Payne was twice named Big Ten Player of the Week and named to the Big Ten All-Star Second Team at the conclusion of the 2013-2014 season. While the Spartans didn't make it to the Final Four, Payne helped the team win the Big Ten Championship and was instrumental in leading the squad to the Elite Eight. Michigan State coach Tom Izzo told the Lansing State Journal Payne is first among his players who have developed the most as players and people. He'll also walk at graduation in May.
"I'm going to be sad that he's leaving, proud of him as a player and even prouder of him as a person," Izzo said in the video. Adreian Payne, left, cuts the net with Lacey Holsworth, who is battling cancer and has become close to Payne, after Michigan State defeated Michigan 69-55 in an NCAA college basketball game in the championship of the Big Ten Conference tournament on Sunday, March 16, 2014, in Indianapolis. (AP Photo/Michael Conroy)
Lacey's impact on Payne and the MSU basketball team will live on.
"She has taught me to fight through everything, to always continue to have a smile on my face," Payne said in the video, "even when things are going wrong."
"And I'm so proud of Adreian, for what he did to help that girl these last couple of years, he gave her a lifetime of memories and she gave us a lifetime of memories," Coach Izzo told a Michigan radio show Wednesday morning upon hearing of Lacey's death.
Before You Go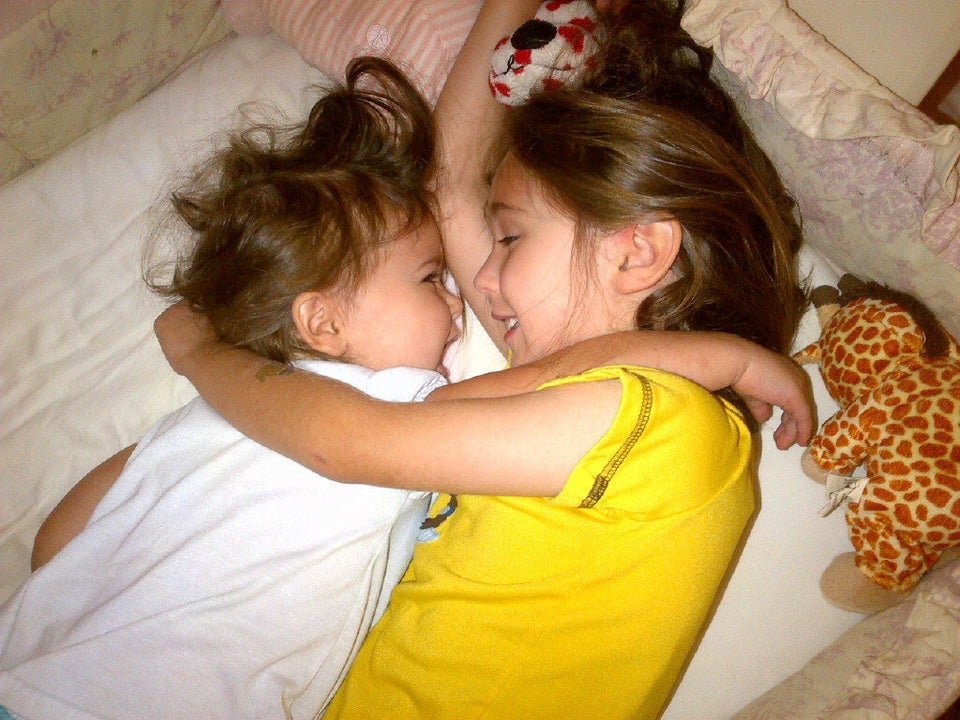 Love In One Photo
Popular in the Community