We first met Lacey Spears in May, when she was under investigation over the high levels of sodium found in her 5-year-old son's body when he died. She was writing about his "courageous" battle with sickness at the time, but investigators thought she might have been slowly killing him for attention.
Now police say it's true. Spears, 26, of upstate New York, was arrested and pleaded not guilty Tuesday to charges of second-degree murder and first-degree manslaughter in the death of her son, Garnett.
The boy was in and out of the hospital his entire life for various illnesses. He died in January, and hospital workers found toxic levels of sodium in his blood. The investigation revealed that Spears took him into a hospital bathroom on Jan. 17 and again on the 19th, and administered sodium directly into a tube in the boy's stomach, according to The Journal News.
Assistant District Attorney Doreen Lloyd said in court that Spears had also searched the Internet to study what effects large amounts of salt would have on the boy. She's suspected of poisoning him at least twice.
Garnett was alert and talking on Jan. 20. His condition worsened, and he died on Jan. 23. Spears' final social media post read, "Garnett the great journeyed onward today at 10:20 a.m.," according to The New York Post.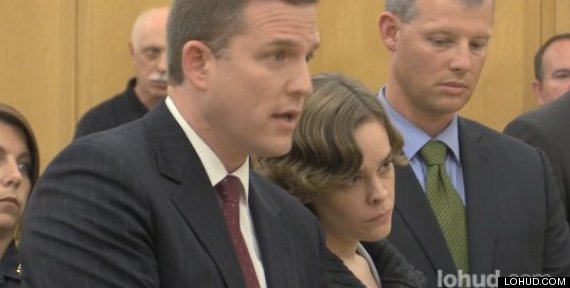 Lacey Spears (right) and her lawyer appear in court.
The murder charge doesn't accuse her of intentionally killing Garnett, but of acting out of indifference toward his life. Specifically, investigators believe she was poisoning him for more attention on her blog, called "Garnett's Journey." Earlier reports called it a case of Munchhausen syndrome by proxy, a psychiatric disorder in which a parent sickens a child for sympathy.
It's unclear whether Garnett ever needed the tube in the first place. Authorities suspect Spears subjected him to his previous illnesses so she could air her sob story on her blog, Twitter and Facebook. She wrote on Facebook in November 2009 that Garnett was admitted into a hospital 23 times.
The Journal News reports:
Former nurse Ginger Dabbs-Anderson, who first met Spears and Garnett when the boy was 6 months old, was grateful for the action, but remorseful that it came too late to save Garnett, who friends called "G."

"I'm happy they got her and I do believe that she's had this problem for years and that he's been suffering at her hands. I really wish we could have prevented this because there were signs.

"Maybe the hospitals should have caught it, maybe her parents should have caught it, maybe those people closest to her should have caught it. She put all over Facebook how wonderful she was. She had us all snowed, she had us all believing she was wonderful. But obviously not."
She faces 25 years to life in prison on the murder charge and up to 25 years for manslaughter. She's due back in court on July 2.
Calling all HuffPost superfans!
Sign up for membership to become a founding member and help shape HuffPost's next chapter
BEFORE YOU GO
PHOTO GALLERY
Questionable Parenting