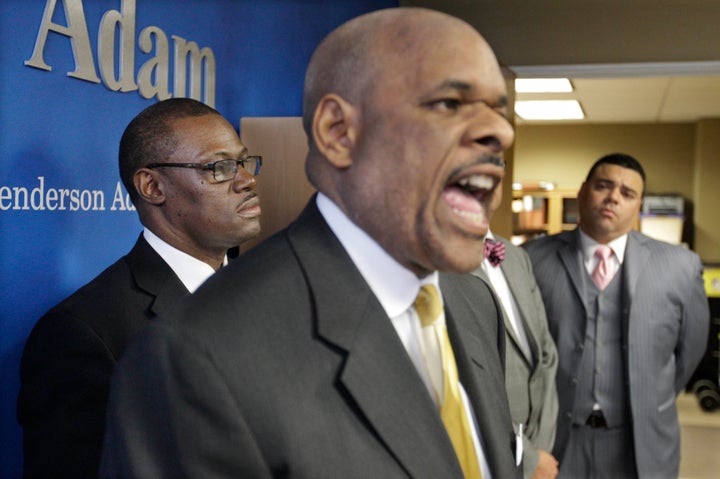 An informal Tuesday poll of 19 voters in West Town may help explain why. 
Of those asked, seven voted for Tyson, with four mentioning Smith's alleged crime as the reason. (Smith has yet to stand trial). 
But 12, representing a cross-section of ethnicity and age, said they either didn't vote in the contest or were unfamiliar with both Smith and his opponent, Lance Tyson, an attorney and one-time chief of staff to former Cook County Board President Todd Stroger. Of those, several couldn't recall their vote, but said they selected whichever candidate was the Democrat. 
Following Smith's arrest, the Illinois Democratic Party selected Tyson to run against him, but only after Smith had won the March Democratic primary. As a result, Tyson was forced to run as an independent. 
Tyson did not respond to requests for comment. 
"I think that was the key thing, that Derrick had the 'D' next to his name," said Dave Drucker, a spokesman for Illinois Secretary of State Jesse White. 
White campaigned aggressively for Tyson, going so far as to say last week that Smith was "not welcome on the West Side." Tyson was also endorsed by Illinois Gov. Pat Quinn. 
Drucker said campaigning for Tyson was "really swimming upstream, going against a Democratic candidate in that district, especially with [Barack] Obama doing so well." 
Smith's party affiliation was played up by his campaign. 
"What Does (sic) Lance Tyson & Mitt Romney Have in Common?" read one flyer distributed to voters. "They are not Democratic candidate's (sic) on the Nov. 06, 2012 election ballot. Please don't be fooled!" 
But Drucker expressed surprise that such a factor could overcome awareness of the charges Smith faces. 
"There was so much attention paid by the mainstream media to that race," he said. "And frankly, with the indictment at the time, the attention that created, one would have thought the people would have been familiar." 
"A large part of it was the voters didn't know any better," said Dick Simpson, professor of political science at the University of Illinois at Chicago and a former Chicago alderman. He said the race was overshadowed by larger ones, and that neither candidate was well known. Smith was appointed to the office by party members in early 2011 to fill a vacancy. Tyson had never been elected to any office. 
Simpson also said that despite the tide of Democratic Party opposition to Smith, some party leaders stuck with him. Backers included 27th Ward Ald. Walter Burnett and former 28th Ward Ald. Ed Smith (who is unrelated). Simpson said the traditional machine political organizations Burnett and Smith are connected to still hold sway in districts Tyson needed to win. 
Though Tyson received high-profile endorsements from White and Quinn, Paul Green, a professor of political science at Roosevelt University, noted that some Democratic Party leaders stayed on the sidelines, hurting the candidate's chances.
"He will face a primary challenge in March, 2014," Green said in an email, "and there are many 10th District Dems who want the job. Easier to beat Smith in a primary. … Ergo, many party leaders took a walk." 
However, another political observer expressed skepticism.
"The election of Smith is an indictment on the Democratic party apparatus," said Jaime Dominguez, a professor of political science at Northwestern University who lives in the 10th District. "It also speaks to a lack of Democratic leadership and organizational infrastructure." 
Dominguez offered praise for Tyson personally, but said his late selection revealed how lacking the party was in compelling alternative candidates, a problem he feels Democrats aren't addressing. "I haven't seen any evidence that there's an attempt to try to move in the immediate future to groom new leadership," he said.
Smith will rejoin his colleagues in the General Assembly for the time being. Under House rules they cannot boot him out a second time for the same offense. However, if he is convicted, the Illinois Constitution bars him from serving.
Calling all HuffPost superfans!
Sign up for membership to become a founding member and help shape HuffPost's next chapter