LA's biggest rock star will be out on the roads one last time Friday night, and if you still haven't had the chance to watch a 340-ton chunk of history go by (and snap a mean meme photo), now's your chance.
There's no telling beforehand when the rock will be at certain points along the route. At speeds between 5-8 miles per hour, "Levitated Mass" could arrive on the LACMA campus anywhere between 2 a.m. to 6 a.m. Your best bet is to follow the rock's official Twitter account @LACMA for up-to-the-minute updates.
If you want to see the rock roll into its new home (and snag some munchies while doing it), here are LACMA's suggestions:
The museum itself will be closed, but the action is on Wilshire Boulevard.
Parking will be available in LACMA's lot at the corner of Wilshire and Spaulding Avenue (free). Our underground Sixth Street lot will be closed.
Parking at the Petersen Museum, located on Wilshire and Fairfax, will also be available (10, enter from Fairfax). You can try to find street parking too, but please read all signs in the area before parking.
There will be bathrooms available at Ogden and Wilshire, directly across the street from Urban Light.
Note that Stark Bar will be open regular hours -- closing at 11 pm. We will have a coffee cart next to Urban Light starting at 11 pm.
Food trucks will be parked at Ogden and Wilshire -- No Tomatoes and Waffles de Liege.
The rock's Twitter alter ego, @LACMArock, is cheeky, fun and definitely an unofficial account. Nevertheless, he's been accurate and helpful to date, and we got in touch with him for tips on how to see the rock show on Friday night.
"A great place to get a glimpse of me as I head down Wilshire Boulevard to my new home at the Los Angeles County Museum of Art is from The Roof on Wilshire, atop The Hotel Wilshire," @LACMArock told the Huffington Post. "The view from the rooftop will give rock stars like you a 180 degree view of Wilshire Boulevard and an incredible vantage as my 300 foot long transporter drives past."
@LACMArock even has a cocktail picked out. "While you wait for me, I suggest you sip on The Roof's signature drink, the 'Tell Her You Saw Me.' " Poetic! Mind you, The Roof on Wilshire will be keeping its normal hours that night, so if the rock hasn't rolled on to Wilshire Boulevard by 1 a.m., you'll have to scramble to a different spot.
Gourmands should note that 13 of Jonathan Gold's 60 recommended Koreatown restaurants are right on the Western Avenue strip that the rock is going to travel on. Nibble on boiled pig's feet at Jangchung-Dong Wong or slurp slithering octopus tentacles at Hwal A Kwang Jang and wait for the show to come to you.
Pro tip: smart "Levitated Mass" fans would do well to take advantage of the Purple Line station at Wilshire/Western, since a lot of streets near the route will be closed to traffic.
Where are you planning to catch the rock show?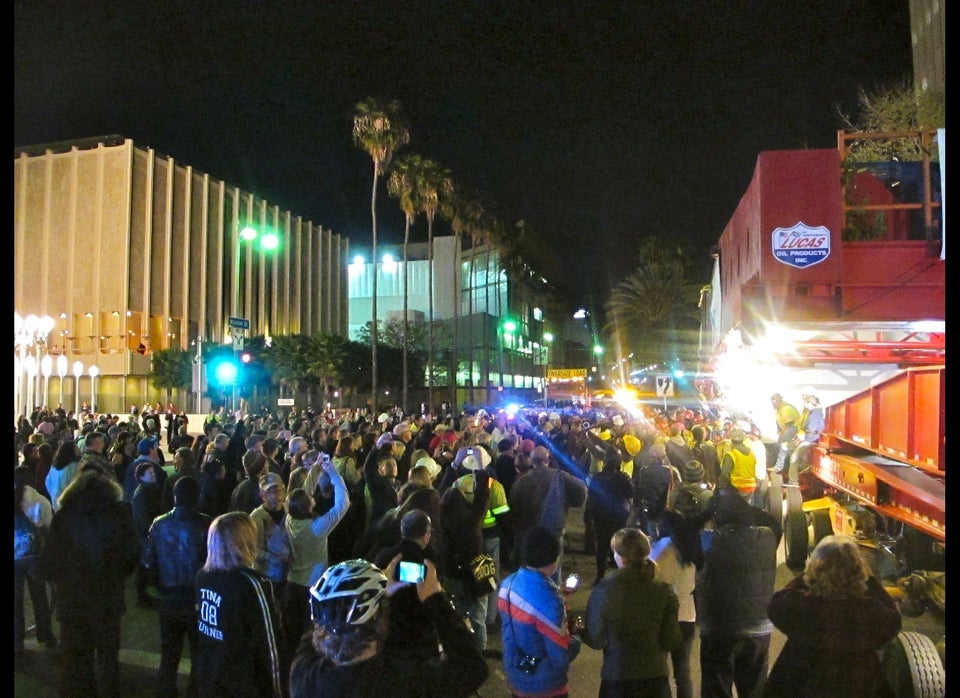 Popular in the Community