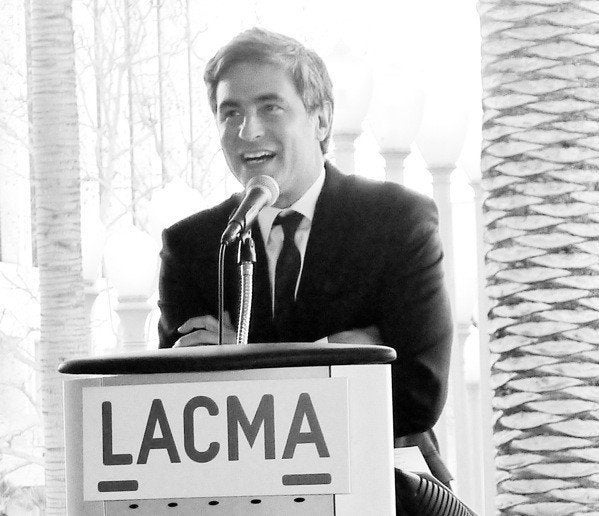 The big story out of the Los Angeles art world is that the Los Angeles County Museum of Art has proposed acquiring the financially troubled Los Angeles Museum of Contemporary Art. According to a Jori Finkel-penned report in the LA Times labeled an "exclusive", LACMA was approached by members of the MOCA board of directors and asked to propose a merger.
In an unprecedented move of outreach for a major museum director, LACMA boss Michael Govan took to the LACMA blog (props for an awesome blog name -- "Unframed") to state his case. While you can read the whole thing here, let's parse his statement and read between the lines where we can:
LACMA and MOCA: A Message from Michael Govan

March 7, 2013

As you may have read in the Los Angeles Times today, LACMA was recently approached by the Museum of Contemporary Art, Los Angeles to discuss the possibility of a merger between the two museums as they consider partnerships of various kinds. MOCA has received a proposal from LACMA.
We see the reporter got the "exclusive" and the subject of the report blogs a confirmation of the facts as reported. (If only most marriages were as win-win relationships as these planted media "exclusives" turn out to be.)
Like so many others in the art world, we appreciate the impact MOCA has had, both on Los Angeles and on the world stage. Our chief desire is to see MOCA's program continue and to serve the many artists and other Angelenos, for whom MOCA means so much.
In using the word "continue" is the implication here that MOCA may be discontinued? (Subtle fear-mongering but fear-mongering nonetheless.) Govan is too discrete to be Mighty Mouse, singing "Here I come to save the day" but he might be clearing his throat to belt out "We are the champions" when the board of directors hands him the keys this summer.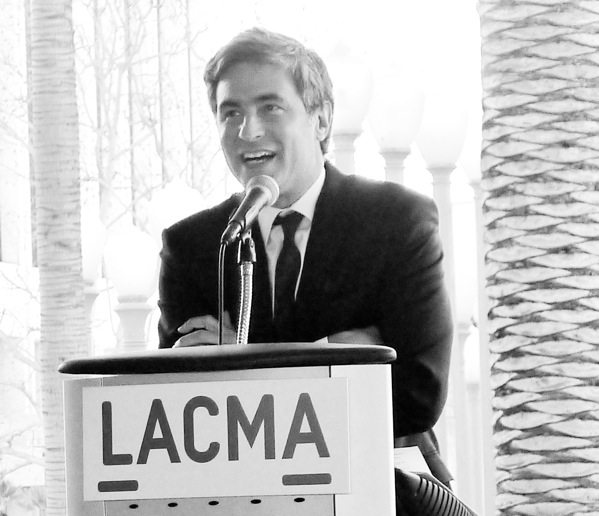 LACMA Director Michael Govan. Photo: Coagula Archives
Combining LACMA and MOCA would strengthen both. LACMA's mission is to share world-class art with the widest array of audiences possible. MOCA's downtown location, extraordinary collection and devoted constituency, combined with LACMA's modern art masterpieces, large audiences and broad educational outreach (especially in schools near downtown L.A.) would create a cultural institution that is much more than the sum of its parts. LACMA's strong leadership, its history of fundraising, and its support from Los Angeles County and other donors will provide MOCA with the stability it deserves.
Govan reduces MOCA to real estate, assets and "devoted constituency." Is MOCA a religious sect? Were you baptized MOCA or did you convert when you married? And if this hadn't reeked of a political campaign, Govan erases all doubts when he brings up schoolchildren. Like Social Security in Washington, "Art Education" is the third rail of culture -- it cannot be analyzed because that might lead to a critique, which might lead to the whole system collapsing. And so every politician promises to protect it and expand it. The campaign in L.A. of interest is not for mayor, it is for MOCA.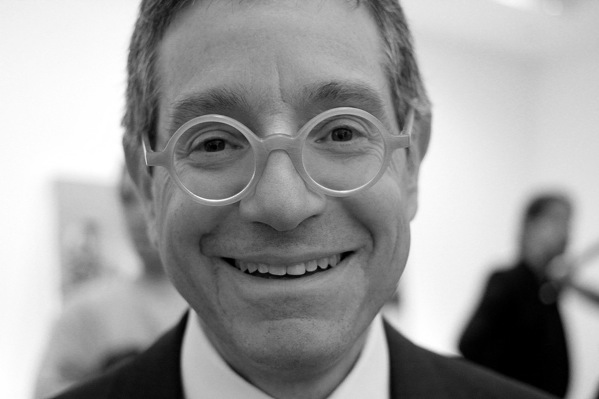 MOCA Director Jeffrey Deitch. Photo: Eric Minh Swenson
The founding of MOCA in 1979 and the subsequent opening of the Temporary Contemporary (now The Geffen) in 1983 and the Arata Isozaki-designed MOCA at Grand Avenue in 1986, along with major acquisitions and gifts including the landmark acquisition of the Panza Collection, were key to establishing Los Angeles as a world power in contemporary art and breathing new life into downtown L.A. as a cultural center. Many "MOCAs" around the world have followed. Almost none kept up with the ambition and rigor of MOCA's exhibitions and publications, or the speed with which a world-class art collection was assembled in just a few years.
The candidate has done his homework. As a lifelong Angeleno, I take pride in having seen, with scant exception, every MOCA exhibition and there is only one word in this paragraph that betrays Govan's bias. RIGOR. The critique of Jeffrey Deitch's directorship at MOCA has been that it lacks rigor. The implication is that prior to Deitch's arrival there was rigor at MOCA. Govan's use of the word Rigor to describe past-tense MOCA rallies the Deitch opponents. Here candidate Govan is promising to take MOCA back to a mythical yesteryear of peace and prosperity that never existed. Rigor, as used here, implies that MOCA was an institution where the priority was always on exhibiting art with impeccable credentials as they related the mission of a curatorial vision. And yet, year in and year out, the only rigor in MOCA curatorial efforts was on rigorously making sure that artists associated with the top tier, big money international art galleries were crammed into every show as much as possible. But the curators doing said cramming had jumped through the academic hoops to allow their unquestioned credentials to be accepted as a license to stroke the art world powers that be, all in the name of rigor.
When Jeffrey Deitch oversaw "Art in the Streets", an exhibit that privileged the art of an ethnic and social underclass and featured art that looked different than the international art school style, the lamentations that MOCA had lost its rigor echoed through the art world. In 2007, the apogee of the "rigorous" MOCA under former director Jeremy Strick, MOCA opened the career retrospective of Takashi Murakami with an operating, commercial Louis Vuitton boutique in the middle of the exhibit, selling merchandise in the temple. No rigor there and not a peep from the art world cognoiscienti, as Strick's MOCA was properly vetted and credentialed. There is your rigor -- modeled after every exclusionary country club in Republicanville.
Deitch's radical vision of a democratic approach to curating is feared by an art world that needs an academic veneer like a sinning Catholic needs confession. When the man responsible for the grossly extravagant Murakami show, former MOCA chief curator Paul Schimmel, appears at an art opening around L.A. these days, he is a Pope in exile, blessing certain places with his presence, implying to the faithful that his armies will one day soon reacquire the institution in the name of Rigor. Having been deposed by Deitch, Schimmel's cool, pokerfaced patience may be paying off as Govan's quest for legitimacy among the "MOCA faithful" may require a simple re-hire.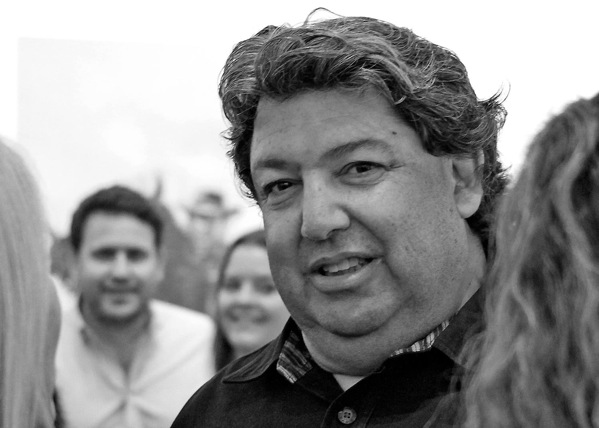 Former MOCA chief curator Paul Schimmel. Photo: Eric Minh Swenson
Today, MOCA's collection is among the finest of contemporary art museums, and MOCA has helped bring interest in contemporary art into the mainstream. LACMA, which has acquired contemporary works by living artists since its founding in 1965, recently has reinvigorated its contemporary programs through the opening of the Broad Contemporary Art Museum in 2008 and through major acquisitions and commissions of contemporary art. With public artworks including Chris Burden's Urban Light, Michael Heizer's Levitated Mass, Robert Irwin's palm garden, and Barbara Kruger's monumental mural, LACMA has tied its identity to the work of contemporary artists.
This is the boilerplate "see how much we are already alike" speech of every politician and even a few invading forces. LACMA's Broad Contemporary as blue chip bland a museum building as exists. It brings "art world approved" to new level of boring.
LACMA collects and exhibits contemporary art with a global perspective and in relation to its collections of art of all times and places. With approximately 120,000 artworks amassed in less than fifty years, LACMA has become the most significant general art museum in the Western United States. Recent acquisitions not only of contemporary art but also modern masters such as those included in the Lazarof Collection have made LACMA a growing destination for twentieth-century art. Combining MOCA and LACMA would create one of the largest and most significant art museum collections in the United States. Uniquely, LACMA/MOCA would become a general museum with a substantial commitment to contemporary art in three or more facilities designed expressly for that purpose. The scale and common purpose of the larger combined institution would provide stability, confidence, and opportunity for donors. Each facility and location could retain individual character and the potential to reach different audiences.
In Star Trek they call this The Borg. This is a flat-out assertion that MOCA will be dissolved. This is the annexing of enemy territory when the enemy is too weak to defend it. This is a hostile corporate takeover. This is pretty ballsy of Govan who, with his perfect politician's hair and insurance salesman suit, has announced his intentions with a dare to not be given what he desires.
It is appropriate for a large art museum in Los Angeles to have a special emphasis on contemporary art. Today L.A. may be home to the most important concentration of contemporary artists in the world. Only time will tell, but with proper patronage and institutional focus, we could be living in a great time and place for art to be made-like New York in the 1950s and 60s, Paris or Vienna around the turn of the twentieth century, or even the cities of the Italian Renaissance. A combined MOCA and LACMA could make history.
Govan's right -- L.A. does have an amazing number of great artists working today and we may be living in history. But you would never know it by any local institution's track record of showing L.A. artists. If those artists are not long-term lackeys under the control of a few bland, monied galleries they are omitted from institutional agendas save for the rare ghetto show where they are herded for photo-op guilt relief.
LACMA's contemporary art programming has conformed to a dull, narrow range of upscale values and vain allegiance to art theory only because it makes them look smart. People accused Jeffrey Deitch of dumbing down MOCA when he brought in "Art in the Streets", but this assessment ignores many stupid MOCA curations over the years. Govan's track record assures us one thing should he actually acquire MOCA. He may bring back the illusion of rigor that the academic crowd craves and he may bring it to financial health by absorbing it into the LACMA base. MOCA, despite a chequered past, has been inspiringly distinct. Govan's vision will do the worst thing possible to that status: LACMA will make it dull.
Popular in the Community