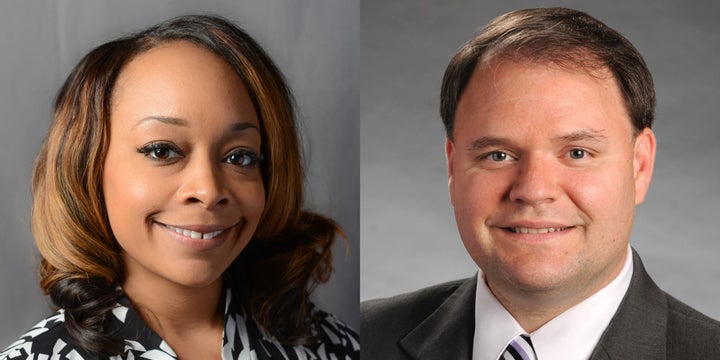 Georgia's Republican state Rep. Jason Spencer told his former colleague on Tuesday that she and others supporting the removal of state-sponsored Confederate monuments and landmarks could "go missing."
Attorney and former state Democratic Rep. LaDawn Jones, who says she regularly debated with Spencer in person and online, was shocked by the menacing comments she received.
The exchange began on a Facebook post, when Spencer posted a picture of the Jefferson Davis memorial. Jones had criticized his support for Confederate monuments, arguing that the objects shouldn't be supported by state tax dollars.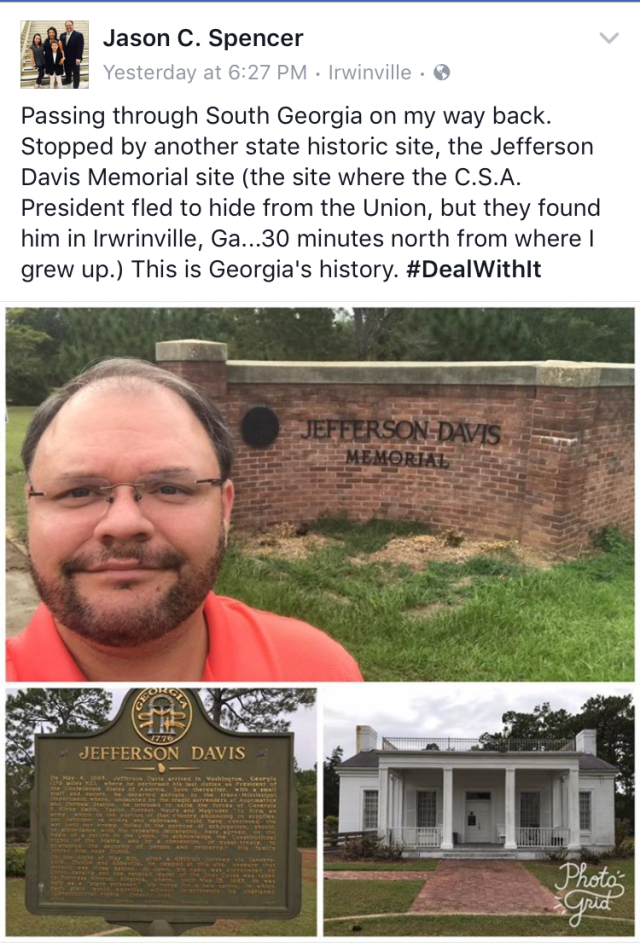 The former representative says that tense discussions about race weren't uncommon between the two and that she appreciated the dialogue. "We educated each other," the Atlanta-based attorney told HuffPost.
But Spencer's comments took a disturbing turn, Jones says, especially when he suggested that harm might come to those who attempt to remove or question the monuments in southern Georgia.
"Continue your quixotic journey into South Georgia and it will not be pleasant," he wrote. "The truth. Not a warning. Those folks won't put up with it like they do in Atlanta. It best you move on."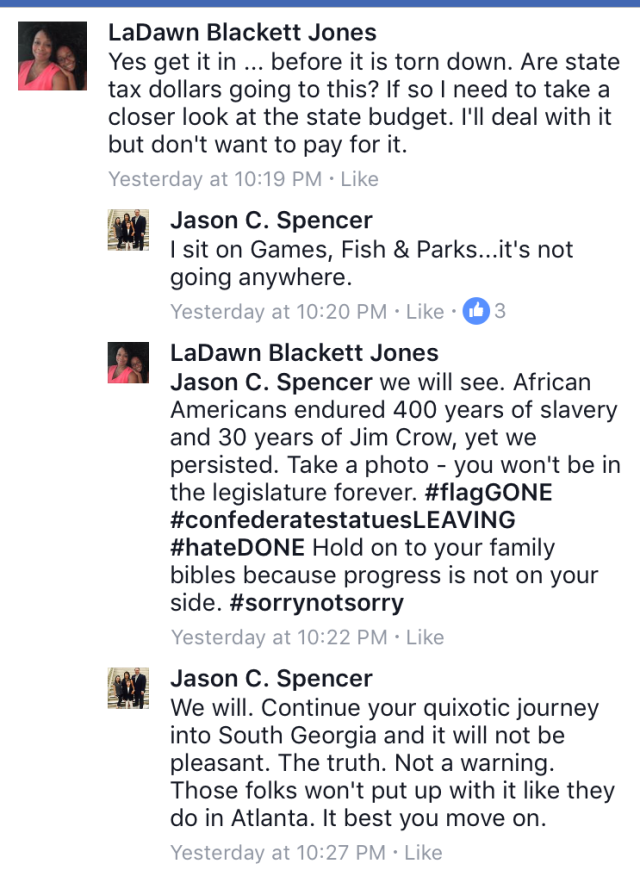 "I can guarantee you won't be met with torches but something a lot more definitive," he wrote.
"They will go missing in the Okefenokee [swamp]," he continued. "Too many necks they are red around here. Don't say I didn't warn you about 'em."
Jones pointed out sounded like "a threat of physical violence."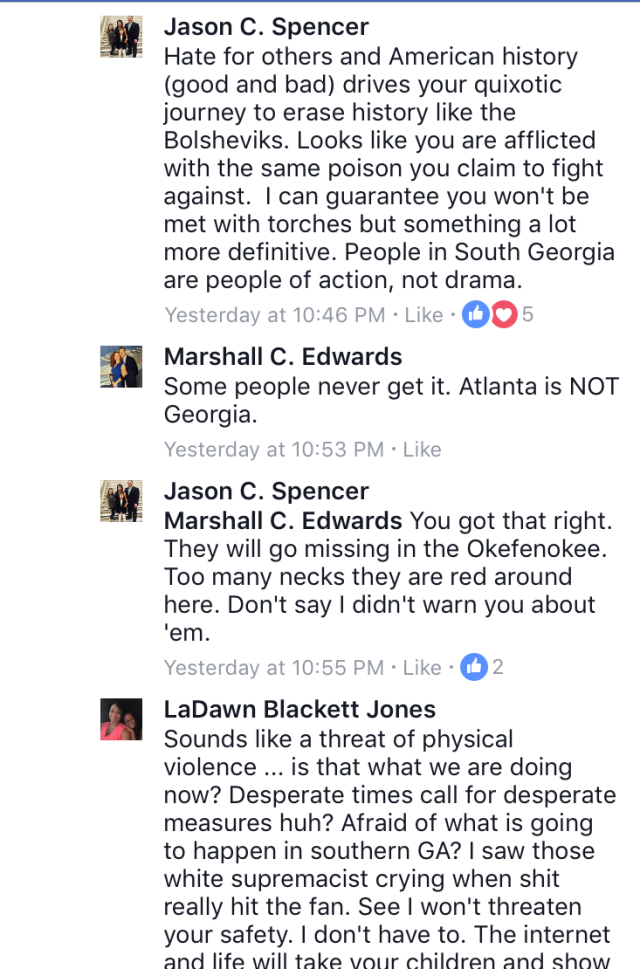 Jones told the Atlanta Journal-Constitution that she was concerned by Spencer's comments, but didn't fear for her life.
"If it were anybody other than Jason Spencer, then I would be alarmed. But we had a unique relationship in the Georgia legislature," Jones said. "If that had come from anybody else, I'd take it as a serious threat."
"Because if that's representative of what people in south Georgia think, then yikes," she added.
His comments reflect a more systemic problem with racism, Jones said.
"I'm surprised with the level of comfort with the situation in south Georgia," she said. "Like, 'It is what it is.' I wasn't threatened, but I don't want to minimize it either."
Spencer, who has been serving as a state representative since 2010, told the Atlanta Journal-Constitution that he only meant to warn Jones "how people can behave about this issue."
He elaborated via text message:
"She is from Atlanta – and the rest of Georgia sees this issue very differently. Just trying to keep her safe if she decided to come down and raise hell about the memorial in the back yards of folks who will see this as an unwelcome aggression from the left."
Spencer than asked the paper to include a Facebook photo taken with a Martin Luther King, Jr. statue erected Monday on the George Capitol Grounds.
Jones is hoping that Spencer will see how comments like the one he made to her might make others feel.
"Would it embolden white supremacists? How would it make black Georgians feel?" she told HuffPost. "There is still a level of comfort with this type of thinking."
HuffPost reached out to Spencer, who did not immediately respond.
He has since deleted the original post, as well as one where he attempted to give his side of the story.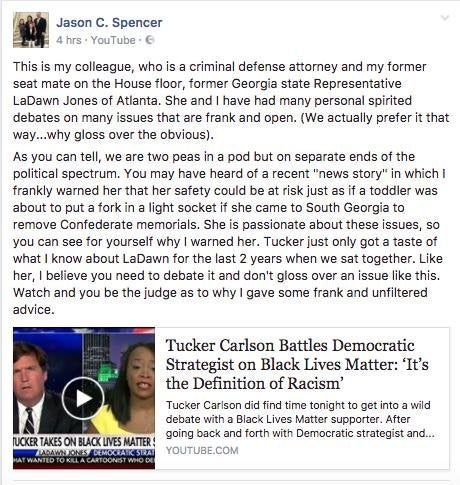 Jones didn't like Spencer's comments, but she respects him for at least being willing to have that ugly discussion of race in America.
She hopes that's the takeaway from this chilling exchange.
"Let's have town halls," she said. "Let's address race in this country once and for all."
Before You Go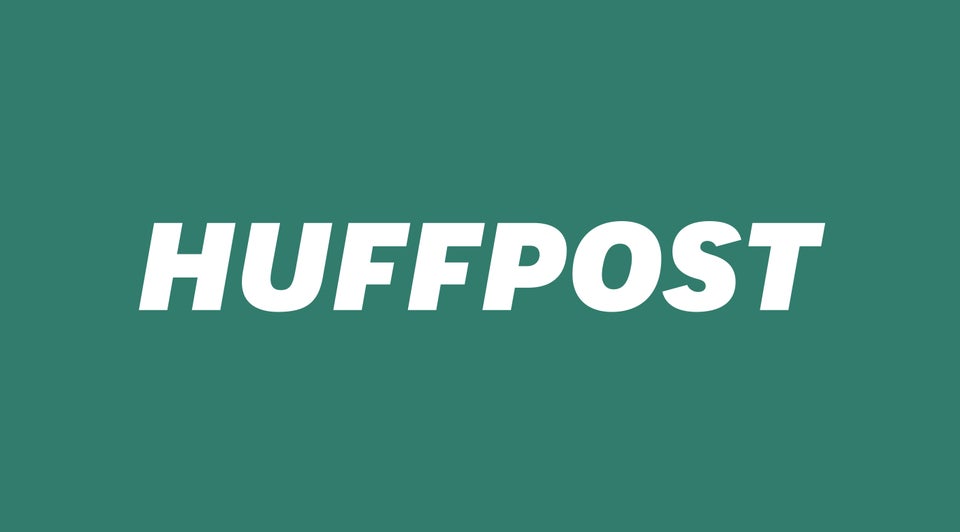 Cities Look At Removing Confederate Statues
Popular in the Community