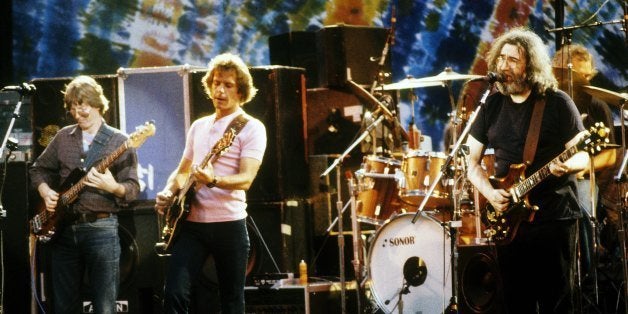 It has been almost 20 years since legendary Grateful Dead lead guitarist Jerry Garcia transitioned to the big acid test in the sky. And since Jerry left us the debate has raged over whether the remaining members of the band -- Bob Weir, Phil Lesh, Bill Kreutzmann and Mickey Hart -- could call themselves the Grateful Dead. That question was answered definitively on February 28 as some 500,000 fans logged on to the Ticketmaster website in an attempt to purchase tickets to the "Fare Thee Well" shows, scheduled for July 3-5 at Soldier Field in Chicago. Even if these shows go down as the greatest in the history of rock and roll, this is not the Grateful Dead.
Many of the 500,000 hopefuls had already engaged in the largely futile exercise of participating in the mail order presale, thinking they were involved in a revival of the beloved tradition that marked the band's commitment to its fans by selling tickets directly, rather than through third-party agencies. Unbeknownst to the true Deadheads who put their hearts and souls into decorating their envelopes and sending off large sums of money on Jan. 20, back-room deals had already been made with big music industry players to cash in on the genuine love and appreciation that is still alive and well among those who have never been able to replace the Grateful Dead as a source of joy and inspiration in their lives.
The capacity of Soldier Field for these shows is 210,000. According to Grateful Dead Ticket Sales, some 60,000 mail order envelopes were received, representing 300,000 ticket requests. But rather than announce that the shows were sold out, the on-sale date was merely postponed to Feb. 28. Huh? You've received payment in the form of money orders from true, envelope decorating, tradition-following fans for 300,000 tickets, have only 210,000 to sell, and you're still going to be selling tickets online through Ticketmaster? In other words, you're going to sell some of the tickets twice so that Ticketmaster can receive its cut. Nope, this is not the Grateful Dead.
But it gets worse. It was subsequently announced that only 10 percent of the mail orders would be filled. Let's do the math: 300,000 tickets were purchased through the mail order, but they're only going to sell 30,000 of those tickets so they can sell 180,000 tickets through other avenues that more generously line the pockets of big music industry players.
Most suspicious of all is the way tickets suddenly became available on StubHub immediately after the Ticketmaster sweepstakes ended. Literally thousands of tickets are available through StubHub in virtually every section of the venue for prices ranging from $600 (behind the stage with no view) to $3,500. And if that's unaffordable, you can purchase a parking pass for the modest price of $180 and enjoy the show from the parking lot. Where did StubHub get all these tickets?
One answer may lie in the inexplicable choice of Chicago as the site of this quickly souring last stand. Despite having developed loyal followings across the country and even internationally, the Grateful Dead were first and foremost a West Coast band. The band members lived in the San Francisco Bay Area, as did their most longstanding fans. Against that backdrop, why Chicago?
That question becomes amplified in light of the Chicago Park District's agreement with Chicago Bears season ticket holders, which entitles them to purchase their seats to all events that take place at Soldier Field. This may explain the sudden appearance of thousands of tickets on StubHub. The massive hype behind these shows had reached the radar screens of Bears fans, most of whom couldn't care less about the Grateful Dead, but who saw an opportunity to make bank by turning a $199.50 purchase into a $3,500 trip to Puerto Vallarta. The party line that Soldier Field was chosen because it was the site of the last Grateful Dead concert on July 9, 1995 rings more hollow with every passing scalped ticket purchase.
And then there is the perplexing choice of Phish lead guitarist Trey Anastasio to join the band. Since Jerry Garcia's death, several notable guitarists have performed as a substitute for Garcia in post-Grateful Dead bands, such as the Other Ones, The Dead, Dark Star Orchestra, Phil Lesh and Friends and, most recently, Furthur. These include Widespread Panic lead guitarist Jimmy Herring; John Kadlecik, the founding lead guitarist of the Dark Star Orchestra; and Warren Haynes, who has played in the bands Gov't Mule and the Allman Brothers Band, and who has been a mainstay of The Dead and Phil Lesh and Friends. In many ways Haynes was the sentimental favorite, due to his creation of the Jerry Garcia Symphonic Celebration concerts, in which a large portion of Garcia's musical compositions were committed to score and performed nationwide with a rock band, featuring Haynes on lead guitar, and backed by local symphony orchestras.
All three of these fine musicians have studied Jerry Garcia's music in a way that qualifies them to fill his enormous empty shoes. Not so with Anastasio, who has made appearances with Phil Lesh and Friends but was quoted last month in Rolling Stone as saying, "I never really sat and studied what Jerry actually played, until now." It now appears that the choices of Chicago and of Anastasio were not made in the spirit of providing the truest Grateful Dead experience for the fans but, rather, to fulfill the highest possible financial gain for the promoter, Peter Shapiro in association with Madison House, and their corporate cronies. Centrally located, Chicago offers the best combination of logistical convenience and the big-city trappings that are needed to attract an audience who can afford "secondary market" ticket prices. And the addition of Anastasio piles on the interest of an auxiliary audience of "Phish-heads" to the mix, thereby increasing the available pool of wealthy ticket buyers who can chunk down $600 to $3,500 for tickets that were originally priced from $59.50 to $199.50.
And here's the kicker: Now Shapiro and Madison House are planning to create an entire industry around this weekend, including after-show concerts, audio and video recordings, and even a "pay per view" cable TV event. In short, get hundreds of thousands of people excited about an event they can't get tickets for, sell their tickets to people who can pay aftermarket prices, and then charge the "losers" to watch it on TV.
It's worse than a pity -- it's an outright tragedy -- that perhaps the most beloved band in history has put itself in a position to be remembered for participating in what may go down as the biggest money grab in music history. The Grateful Dead built their brand on their commitment to the quality of their music and to their fans. They became famous and enormously successful for innovations such as their focus on touring and live performances, rather than selling records; building their fan base by allowing fans to tape and freely share their performances; and by creating their own ticket agency, rather than allowing corporate middleman entities to control their scene, as has happened with these "Fare Thee Well" shows.
With each passing day since these shows were announced, it has become clearer that the "Fare Thee Well" concept, ostensibly conceived to pay tribute to a beloved band on the occasion of its 50th anniversary, bears little resemblance to the Grateful Dead.
Popular in the Community