New York City has enjoyed a wealth of ballet this January. Russia's Mariinsky Ballet made a visit to BAM with "Swan Lake" and Alexei Ratmansky's "Cinderella." The Joyce presented an exquisite program by the soloists and principal dancers from the Royal Danish Ballet, who showed off their gold standard romanticism and subdued virtuosity that has been the company's international hallmark since the 19th century.
On the heels of both visiting companies is the winter season for New York City Ballet. Founded by Mariinsky dancer George Balanchine, his legacy has been preserved by Danish dancer Peter Martins, who serves as the current Ballet Master in Chief. Balanchine's American neo-classical ballet is faster and bolder than its Danish and Russian counterparts, in large part due to his craftsmanship as a choreographer.
Balanchine strung steps together and phrased them to music that demanded a different approach to the classical vocabulary. It was his choreography that created an aesthetic that developed a technique -- a key reason his work has survived beyond his death. New York City Ballet opened their season with three Balanchine classics: "Serenade" (1935), "Agon" (1957), and "Symphony in C" (1947). Balanchine famously said that "Ballet is Woman," and that could not have been more true on opening night, which featured the women of the company at their best.
The first work Balanchine created in America, "Serenade" is seen as an important stylistic link between Balanchine's earlier work for Diaghilev's Ballet Russes and his fully-realized neo-classical masterpieces. "Serenade" was created as an exercise for students at the new School of American Ballet, as Balanchine said, "to teach them how to be on the stage." Two years ago, I was lucky enough to see students from the Manhattan Youth Ballet perform this work (and on a much smaller stage), which only solidified my respect for Balanchine as a master craftsman. Even on pre-professional dancers, the structure and attention to the music that is in the steps serves as a guide to bring out the best in the dancers who perform them. The crispness and speed of the Balanchine technique is on full display in a work like "Serenade;" principal dancers Sterling Hyltin and Teresa Reichlen led the corps with clarity and presence, both confident veteran dancers with long flaxen hair who exude Balanchine romanticism.
Where Tchaikovsky's music for "Serenade" washes easily over you, Stravinsky's score for Balanchine's "Agon" requires a little more active listening. The first twelve-tone ballet, it is a plotless work for twelve dancers in twelve movements. Costumed simply in black and white practice clothes, the dancers perform Balanchine's take on 17th century French court dance. Blaring trumpets signal the start of each new section, an urgent call to the stage for each fresh grouping. With the retirement of Wendy Whelan last season, Maria Kowroski is now the most senior ballerina in the company, joining the company in 1994, and still has what choreographer Christopher Wheeldon once said, "the best legs in the business." In the central pas de deux, Kowroski is pushed to dangerous extremes; in the opening moments, she plunges her body forward, her leg snaps behind her, and the music stops. Kowroski continues to contort in full standing penché splits, revealing lush and commanding extensions.
Where a penché step is an expression of the extreme in "Agon," it is a gesture of reverence in "Symphony in C." Sara Mearns, in a glittering tutu and tiara, bowed her head to her standing knee as her back leg reached behind her, bringing a cool refinement to the second movement. "Symphony in C" is also a black and white ballet, but this time the dancers are embellished with thousands of glittering Swarovski crystals. There were three successful debuts in "Symphony in C," -- all women -- Ashley Bouder, Lauren Lovette and Brittany Pollack in the first, third and fourth movements respectively. The strength of "Symphony in C," also lies in the brilliant work Balanchine gave to his supporting corps de ballet dancers. The corps gave a sharp display of classical bravura and uniform style that is the direct result of Balanchine's famous quote from 1933 when he first arrived in America, "But first, a school." He meant that a strong, shared foundation of style and training is critical to performing his work at the highest level. That year, he founded the School of American Ballet with Lincoln Kirstein, and began his work on "Serenade" and the investigation into a new uniquely American style of dance.
The opening night audience was the first to see the freshly installed installation by Brooklyn-based visual artist Dustin Yellin as part of its third annual Art Series. Fifteen 3,000 lb. glass sculptures on display on the Promenade and six smaller works on the orchestra level create the illusion of three-dimensional dancers encased underwater. Yellen calls the series "Psychogeographies," as they "feel like maps of the psyche." Every step a dancer takes is a colorful collage of past experiences and muscle memory, taking a two-dimensional concept and making it three-dimensional, and the figures in Yellin's sculptures are similarly constructed. The series overall has been a boon for the company; during the first two years of Art Series, nearly 90 percent of single ticket buyers attending Art Series performances were new to New York City Ballet. If the high level of dancing on stage continues, the company should expect a very robust and popular season.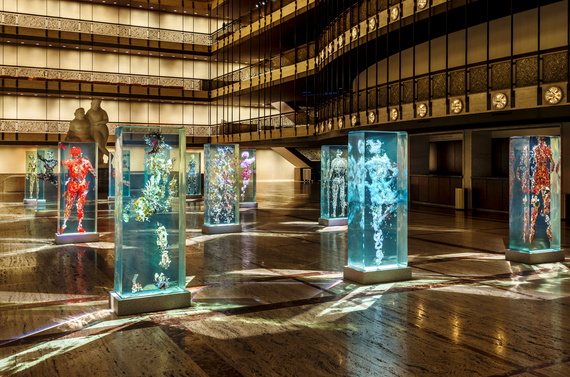 Dustin Yellin's Psychogeographies for New York City Ballet's 2015 Art Series, on the Promenade of the David H. Koch Theater. Photo by Andy Romer Photography.
Calling all HuffPost superfans!
Sign up for membership to become a founding member and help shape HuffPost's next chapter