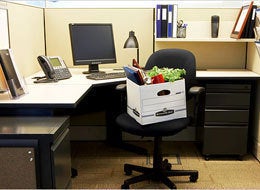 I remember leaving my full-time job with a well-known supermodel (a very cushy, cool, hard-to-leave situation) and wondering ... what am I going to do with myself? I knew my expiration date had come on that gig but just didn't know where the next stop would be. Many people are facing that same situation now, only not by choice. Layoffs are rampant. The economy is in a fragile place. The 9 to 5, once the dutiful headquarters of health insurance and job security, isn't what it used to be since many employers aren't even offering insurance -- much less stability -- as they once were. At Ladies Who Launch, we see women leaving corporate America in droves. Some of them are being forced to go and others just can't stand it anymore. They want to own some thing. They want control over their lives. They want to pursue a passion. They want to make money doing it, and without a ceiling on how much. As contrary as it might seem, now is a pretty good time to explore your true calling. It may feel crazy to jump on the ledge into the great unknown, but with the right planning and mindset, it might be the best thing you ever do for yourself.
1. Make a cushion while you have some dough coming in. Allow yourself some room to live on savings while you plot your next revenue stream.
2. Take real time to think about what you love. Many who enroll in our Incubator program find that they come to the four week course dazed and confused, only to leave with acute clarity on what it is they should be doing. It's okay not to know; but it's not okay not to know for years and years. You could be doing something you love and making a bunch of money!
3. Think about an income attached to this passion. Do you want to make money off of it? Do you want to just do it for fun? Can you freelance using this skill? Who needs this particular thing in the marketplace?
The key is to think big first; don't think about exactly HOW you're going to do it, but just what it is you want to do. A creative community is key to moving forward. Surround yourself with like-minds. Be around those who you admire and want to be more like. Stay away from those who doubt you or who don't take risks themselves. Get out of the mentality that says "I can't." This is the time to be brave. So be smart, be strategic, save your earnings, plan for what's next.
In a year from now you want to be doing something you truly love and putting your sweat equity into something you own. IE, your life!