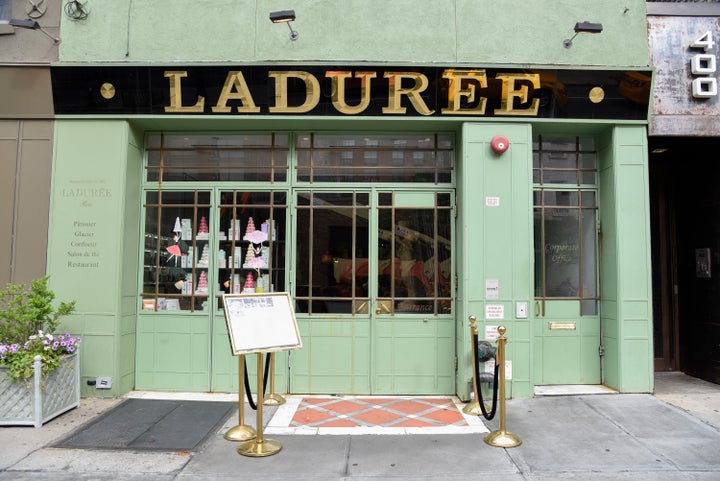 Part of the allure of going to Paris is walking along the Seine, gawking at the glittering Eiffel Tower at night and heading to the iconic macaron shop, Ladurée, for an authentic Parisian treat. And everyone knows Ladurée in Paris makes the freshest macarons of the entire Ladurée empire, right?
What most people may not know is that the macarons at Ladurée in Paris ― or any Ladurée around the world, for that matter ― aren't made fresh in the store. Most of them are made in a factory in Switzerland, preassembled and then shipped across the world in a "hibernation state" (more on that later).
"Our macarons are made in Switzerland only, since we want the same quality control worldwide with the same ingredients, water, etc. and know how," Celine Kaplan, who manages public relations for Ladurée, told HuffPost.
There's one exception: Kaplan explained that macarons served in French Ladurée shops are made at a lab about 20 minutes outside of Paris, put in a "hibernation state," and then shipped to shops in France. They are not made in Switzerland (but they're still put in hibernation, meaning they're not freshly baked when you eat them in a Paris shop).
The only food that is actually made on-site in Ladurée stores around the world are the pastries (such as croissants), but the macarons are always shipped in a "hibernation state."
So, what exactly is that?
Kaplan said that the hibernation state is "a cooling off stage after the baking process." When asked if it was similar to freezing, Kaplan said "not really." She also doesn't like to use the word "frozen" because it is "too harsh."
"It's an in-between stage. They hibernate and then we slowly wake them," Kaplan explained. "I know it sounds crazy. They're not people. But we slowly wake them up. I've seen it myself."
"We don't say they are frozen — it's not a very pretty word," Aude Schlosser, a Ladurée spokeswoman, told the New York Times in a 2013 interview.
The fact that Ladurée macarons aren't made in-store isn't exactly a secret. As stated above, the Times mentioned that the pastries are made in a factory in a 2013 piece about macarons and a widely-circulated Medium post in 2015 also explored the subject.
David Holder, chairman of Ladurée, offered some insight as to why macarons are shipped in from Europe at the opening of NYC's Laduree location in 2011.
"Ladurée is exactly the same all over the world, everywhere: Exactly the same French style," Holder told WWD at the time. "I want the New Yorkers to feel like they're in Paris on the Rue Royale in 1862, to feel the same way and have the same dream: what we call 'le rêve Ladurée.' Everything is the same. Between New York, Tokyo, Paris. The macarons are made in Paris and shipped overnight. The manager of this New York location is French. Everything has to be like being in Paris. That's very important to me."
But as Heather Stimmler-Hall wrote of Ladurée macarons in her Medium post, "I'm not saying they don't taste good, but it's hard to swallow their 'artisan luxury macaron' story when they're produced in a factory by a large corporation, then frozen and shipped over long distances around the world."
So if you were planning a trip to Paris just for the "artisan" macaron experience at Ladurée, you might want to rethink things.
Related