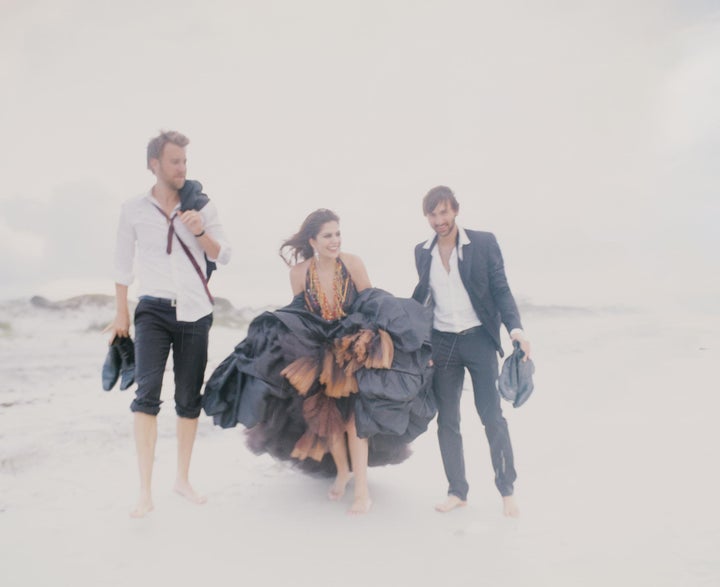 Hopefully, the following quote didn't first appear in one of those smarmy Hallmark greeting cards, but its sentiment certainly applies to country music's latest triple threat:
"The best things in life come in threes, like friends, dreams and memories."
The class act formed in 2006 by singer-songwriters Charles Kelley, Hillary Scott and Dave Haywood, known collectively as Lady Antebellum, is Nashville's hottest power trio, and their numbers don't lie.
They are living proof of that maxim, demonstrating to the world that two fine fellas and one foxy lady can exist in near-perfect harmony while bringing their mix of bromance, romance and showmance to the stage and studio.
Next stop: Country music's capital on February 22, where the considerably smaller Nashville Municipal Auditorium (just under 10,000 capacity) that finally sold out will be a solid testing ground for the seven-time Grammy winners. As of Monday night, tickets were available, making naysayers wonder if the Music City knows something the rest of the country doesn't.
The unusual guy/gal/guy formation undoubtedly is ready to meet the challenge, though. With a visually stunning elevated stage design accentuated by a panel of three huge high-definition video screens and a divine light show that would make any Rock God jealous, the gleesome threesome can't help but feel protected.

Images of Lady Antebellum appear on the video screen at the Pepsi Center in Denver,
overlooking (from left) Hillary Scott, Charles Kelley and Dave Haywood.
Lady A continue to win over large chunks of followers, as evidenced by their crowd-pleasing stop last week in Denver.
On a night of enthusiastic audience participation, the faintest response came after six songs, halfway through the 84-minute show (including a one-song encore). That's when Haywood asked, "Has anybody seen us in Denver before?"
With a smattering of applause and only a few hearty cheers heard throughout the 20,000-seat concert venue, Haywood had his answer and made the band's intentions known, saying, "I want to make one thing clear: Everything we do is for you guys."
Whether it was a well-rehearsed pronouncement or an earnest expression, it didn't matter to a sold-out houseful of folks skewed to younger and female but reaching all demographics.
Lady Antebellum certainly plays music for the masses, a little bit pop-country, a little bit rock 'n' roll, with Kelley and Scott sharing the vocal chores. Their own gentle-kind-of-love songs ("Wanted You More," "Just A Kiss") mesh seamlessly with feel-good anthems (the set-opening "We Owned The Night," "Stars Tonight"). Only the popular but misguided cover of Aerosmith's "Sweet Emotion" near the end of the set seemed out of place.
Kelley (right), that tall drink of water whose boyishly handsome looks might attract the opposite sex as much as (if not more than) his virtuosic vocal range, is the charismatic cheerleader of the group. He constantly finds a way to pump up the crowd, either by words ("How you doin' Denver," "Let's see some hands in the air!") or good deeds (handshaking down the runway).
Scott, who married longtime Love and Theft drummer (and current touring band member) Chris Tyrrell in January, is just as photogenic, but has a sweet-kid-sister quality that shines through whether she's serenading a tearful young girl named Rebecca with a few bars of "Happy Birthday" or recalling how lucky this "brand new" group was the first time they played "this room" in 2008 with "this girl by the name of Carrie Underwood."
"But I have to say it feels pretty good to be back here on our own headlining arena tour for Own the Night," Scott (left) said of the group's third album, a Grammy winner three days earlier from which five songs were performed in Denver.
"Whenever we were putting this tour together, we just wanted it to be all about the fans and making more memories for all of you," she added before revealing the results of an earlier text poll asking fans to pick which song (among four choices) they would like included in the set. ("As You Turn Away," her ballad they co-wrote with Monty Powell off the 2011 release, just happened to win.)
While gimmicks such as that and the pre-show "Shake It 2 Make It" contest (fans dancing on camera to tunes like LMFAO's "Party Rock Anthem," with the winner receiving two tickets to the "Inner Circle," an open pit near the stage), certainly enhance the experience, it better be the music that matters the most.
Haywood might not get nearly as much attention as Scott and Kelley, but it was he who provided the most pleasant musical surprises of the night with his multi-instrumental prowess.
Versatile enough to play the mandolin on "Perfect Day," a scorching electric guitar solo on "Love Don't Live Here" ("This is Eddie Van Halen everybody," Kelley shouted) or a touching accompaniment on the red piano during Kelley's "Hello World" balladry, the "third wheel" was the real deal. (Haywood, right, with Kelley, left, and Scott.)
Aside from a few off-key vocal misfires as a group, the fan-friendly concert went off without a hitch as Kelley turned the "Need You Now" encore over to their loyal legion, saying, "Since this is your show, I want y'all to have the last words."
Obviously, a tour of this magnitude and money requires an organized and orderly presentation, but a few more spontaneous moments couldn't hurt either.
Bringing the five-piece band (remaining members: Clint Chandler, guitars, mandolin; Dennis Edwards, bass; bandleader Jonathon Long, keyboards; and Jason "Slim" Gambill, electric guitar) to the lower stage down the runway for a proper introduction (with Hillary presenting her hubby to wild applause) ended a brief lull. And that was followed by a playful but much-too-condensed medley featuring supporting acts Thompson Square and Darius Rucker.
T2's one-minute rendition of the Allman Brothers' "Midnight Rider" gave way to a slightly longer "Black Water," the Doobie Brothers' everybody-join-in singalong that captivated the congregation. Trading high-fives in a rare off-the-cuff scene were Scott and Shawna Thompson, the better half of T2's married pairing with husband Keifer.
Thompson Square, whose "Are You Gonna Kiss Me Or Not" from last year's debut album thrust them into national prominence, could eventually perform headlining gigs of their own on this very same stage. Right now, they seem just grateful for the opportunity to open, even if it's only a 20-minute shot in the spotlight.
"They're such sweet people," Shawna Thompson said of Lady Antebellum in our phone conversation last month. "So gracious, they've offered up their lights and their set ... and a lot of times, new artists don't get to have those things to perform. So we really appreciate it. It's gonna be a whole lot of fun this year."
Lady A should wholeheartedly agree as their quest for world domination continues. The transatlantic tour shifts from the States on June 30 to several European cities, including Dublin, London, Copenhagen and Munich.
Not even four years ago, they released their self-titled debut album, and the success of one No. 1 single, "I Run to You," took them to the most unimaginable of places.
And the members of this tried-and-true traveling trinity didn't have to click their heels three times to get there or back.
See the Lady A webisode where Charles Kelley, Hillary Scott and Dave Haywood discuss this year's Grammy win for best country album:
REAL LIFE. REAL NEWS. REAL VOICES.
Help us tell more of the stories that matter from voices that too often remain unheard.