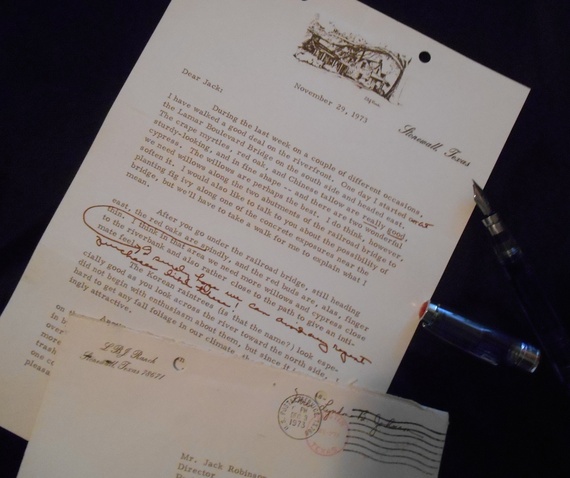 Living in Austin, Texas, less than two miles -- as the crow flies -- from the beautiful Lady Bird Johnson Wildflower Center and having frequently jogged in my younger and fitter days on the scenic Town Lake Hike and Bike Trail, I felt I knew all about Lady Bird Johnson's love of the outdoors and about her passion for protecting and beautifying the landscape nationwide and especially for preserving and spreading native wildflowers and plants in her beloved Texas.
I knew that my friend Jack Robinson, a prominent and historic figure in the Texas parks and recreation scene, had worked closely with Lady Bird Johnson on two projects: The beautification of the Austin Town Lake (now the Lady Bird Lake) Hike and Bike Trail and the founding of the Wildflower Center (previously the National Wildflower Research Center.)
But it wasn't until my friend Jack passed away a few months ago, just as the bluebonnets, Indian paintbrushes and other wildflowers that he also loved so much were beginning to fade, that I learned just how much and how intimately Lady Bird had been involved in those projects and just how close the cooperation and friendship between her and Jack Robinson had been.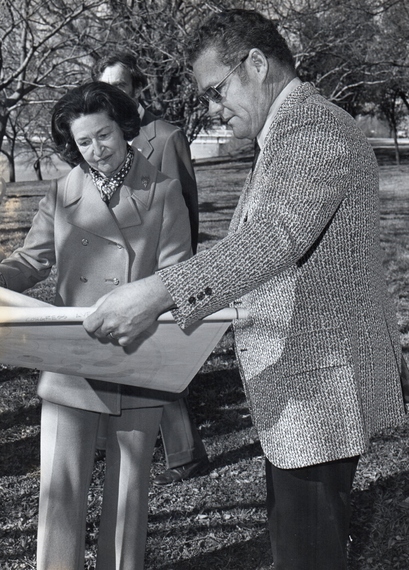 Parks and Recreation Director Jack W. Robinson discusses plans for the beautification of Austin Town Lake with Lady Bird Johnson (Photo courtesy Robinson family)
At Robinson's "celebration of life," held appropriately next to a quiet lagoon off Lady Bird Lake, the Robinson family displayed two albums. One album contained photographs of the Robinson family and of Robinson's professional life, including several photos with Lady Bird Johnson. The other album was a treasure trove of letters written by Lady Bird on her personal and distinctive "LBJ Ranch - Stonewall, Texas" letterhead paper.
Those who gave the letters a close perusal would have noticed how the early letters start with the formal salutation "Dear Mr. Robinson," but soon change to "Dear Jack" and and how the closings evolve from "Sincerely" to "Fondly" as the years pass. Also captivating are the handwritten edits and notes added by Lady Bird.
Those letters fascinated me. They are part of Texas history.
But of course it was neither the occasion nor the time to properly read and appreciate the content and significance of those letters.
Fortunately, Jack Robinson's widow, neighbor and good friend Jan Robinson, allowed me to read the letters at my leisure. The letters confirm what those salutations and closings connote: a growing sense of reliance, trust and friendship between Lady Bird and Parks and Recreation official, Jack Robinson -- a close official and personal relationship that started in 1972 and that would continue for more than a dozen years.
In a December 14, 1982, letter to Robinson, Lady Bird thanks him for agreeing to join the Board of the nascent National Wildflower Research Center and confides in him that the idea of such a Center had been "alluringly going round and round" in her mind for several years.
"I finally decided to 'throw my hat over the windmill' and celebrate my seventieth birthday by daring to try to establish a National Wildflower Research Center," she writes Robinson and adds how, "full of excitement," she plans to announce the news on her birthday, the following week. And oh, by the way, "...you will be here for my birthday party the night of Dec. 22. Right?" Lady Bird pens at the bottom of the letter.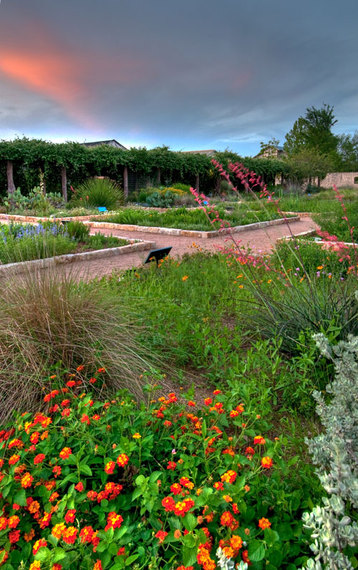 The Theme Gardens at the Lady Bird Johnson Wildflower Center. (Photo credit: Lady Bird Johnson Wildflower Center at the University of Texas, Austin.)

Not all letters to Robinson are of such consequence.
Some are short notes to convey to Robinson and his Austin Parks and Recreation Department staff her "warmest thanks and appreciation" for the work done on the Town Lake Beautification Project.
Several letters include donations for the Beautification Project, some as small as $15 some as large as $5,000. The donations are often from Lady Bird herself or from her family foundation.
Some of the donations are "tagged" for very specific purposes such as to buy "some bushy crepe myrtles with big heads of blooms...the brightest red canna lilies you can find." Another donation is "to be used for an azalea bed," another one "for Peppermint Peach trees."
It is such attention to detail, Lady Bird's desire to "bring the banks of our Colorado River to its full potential" and her obvious intimate knowledge of Texas-native trees, plants and flowers -- especially wildflowers -- that are prevalent throughout most of her letters to Jack Robinson.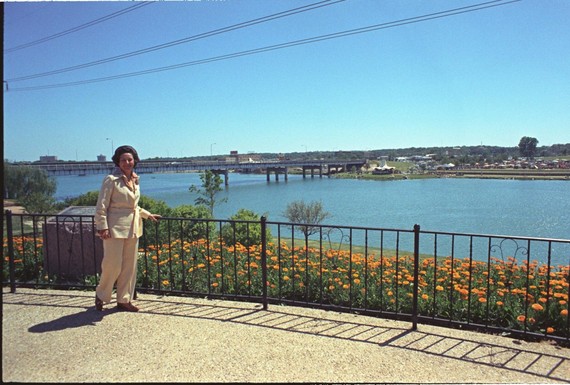 Lady Bird Johnson poses by Town Lake in 1974. (LBJ Library Photo by Frank Wolfe)
Take for example one of her suggestions to purchase, with an enclosed $1,000 check, "a good mulch of Indian blanket, coreopsis, horsemint, various kinds of little white daisies, wine cups, and the whole wide spectrum of wildflowers...of course bluebonnet seeds...[and] red poppy seeds."

Lady Bird would frequently walk "a good deal on the riverfront," and would report to Robinson both the "good and the bad" of what she saw.
After one of her walks, Lady Bird observes, "The crape myrtles, red oak and Chinese tallow are really good, sturdy-looking, and in fine shape -- and there are two wonderful cypress." She writes, "The willows are perhaps the best," and suggests that more willows may be needed and that she would like to talk to Robinson about the possibility of planting fig ivy, "but we'll have to take a walk for me to explain what I mean."
In the same letter, Lady Bird expresses her disappointment with some trees under a railroad bridge: "The red oaks are spindly and the red buds are, alas, finger thin" and, in a handwritten note connected with a graceful curve to the "spindly red oaks," she adds, "I surely hope we can avoid any repeat purchase like these."
But Lady Bird is also quick to recognize and admit mistakes on her part. Referring to some trees that "are bigger than need be," she writes, "I remember it was I who kept harping on tall trees and shrubs. Right here I confess I overdid it and cry calf-rope!"
Mrs. Robinson smilingly recollects how Lady Bird would often meet her husband at the end of the work day and, with a "Come and take a little walk with me," Secret Service in tow, they would walk around Town Lake for hours, making sure everything was "just fine."
In one of her last letters to Robinson thanking him and others who supported her wildflower work, it becomes clear how hands-on Lady Bird was with the work she loved and how down-to-earth she was with those she worked with: "I have loved bumping along in a pick-up truck marking stands for seed harvesting, or photographing, or simply feasting my eyes," she writes.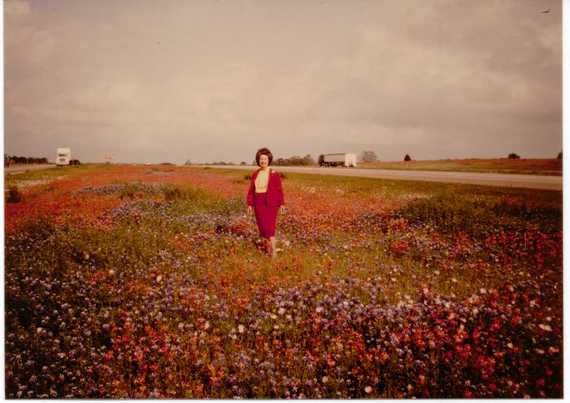 Lady Bird Johnson among her beloved Texas wildflowers (Photo courtesy Robinson family)
The letters give us a unique glimpse into how this First Lady, through her interaction with other dedicated, nature-loving Americans, was able to do so much more than just tangibly beautifying our state and our nation.
Though the word beautification makes the concept sound merely cosmetic, it involves much more: clean water, clean air, clean roadsides, safe waste disposal and preservation of valued old landmarks as well as great parks and wilderness areas. To me...beautification means our total concern for the physical and human quality we pass on to our children and the future.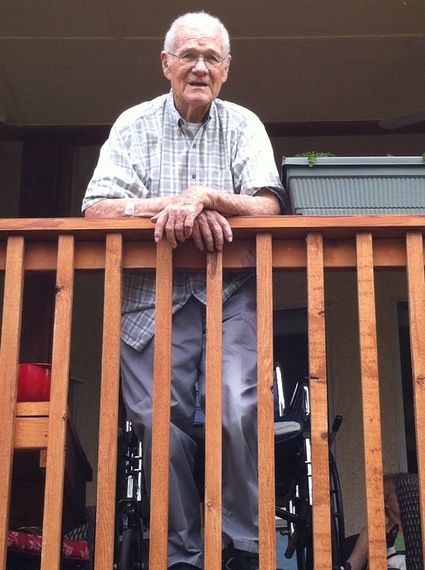 Jack William Robinson in April 2014, a few weeks before his death, admiring the wildflowers in his backyard. (Photo courtesy Robinson family)
Lead photo: One of Lady Bird Johnson's letters. (Photo by author)
Calling all HuffPost superfans!
Sign up for membership to become a founding member and help shape HuffPost's next chapter