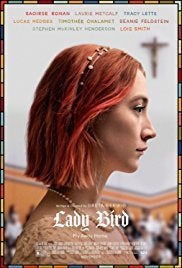 Greta Gerwig's "Lady Bird" is a brilliant primer on how young people experience class and alienation in America. Sweet and sour, this razor sharp, figuratively autobiographic gem is Gerwig's bridge from acting to writing and directing. It is a gift not to be taken lightly.
Saoirse Ronan ably makes up for having Gerwig on the other side of the camera. She is Christine "Lady Bird" McPherson, parochial high school senior on the shaky launching pad to adulthood.
Fortunately, Lady Bird's pad is rich in character, deep and diverse. Despite the appearance of contention, her parents love and sacrifice for her. Father Tracy Letts provides emotional underpinning. Mother Laurie Metcalf's tough love is annoyingly critical, but heartfelt. Timely sibling support comes from brother Jordan Rodrigues and his partner Laura Marano. Ronan's consummate skill is her seemingly effortless ability to make us see her as the product of this nest, yet desperate to fly.
Love is not all you need. Society, especially teenhood, measures itself materially. Family McPherson is constantly constrained and tested by economics. Lady Bird's consciousness of her working class roots motivates her flight. Her parents try to shape her future in their image. They limit her college selections to local and economic. Lady Bird has higher aspirations for life and education, further away and more expensive.
At high school, she dumps her wide-eyed, lovable soulmate BFF Beanie Feldstein (channeling Cathy Najimy) and separates out from love interest Lucas Hedges for the rich and the feckless: new girlfriend Odeya Rush and new boyfriend Timothee Chalamet. At school she bumps heads with Sister Sarah Joan and Father Leviatch. She even drops out of her beloved drama class.
Will rich classmates discover she is really Cinderella? Will she succeed in pulling herself up the next ladder rung or fall back to earth with a working class thud? Will she be happy wherever she lands?
Greta Gerwig has lovingly mined her mid-sized American city Sacramento roots to create a place which mirrors her characters' social relationships. It's a comfortable home. Is the happiness you find there of a different order than that attainable in New York? Or can one, by describing it all, convey a picture which will help viewers understand and accept its rewards, as well as its limitations? Can it be changed for the better?
REAL LIFE. REAL NEWS. REAL VOICES.
Help us tell more of the stories that matter from voices that too often remain unheard.
This post was published on the now-closed HuffPost Contributor platform. Contributors control their own work and posted freely to our site. If you need to flag this entry as abusive,
send us an email
.