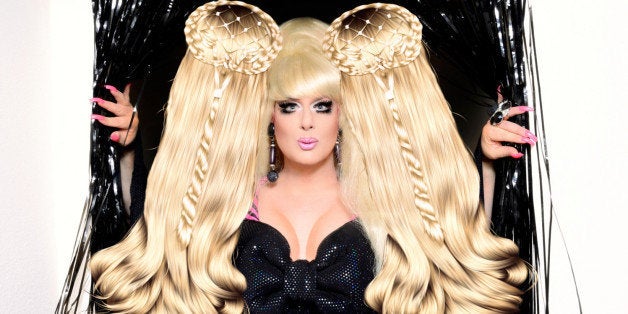 This is the twenty-first installment in HuffPost Gay Voices Associate Editor JamesMichael Nichols' 30-part series "After Dark: NYC Nightlife Today And Days Past" that examines the state of New York nightlife in the modern day, as well as the development and production of nightlife over the past several decades. Each featured individual in this series currently serves as a prominent person in the New York nightlife community or has made important contributions in the past that have sustained long-lasting impacts.
HuffPost Gay Voices believes that it is important and valuable to elevate the work, both today and in the past, of those engaged in the New York nightlife community, especially in an age where queer history seems to be increasingly forgotten. Nightlife not only creates spaces for queers and other marginalized groups to be artistically and authentically celebrated, but the work of those involved in nightlife creates and shapes the future of our culture as a whole. Visit Gay Voices regularly to learn not only about individuals currently making an impact in nightlife, but those whose legacy has previously contributed to the ways we understand queerness, art, identity and human experience today.
The Huffington Post: Talk to me about your experiences in the NYC nightlife scene -- what did your journey to becoming one of the most prominent drag queens in the world entail?
Drugs! Booze! Sex in toilet stalls! It's largely a blur. A van carted me to NYC in drag to appear at the Pyramid Club as a guest star in RuPaul's booking there. I became a resident go-go dancer at this drag queen owned-and-operated venue for the next few years. From the Pyramid, I branched out to other clubs and was generally enthralled by the vibrant scene of the time. The music was the best I'd ever heard and that led me to dabble in DJing, a side career which I never dreamt would take me to Tokyo, Morocco, Bangkok and even the club atop the Eiffel Tower. Much of the music that the whole world was dancing do was created by NY DJ/producers like Masters At Work and Def Jam with Frankie Knuckles. And then stars like Deee-Lite, RuPaul, Barbara Tucker, John Cameron Mitchell aka Hedwig, Kevin Aviance and Antony And The Johnsons began to spring from our downtown scene. NYC was creating the underground culture that the whole world was vibing to. I fell in love with all of it!
I grew up in Chattanooga, Tennessee, which was a little dull for me. So when I arrived in the Big Apple, I knew I was home. I basically moved here, decided to call myself the idiotic name Lady Bunny, and am very grateful that people bought my brand of lunacy. It's enabled me to make a living doing what I love the most. Sometimes I gripe, but I'm always forced to remember that not everyone has a job, much less a job that they love doing. I didn't say I don't sometimes get sick of shoving my nuts up my ass and gluing giant wigs on my head as I cram my canned ham-sized feet into fetish pumps -- let's just say they don't call me Lady Bunion for nothin'!
Why did you decide to create Wigstock? How did this seminal drag festival develop?
As a child, I always put on silly shows in my backyard for the horrified neighbors. So when I got to the Pyramid and saw all of these wild and wonderful performers, my instinct was to showcase them to a larger audience than the couple of hundred regulars that the Pyramid could hold. Bands would often get permits and "jam" playing screeching death metal in the park all day. Sometimes their masturbatory guitar solos would go on for 15 minutes of ear-splitting crap. I thought surely I could put on a better show than that. The festival was also neighborhood marketing for the Pyramid, where most of the performers came from in it's early years. The festival got bigger and bigger, attracting stars like Debbie Harry and Boy George who joined the mostly drag queen cast. It got so large that we had to move it to the West Side pier to accommodate the crowds -- especially after "Wigstock: The Movie" came out in 1995. It then rained for two years in a row and we lost a fortune. So we announced one last festival and called it quits. But the festival of wigs and hair pieces didn't necessarily curl up and dye -- we may have some kind of revival in the future.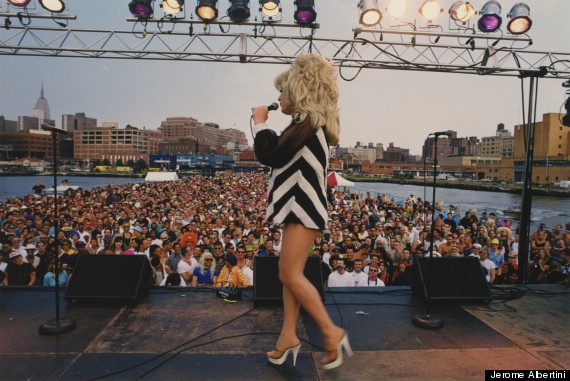 What do you think Wigstock represents within the historical narrative of queer history? How do you see it influencing young queers today -- for example, through Bushwig?
If I was introduced 10 years ago as the founder of Wigstock, people would cheer when they heard that word. Now they are more likely to cheer for an emcee saying that I was on "RuPaul's Drag U." So many younger folks don't know Wigstock. I also don't like to rest on my laurels and, while I created something that many enjoyed for two decades, I have a few more tricks up my sequined sleeve. For a certain age group, my claim to fame is that I organized Wigstock. But that age group isn't going out much now! However, I sense that some young people watch the documentary and feel the strong spirit of community -- not just between transvestites and their bewigged audience -- but between musical artists who graced our festival because they admired or were part of our community. But also the freaky people of NYC who appreciated a drag festival and saw it as an asset to their home and those who visited to experience it. Wearing flawless coiffures, natch! Wigstock was not only a reflection of the vibrant, inventive drag community but of the more bohemian, less expensive NYC of the time. People of all colors and sexual persuasions and musical tastes from rock to house -- we all felt connected somehow and Wigstock was a hipper version of gay pride day for the freakier set.
I only got to see only a couple hours of Bushwig, but it was refreshing to hear no top 40 tunes. Clearly, this crew is looking for something more interesting than typical twink culture and are therefore to be applauded. The emcee was lively and fun but I had to run to work and only caught a few acts. Those were deeply deranged, but so were some of the acts at Wigstock!
How have you seen nightlife change and develop during your decades in the scene? How is it different today?
I've seen the rise of the crappy, very undemocratic VIP/bottle service scene. In the old days, if you were fun enough, you didn't need money to get in or pay for drinks. You could be a great dresser, dancer or a drummer like Fred The Animal who just brought something unique that spiced things up. Fred just showed up at different clubs with his drum kit and played along with the djs. His skills were snapped up for the worldwide smash "I Like To Move It."
I've seen gays turn towards garbage pop instead of what gay clubs used to play -- music so good that straight DJs would come to see which records they were breaking to the gay community who were then dance music's tastemakers. Now we play the same crap that's on the radio. Rather than asking a genius like Dennis Ferrer, who's produced worldwide underground dance hits, to play some formulaic Britney and Rihanna, we used to go up to the DJ and ask them what the phenomenal record that they were playing was! We were looking for interesting music -- not just lapping yup whatever we were sold. But that would mean that our ears would have to be open to new music that wasn't part of the the idiotic hype machine which produces "visual albums" like Beyonce's last tired offering.
Listen, I'll take the equal rights for gays, but can we please keep out traditionally better dance music?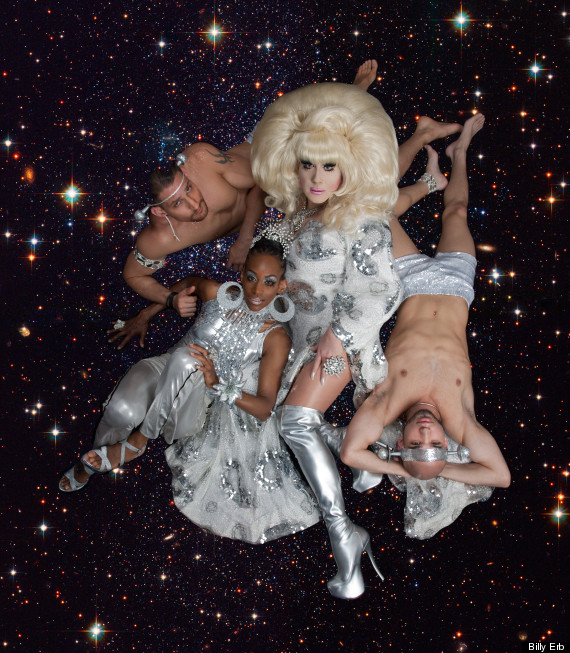 I've seen the smoking ban and surveillance cameras which halt drug use and in-stall blow jobs make the clubs not only snooty, but less decadent and permissive. They don't call me the DJ with the bjs for nuthin'! Aah, the Tunnel. And I hate not being able to blame the stench of my wigs on smokers in the club the way I used to!
If you're on a phone in a club, you've lost the plot on how to party. Rather than bring some magic of your own, the idea is for everyone to document everything with devices and then use them to suck the life out of the party and zap it over to the real party -- which is online. You're only as good as the number of your Twitter followers or likes these days! But this is a reflection of a soulless world where even Obama and Lady Gaga buy Twitter followers. The hottest and biggest club is now online and, sadly, it's a popularity contest rather than an actual party. I remember when Johnny Dynell and Chi Chi Valente stopped doing their Tuesday night bash Jackie 60. They told me they were going to have a "virtual party" online with their website. I sneered "I can't drink a virtual drink and I can't suck a virtual dick, so I have no use for a virtual party." Turns out that their online site the Motherboards was a precursor of Facebook.
I wish I could think of a few positive developments in clubs. The desperation to get people out and the recession have led to cheap drink specials and reduced cover charges.
Linda Simpson talked about how formative The Pyramid Club was for her, saying that it "was very thrilling back then because it was the world headquarters for an entirely newfangled way of drag... Practically everywhere else drag was dull serious queens in gowns lip syncing to Barbra Streisand. But the Pyramid was kooky and punky postmodernism." How formative was the Pyramid club for you as an artist and performer?
Linda who? KIDDING! Completely formative. I was kooky before I arrived in NYC, but the Pyramid showed me so many different kinds of drag. In Atlanta, where I'd moved from, you'd only see drag queens lip-synching to Tina Turner and Barbra in sequined butterfly tops. Some were sensational, but the Pyramid queens expanded the parameters of what you could do in drag. So you had drag queens singing live, fronting bands or dance troupes, DJing, writing plays and musicals and they were more likely to impersonate Janis Joplin or Mona Lisa than Madonna. My goal in creating Wigstock was to showcase this type of drag to a wider audience because I was so impressed by queens like John Kelly, Ethyl Eichelberger, Jayne County and Lypsinka. One manager of the club had a character named "Jane" who would just fall every few steps and wallow on the floor drunk, crying and impossible to be reasoned with. It was off -- on purpose!
Lypsinka only lip-synchs, but she did it in a way that was art -- combining rare audio clips, costumes and lighting to create entire evenings of glamorous and comedic theater. I love a lip-synch of "And I Am Telling You" -- if it's by Jennifer Holliday -- as much as the next queen, but Lypsinka truly elevated lip-synching to an art form. We didn't have the technology to edit sound clips on our computers back then... because we didn't have computers. Lyp's soundscapes were meticulously edited in a professional recording studio. So Lypsinka, in particular, influenced me by teaching me to cut up audio -- there's no need to perform a song as is. And today, medleys are very common in the repertoires of many a queen, including my own. And Ethyl taught me how to put on false eyelashes! There was a feeling that we were all part of a happening -- a magic moment, perhaps, like a very budget Studio 54 complete with it's own royalty. And even though the Pyramid's owners might've been passed out drunk or on heroin, they spoiled performers by the excellent sound and lights there. Few clubs, even those with multimillion dollar lighting systems, could replicate the simple but crucial task of lighting up the performer and furnishing them with onstage sound monitors.
I don't say this often, but Linda Simpson was then "fresh" on the scene and may have missed the Pyramid's annual Night of 1000 Barbra's. But far from a slavish diva worship, it was a demented romp that used music Babs as a launching point for more insanity than recognizable impersonations.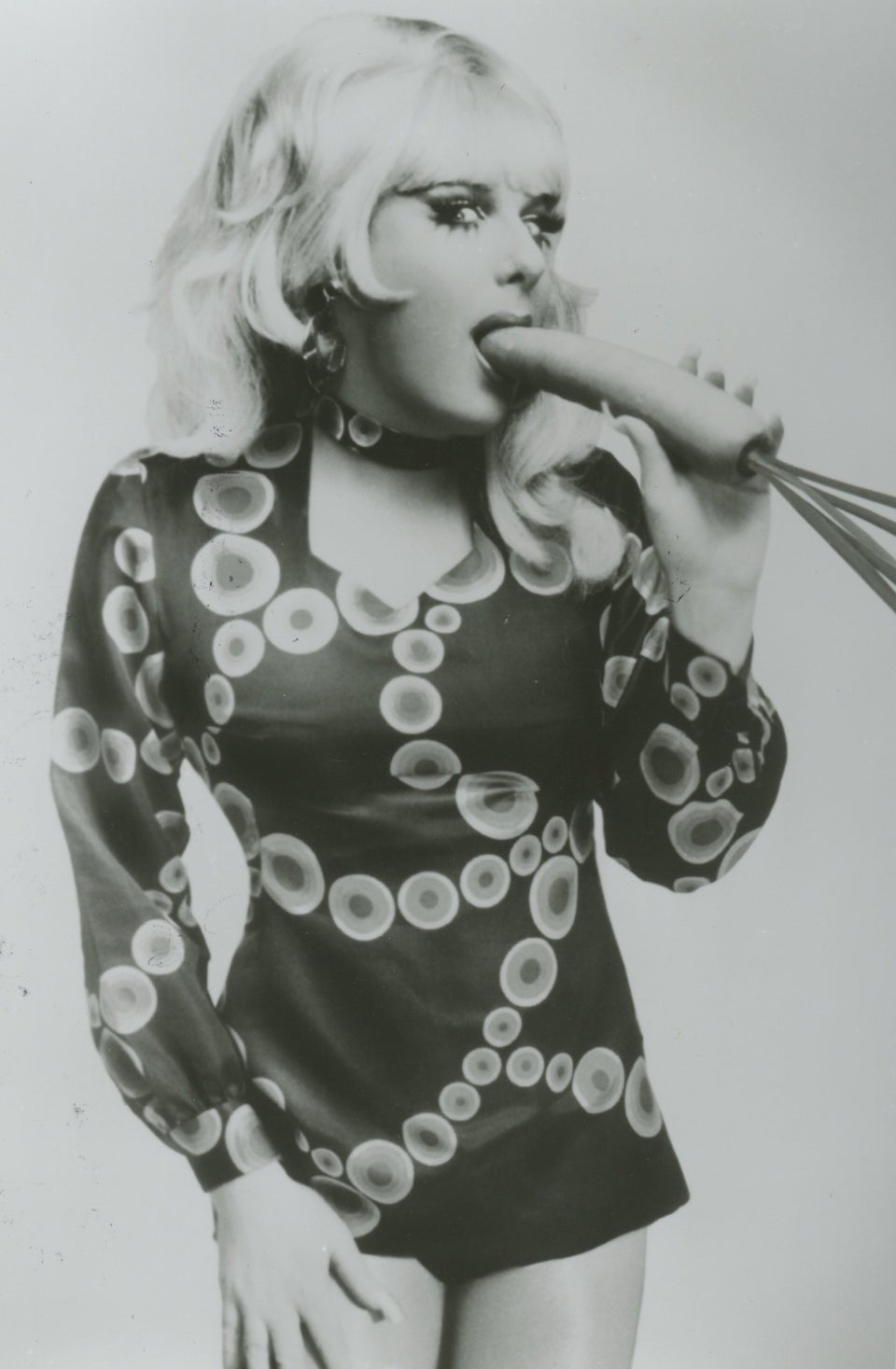 Lady Bunny
We live in the age of gay marriage and queer people seem to be becoming increasingly normalized and sterile within the mainstream. Do you think nightlife can act as a preservation of the more radical and transgressive segments in our community? Or do you think it serves a different purpose now?
Don't fret! Straights are becoming more normalized, too! I hope that clubbing will always serve the purpose of dancing, partying and hooking up for sex. But younger gays are assimilating and often going to straight bars. Sadly, gay culture is worth preserving -- especially "radical and transgressive segments" because that was mainly found in clubs and performance spaces. And the more off-beat and crazy, the less likely it was you'd ever see it on TV. Now clubs take their tips from TV and book reality stars -- embracing the most mainstream boob tube culture which would never have been admitted to cool clubs back in the day. Much less paid to perform for scenesters. At least the "Drag Race" queens perform -- gay clubs now book "real housewives" to just get on the mic and say "hi!" I performed at the Castro Theater with a bunch of "Drag Race" queens and was told to ease up on the filth factor at the early show due to the fact that the show has many underage fans. So now drag queens have to tone down their acts and make them family-friendly? That's very foreign notion to a club denizen.
I'm always furious when I read that hooking up online is shutting down clubs. As a card-carrying slut, I fault no one for new technology that gets you laid. Even if I do better on Blendr than Grindr. But the hottest clubs were never just about getting laid. There were certain bars like The Eagle where you'd go to just to hook up. But clubs like the Pyramid, Boybar, Limelight, Jackie 60 were much more than that. We went out to experience new music, fashion, art, performance, dancing and remember this one: CONVERSATION! Remember that antiquated art on the border of extinction? Is there an app for that? Yes, there is. It's on top of every phone and it's called an off button. So I guess I'm saying that conversation, fun, good music, dancing and clubs we could afford are now "radical and transgressive" elements in our community. I would start a petition right now to preserve them on change.org but I have to set up the Kickstarter for my liposuction.
What do you hope to see as the future of nightlife in NYC? Do you always want to be a part of it?
Nightlife here has definitely taken a big dip. A lot of my work is in clubs, theaters, cabarets, gay pride festivals -- even a little film and TV. And much of it is out of town. So as it's withered in NYC, I've looked elsewhere. But just as I don't see every Broadway show or foreign film that comes out, it comforts me to know that clubs are here to experience. I just miss big clubs like the Palladium and Tunnel. I'm a big girl so just in terms of proportion, I like my wigs, my dresses, my lashes, my clubs and my men to be BIG! Bars are fun for an easy night out, but you don't dress to the nines to hit a bar. That's for bigger clubs which promoters struggle to fill.
I performed recently at Frankie Sharp's Westgay and was blown away by the great music, crazy antics and the frenzied energy of young, fucked up people just grinding on each other and feeling the pulse. I'll always wanna be a part of a fun vibe. And if the kids were really wasted, I could blow them while they were passed out. Steal their wallets on a good night. The fact is, I can sit and whine that NYC's golden age of clubbing is dead -- just as aficionados of the Mud Club, Studio 54 and other great clubs of the past could say before the Pyramid had even opened said the same. The truth is, I'm now 52 and not looking to get fucked up, fucked or turned out by any DJ every night of the week as I once was. There was a time when we were thrilled just to be able to work a look that got us into Area for free or warranted a few drink tickets wherever we chose to hold court. Now clubbing is my profession so I view it in a different light. Maybe there are still people who work a new look and hit 5-6 clubs a night like we used to do. But with NYC rents what they are, those crazy kids must be living 5-6 to a studio apartment. You need to be able to party near where you live and I don't think Manhattan, where I live, is party people central anymore. Bushwig was cute and all, but it was also a $40 cab ride for me each way. And it's transphobic of you to suggest that taking the subway isn't an option because I'm not passable enough. In fact, I've decided that the word transportation is insensitive to the trans community. I'm still deciding if we should permit the word traffic. It is so insensitive to the victims of sex trafficking. And let's go ahead and ban the word "rose," too. It's contained inside the word heterosexual so it brings back all the hurt feelings of straights cruelly mocking us.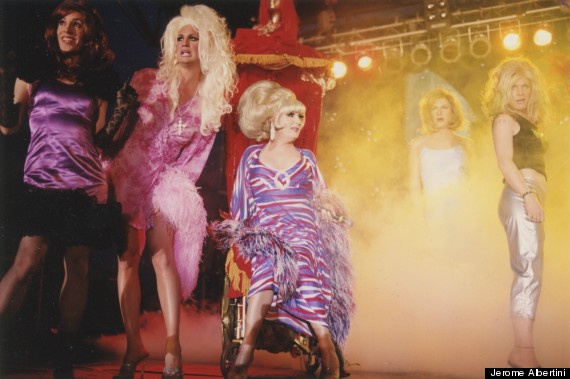 What are your current projects, shows and gigs are you currently engaged in?
I've just released a dance single called "Lately" by myself and NYC-based production team Groove Addix. My last single, "Take Me Up High," hit #17 on the Billboard Dance charts and I'm definitely focusing on recording more original music. Antony, from Antony and The Johnsons, took an interest in one of my compositions and was kind enough to produce the vocals for it. It's being remixed now. But music is a side project -- comedy and DJing are what currently pay my rent. I'm happy to say that I've been able to go worldwide with it and, after an October gig at a museum in Buenos Aires, I've DJed on all five continents. I've been performing one woman shows at La Escuelita and plan to relaunch the last one, Clown's Syndrome, in the future. And I'm appearing in film festivals in a short called "Dinner @ 40" and have a scene opposite Heather Graham in a movie where we recreated Wigstock in Tompkins Square Park. It's called "My Dead Boyfriend" and is directed by Limelight owner Peter Gatien's daughter Jen. I've just written two forewords to a book called Jeza Belle's The Harlot's Guide To Classy Cocktails and a Rizzoli photo book of vintage porn. And now ghostwriting a transsexual friend's book and my own!
If there was something you wished to communicate about the evolution of queer history through nightlife in New York to the new generation, what do you think is the most important thing to ensure is not forgotten?
I'm glad that younger gays feel comfortable going to straight clubs or bypassing clubs completely and hooking up online. However, when I DJed at the closing of Splash, I was deeply saddened. It's closing left XL as the only other large gay venue in town -- and it was only open 2 nights a week and is now more of an event space, which isn't always gay. So there are three Disney shows on Broadway and no large gay venues that are gay for more than one or two nights a week. Wow -- NYC is hopping if you're five years old! But as a legendary clubbing destination, forget it.
As Brian Landeche, the owner of Splash, scrambled to put on years of footage of Miss Fire Island Pageants and other blasts from the past, I realized that club history is gay history.
Younger gays may not need them, but clubs were where gays lived our lives prior to more mainstream acceptance. Clubs were safe spaces where we danced with or kissed a partner of the same sex, fell in love, learned gay lingo and felt safe enough to queen it up on the dance floor to the diva of the day -- from Donna Summer to Madonna to Whitney. For decades, clubs were the only establishments where you could see a large group of gay men -- besides AA. There was a feeling of community in the club world which I don't think you get much of on Grindr.
Popular in the Community