Minhee Cho went to Papa John's for some fast food goodness. Little did she know, she would get it served with a side of racism.
At around 12:30 p.m. today, Papa John's customer Minhee Cho tweeted a photo of a receipt she received at a Papa John's restaurant in uptown, New York City.
In it, under the customer's name section, the restaurant employee who rang up the order used the racial slur "lady chinky eyes" to describe her.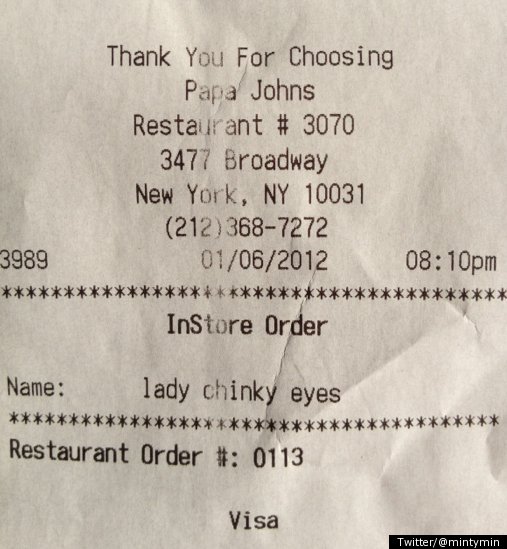 Cho posted the photo to her Twitter page, where it was quickly retweeted by hundreds of people. By 3 p.m., the photo had been viewed over 25,000 times.
When The Huffington Post reached the Papa John's in question for comment, the assistant manager -- who only gave her first name as Marjani -- said she was unaware of the incident.
"I apologize," she said in a phone interview. "I'm sure they didn't mean any harm but some people will take it offensive." She added that she "had an idea of who it was," based on the time of the receipt.
Marjani went on to say that this was the kind of behavior that would result in disciplinary action, but declined to go into further detail on what she planned to do.
Papa John's has yet to respond to the incident in a statement or its Facebook and Twitter accounts, but with such a PR disaster on their hands, they most likely will soon.
We were extremely concerned to learn of the receipt issue in New York. This act goes against our company values, and we've confirmed with the franchisee that this matter was addressed immediately and that the employee is being terminated. We are truly sorry for this customer's experience.
The company has also addressed the matter on its Twitter feed, tweeting to multiple people that "We have issued an apology, are reaching out to customer & franchise employee is being terminated."
Support HuffPost
The Stakes Have Never Been Higher
Related
Popular in the Community