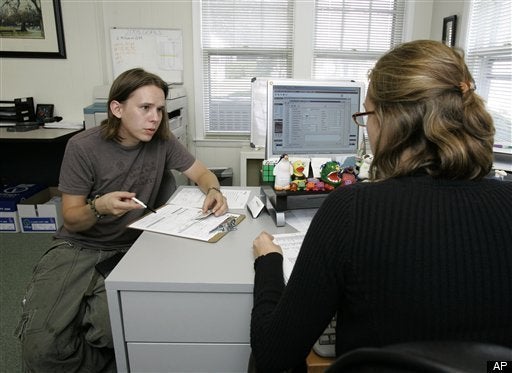 It's an ancient superstition: Beware of Friday the 13th. This month, though, Friday the 13th could be replaced by Friday the 8th.
Why so? Because that's the day we'll get the September employment report, and some suggest we may see worse than expected numbers. Not only the prospect of flat job growth, but higher than anticipated job losses.
At this point, Wall Street generally expects a loss of about 70,000 temporary Census Bureau jobs and the creation of roughly a similar number of private sector jobs for a net windup of zero growth.
"Way too optimistic" is the view of Madeline Schnapp, the director of economics at West Coast liquidity tracker TrimTabs Research, which is partially owned by Goldman Sachs and has long taken issue with the manner in which the Bureau of Labor Statistics calculates the employment numbers.
Her expectation is that only a meager 20,000 to 25,000 private sector jobs will be created in September. Deduct an estimated 70,000 lost Census Bureau jobs and her windup is an overall loss of between 45,000 to 50,000 jobs.
Compare that to August when the economy added 67,000 fresh private sector jobs and the end result, presuming Schnapp is on the right track, is a highly disappointing employment report, especially when you consider that we're supposed to be in an economic recovery and that a monthly creation of 150,000 new jobs is needed just to accommodate population growth.
(TrimTabs uses real-time income tax withholdings deposited at the U.S. Treasury to compute overall employment and employment growth, whereas the BLS results -- which are only 60%-70% complete at the time of its monthly release and are always revised -- are based on a survey of 140.000 establishments)..
Peter Morici, an economics professor at the University of Maryland, also takes a dim view of the September jobs picture. Pointing to forecasts of a standoff for the month -- no jobs added, nor lost -- he says this indicates the economic recovery is grinding to a halt. He figures that September's private sector jobs growth will come in at about 35,000.
Particularly troubling to Morici is the shortfall -- namely his contention that more than 300,000 new jobs are needed each month to pull down unemployment to pre-recesssion levels and pay the taxes needed to finance the President's ambitious social agenda and industrial policies.
With Wall Street eagerly bidding up stock prices in recent months on the widespread belief that the economy is finally out of the woods, a resumption of job losses, notably in the private sector, is the last thing anyone wants to see.
The reason: It could raise serious questions about the vigor of the recovery, which in turn could prompt many investors to re-evaluate their renewed fling with equities, leading to a stock market thrashing.
It's anybody's guess what kind of an outfit Schnapp might wear if she goes to a Halloween costume party, but based on her negative economic outlook, attire depicting Lizzie Borden, Lady Dracula or the wicked witch of the east would probably be most appropriate.
"I see slow growth as far as the eye can see," Schnapp tells me. "New record highs in gold prices (above $1,300 an ounce) and equally new record lows in 10-year Treasury note yields (around 2.5%) are telling you the market thinks the same way."
Schnapp sees several major problems wreaking havoc on the economy. "And with no sustainable economic growth," she says, "we'll see the market constantly whipsawed between the bull and bear forces."
Why such a mediocre economy ahead?
Aside from waning government stimulus, Schnapp expects the jobs picture to remain dark. One critical reason, she says, is that Corporate America and notably small businesses, which are the engine of economic growth, will be reluctant to rehire because of uncertainty about health care legislation and tax changes.
A painfully slow job recovery process is seen as yet another dilemma. Assuming a job-creation rate of 50,000 a month, Schnapp figures it would take to 2024, or another 14 years, to recoup the 8.5 million jobs that were lost during the most recent recession.
Housing -- an important component in nine out of the last eleven recessions since World War 11 -- also figures prominently in her dismal economic outlook. "Termites are still gnawing away at the housing market and trying to get the economy going without it is like riding to ride a bicycle with flat tires," she observes. "You peddle and peddle, work very hard, but you can't get traction."
Pointing to seven million homeowners currently delinquent on their mortgages and another four million likely in the next year or so, a glut of 4.2 million unsold homes, the issuance of new notices of default at a rate of 300,000 a quarter, and the fact that 11 million or 23% of the nation's 47.8 million mortgages are under water, Schnapp sees housing prices flat to down 10% over the next year or so and a sideways trend for the housing market lasting for years.
On top of this, our economic bear notes we started this recession at the end of 2007 with $3 to $4 trillion of excess mortgage debt. In 33 months, we have managed to deal with only $750 billion of that debt via foreclosures, debt reduction, etc. At the current pace, she says, it would take the market five to ten years to digest the remaining $2.25-$3.25 trillion of mortgage debt.
That means, of course, even tougher times ahead for housing, the economy and the job market.
Translating all of this into potential GDP growth, Schnapp figures we're looking at a measly 1% to 1.5% for the rest of the year and even punier 1% growth in 2011.
Schnapp also calls attention to several external shockers that could play havoc with the economy--notably a debt default by a European country, Iran going n uclear and another terrorist attack on U.S. shores.
Her husband, she says, has told her she's too grim. Her response: "If you look at the facts, how can you not be grim?"
You might wonder, as I did, the derivation of Friday, the 13th. One explanation is that Jesus was crucified on a Friday and 13 people attended the "Last Supper."
What do you think? E-mail me at Dandordan@aol.com
Calling all HuffPost superfans!
Sign up for membership to become a founding member and help shape HuffPost's next chapter