Video by David Joshua Ford.
The mainland disappears as a sliver sliding off the airplane window. Ahead: a dark blue abyss striped turquoise from the Eastern Australian Current. Inside the Cessna caravan: six passengers and a palpable uncertainty. When will the land return? Forty minutes flying over the sea, a crystalline ring with a splotch of land in the middle comes into view. There. Someone points. We will land there. Eyebrows raise.
I had heard rumor from several divers that exploring the Great Barrier Reef's southern section was what diving used to be like 20 years ago offshore the more popular Cairns in Australia's north. Whether that is true or not, I am not certain, but the prospect of adventuring through less-charted territory always makes my spine tingle. So, for our next getaway my Australian partner David (who had never seen the Great Barrier Reef) and I set out on a reef to rainforest circuit. The adventure would take us from Hervey Bay (180 miles south of Brisbane) to Lady Elliot Island around to Fraser Island (the largest sand island in the world) and back.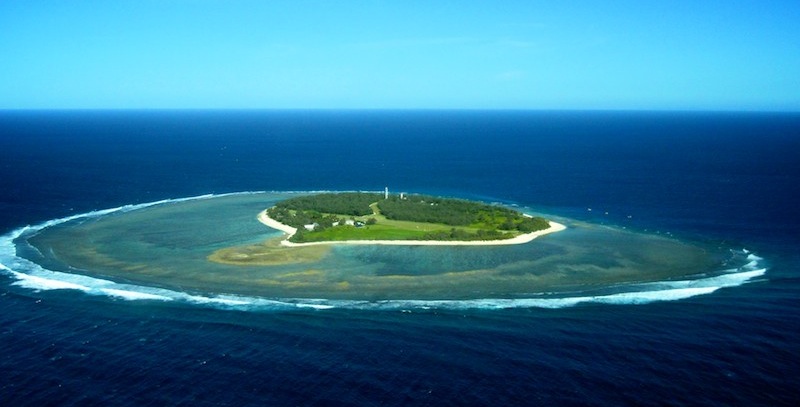 Lady Elliot Island appears like a freckle on the map of Oceania, 46 nautical miles offshore Australia's mainland. It's one of the Great Barrier Reef's 900 islands, and it's circumference is so slight you can walk the perimeter in under an hour.
Flying to the island, our pilot suddenly banks a hard left to circle Lady Elliot and decrease altitude, G forces reeling. From my window, I spy ocean in all directions. I glance at my phone; service dead.
We touch ground, bouncing along a grass runway. As a lineup of hosts welcomes us with energetic waves, I feel not the isolation of arriving to the middle of nowhere but rather a sense of homecoming to my long-lost family. A blonde, gregarious host ushers us to the resort's reef shoes section and spouts warnings about venomous Cone Shells and Bluespotted stingrays.
Communal Crocs and sneakers hang on the walls next door to the resort's ocean education center. I didn't understand the need for reef shoes until I stepped barefoot on the beach and the sand -- a coarse amalgam of sharp, pulverized shells -- nipped at my arches. The Crocs became a regular fixture on my feet as they were for everyone else on the island. At dinnertime, the buffet-style dining hall whooshes with the sound of scurrying Crocs.
On the island, there's exactly one hotel: Lady Elliot Island Eco Resort. An advanced Ecotourism Certified destination, Lady Elliot Resort operates almost entirely on solar power. The certification program--operated by Ecotourism Australia--requires resorts like that of Lady Elliot to contribute to environmental conservation, help local communities, and use resources wisely. As such, they are supporters of Project Manta, which collects data about island Manta Ray populations; and owner Peter Gash regularly speaks in favor of alternative energy initiatives. The resort also desalinizes seawater and collects rain for drinking water.
The lush greenery that thrives there today mimics original vegetation guano miners cut down during the Nineteenth Century when Chinese and Malay workers excavated the land. While major reforestation took place in the 1960s, Gash continues to plant trees every year.
"It was a barren, windswept desert," he exclaimed adding that locals once nicknamed Lady Elliot the Rock. Today, the island abounds with life. Green and Loggerhead turtles nest here as do Red-Tailed Tropic Birds -- a species that spends the majority of its life at sea. During nesting season from February to November, hundreds of baby turtles make their way to the water for the first time.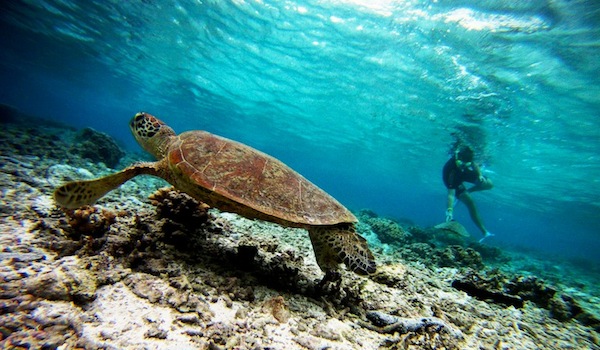 Like any modest woman, Lady Elliot's true beauty lies below the surface. As the world's largest coral system, the Great Barrier Reef houses around 1,500 species of fish, 4,000 types of mollusk, and six out of seven of the world's marine turtle species.
Sitting along the Tropic of Capricorn, Lady Elliot Island offers some of the best snorkeling in the world. It is located in what the Great Barrier Reef Marine Park Authority classifies a Green Zone or a region where fishing and shell collection are not allowed. This helps protect habitats and ensure the livelihood of the species that thrive there, excluding the impact of unexpected circumstances, like shipwrecks.
On a quiet evening in 1816, a vessel crashed along the reef's obscure edge. The name of the ship: Lady Elliot, christened after the wife of India's Colonial Governor. The island inherited her name and a reputation for shipwrecks. In fact, a two-masted sailboat named Severance still sits on the ocean floor after its 1998 crash. And the day I left Lady Elliot a fishing trawler collided with the coral overnight and lie lopsided at sea, the captain waiting until high tide to right the ship.

Snorkeling around the Anchor Bommie to the island's historic lighthouse, we twirled through a fury of bubbles that rose from the oxygen tanks of divers on the sea floor. They flirted with a clan of majestic Manta Rays that sail like eagles through the water, flapping their fins, the total width of which can reach 23 feet. Swimming through the Great Barrier Reef, everything becomes, "Look here! Look there! Wait, look there!" I called it fish ADD.
Blue Linckia Seastars hug the coral, a panoply of rainbow-colored Moon Wrasse, yellow Angel Fish, orange Clown Fish swim in harmony. The only thing comparable in my lifetime: the culturally diverse streets of New York that flow with people from all countries of the world. If the streets of New York were coral channels, I'd say the population diversity were comparable, although the Great Barrier Reef probably wins. Off Chanel One, directly in front of the resort, turtles are fearlessness, if not curious, and they covet selfies (iPhone self-portraits) just as much as we do. In the sea, it's easy, with both the current and state of mind, to get carried away.
After spending our final day mostly at sea, I plunged into bed and felt sleep overcome me. That's when David shook me awake, and swooped me up in his arms to carry me outside where the saline wind shouted in my ears. "Look to the sky," David whispered. From his embrace, I gazed up to the heavens from our small spot on earth to see a black sky littered with brilliant stars. As the waves crashed, I drifted off thinking about the stars and the beautiful randomness of life and earth.
The next day, we flew back to Hervey Bay, Lady Elliot disappearing again into the foggy distance of the skyline. We had swum the depths of the sea, which only riled up that heathenish adventure side of myself. So onward we traveled to Fraser Island leaving the sea at peace, shifting gears from diving to four-wheel driving.
How to Get There: The island charters multiple Seair flights per day via Bundaberg, the Gold Coast, Brisbane, and Hervey Bay. Click here for scheduling and pricing. To visit two World Heritage sites in one trip, book the Reef and Rainforest package that goes from Lady Elliot Island to Fraser Island.
When to Go: While Lady Elliot is great to visit year-round it's best to plan your trip around one of its natural spectacles. Turtle hatchings occur in February and March while Humpback Whale migration happens June to October.
Video by David Joshua Ford, follow him on Twitter. Photos and text by Megan Snedden.
Related