A few weeks ago I got an email with an invitation for an "ArtRave" party hosted by Lady Gaga and Jeff Koons. Although quite mysterious, and indicating that further details were to be revealed closer to the actual date of the party, the whole thing seemed like a lot of fun and an adventure that I was gladly willing to take on. A follow up email came on Saturday morning requesting that we take the ferry boat on Sunday night at around 8:30 pm from the pier located on 35th Street and the FDR. The instructions stated that we were to be taken to an undisclosed location where the "ArtRave" was to take place.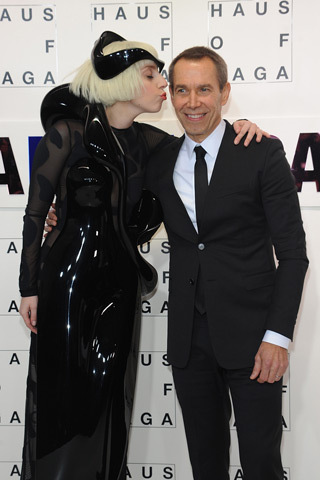 The ferry took us to the Navy Yard Complex in Brooklyn where we were greeted by several security people who escorted us through a massive glass house where the party was about to start. The first thing I saw after entering the glass house was a giant Jeff Koons' sculpture of Lady Gaga cast in a classic style and giving birth to a stainless steel shiny blue gazing ball. There were also several other Koons' stainless steel sculptures that had never been shown before. A massive stage that looked like a wedding cake stood on the back of the room.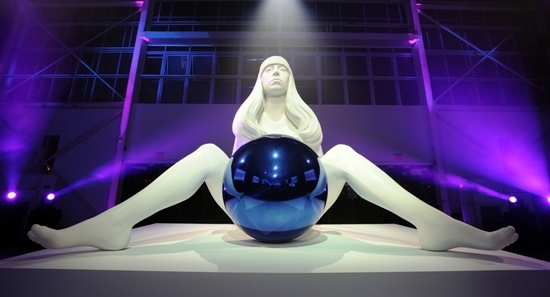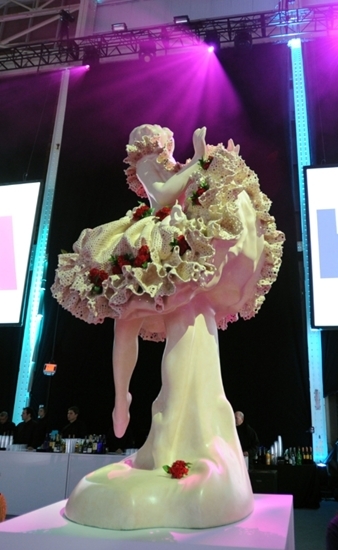 Upstairs, right behind the stage, was a VIP room, where we were directed by the security staff. There, a beautiful installation of eight photographs by Inez & Vinoodth, showed a series of portraits of a romantic-yet-creepy Gaga covered with flowers or a blindfolded version wearing the strangest grillz I've ever seen. The view from this room was quite spectacular and the Williamsburg Bridge served as the perfect backdrop for this Contemporary-Art-Pop-Music-Performance experiment.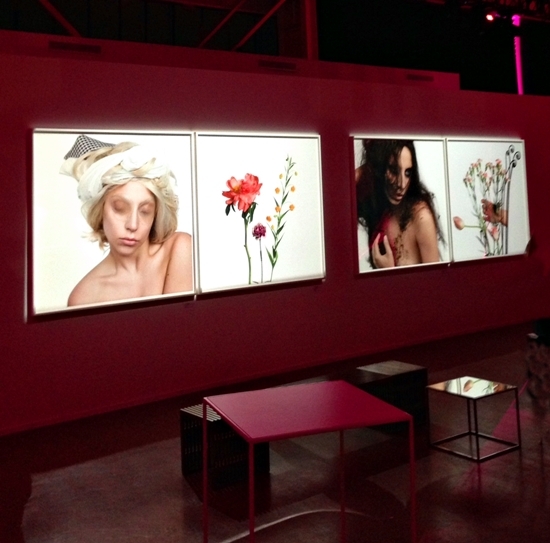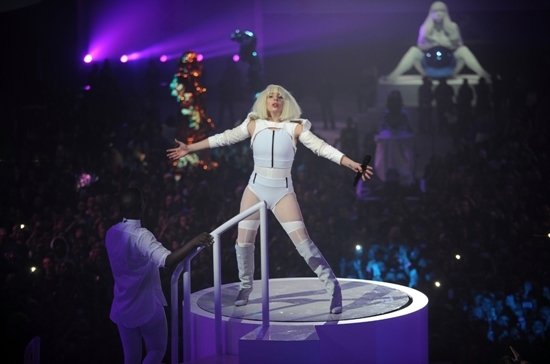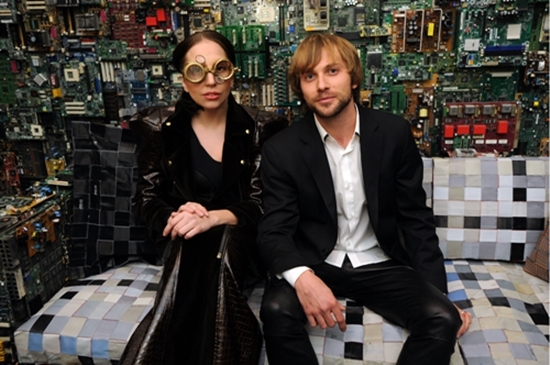 That visual artists and musicians come together to collaborate, from Keith Haring and Madonna to George Condo and Kanye West, these creative ventures are nothing new. I am not, however sure, that any celebrity has gotten as far as Gaga has done this time. What I have seen so far, either stops with an album cover or a few clothing pieces. Perhaps even a mention in one song.
Gaga performed her entire ArtPop for a few hundred lucky fans who were dancing and singing surrounded by Jeff Koons' sculptures and engaged with art from a very different perspective than what they could probably ever have. Definitely significant is that someone like Jeff Koons, arguably one the most important living contemporary artists, a consummate perfectionist and a man who does not really need the publicity nor the money, participated so intimately in this project. And to be able to celebrate and show the work of a young artist like Rollins Caldwell, when most celebrities are usually willing to partner only with big names, is a novel move.
I applaud Gaga for taking a step ahead and for her boundless originality and creativity. I also give an enormous credit to the artists who want to play along and bridge the gap that exists between younger generations and the old guard that wants to keep the contemporary art world impenetrable. If an "ArtRave" is what it takes, I'm all for it.