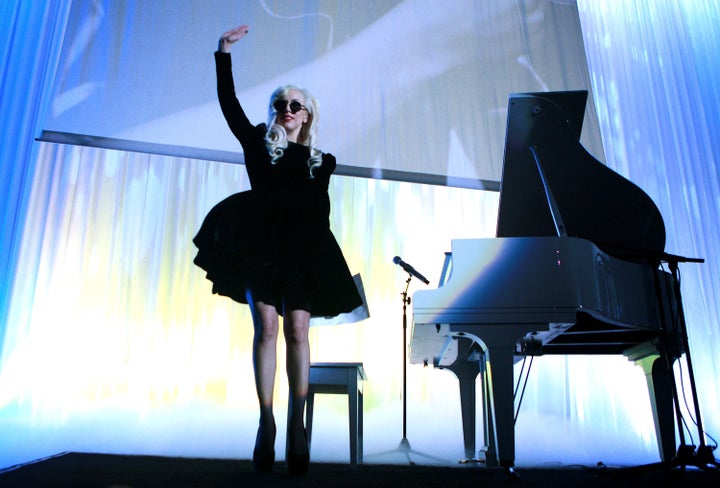 A few weeks ago a friend asked me who I would rather meet in person, Lady Gaga or Barack Obama. My head tipped backwards with an unexpected laugh, surprised as I was by the nature of the question.
What surprised me even more, though, was how long it took for me to respond.
Lady Gaga, the ruling princess of pop, and Barack Obama, the Nobel Peace Prize laureate, are two figures whose stardom has spread worldwide in a relatively short period of time. With three Video Music Awards, including best new artist, a recent Saturday Night Live cat fight with Madonna, and hit songs that have Ellen DeGeneres "just dancing" like mad, Lady Gaga has risen to the pinnacle of pop culture without ever looking down. And with his Peace Prize, America's first black president has proven that he is still capable of both shock and captivation.
For America's LGBT community last weekend, another welcoming shock was seeing both Lady Gaga and Obama teaming up to address the community's struggle for civil rights and equality.
The gay community, a sector of American society that suffered a huge blow on Obama's election day when a vote in California repealed gay couples' right to marry, has been disappointed with the Obama administration's overall passivity regarding LGBT issues. LGBT Americans were disappointed that Obama, whose electoral campaign was based on change, remained quiet on issues like Proposition 8 and same-sex marriage. Currently, same-sex marriage is allowed in Massachusetts, Connecticut, Iowa, and Vermont, and it is pending in New Hampshire and Maine.
While the gay community grew jaded with Obama, it wasted no time in adopting another star, Lady Gaga, as one of its unofficial icons. Lady Gaga embraced the gesture with more gusto than any other woman in recent memory to hold the rainbow-colored spotlight. On numerous occasions, she has expressed thanks to her gay fans for their loyalty and their love for "sexual, strong women who speak their mind."
Last weekend, Lady Gaga spoke at the National Equality March in Washington DC. She referred to the speech as "the single most important moment of my career."
In her speech Lady Gaga addressed the president directly. "Obama, we know you're listening." She took a breath before continuing in a scratchy yet powerful scream. "ARE YOU LISTENING?"
Lady Gaga told Obama that "[w]e will continue to push you and your administration to bring your words of promise to a reality. We need change now. We demand actions now." She also declared her commitment to combat misogyny and homophobia in the music industry.
And it seemed as though Obama truly was listening. During his speech before the Human Rights Campaign, Obama began with a direct appeal to a speculative yet hopeful audience of LGBT individuals.
"It is a privilege to be here tonight to open for Lady Gaga," Obama stated, a comment that was followed by resounding laughter.
Obama proceeded to share his renewed commitment to fight for the LGBT community. He highlighted what his administration is currently doing to protect the rights of LGBT individuals, including passing the long awaited and inclusive hate crimes bill named after Matthew Shepard, a victim of hate crime who was killed in 1998 at the age of 21.
Obama also stated that he has called upon Congress to repeal the Defense of Marriage Act, a policy that defines marriage as a legal union specifically between one man and one woman, and mentioned that his administration is crafting a national strategy for the elimination of HIV-related travel restrictions. Moreover, he promised to eliminate the nation's controversial "Don't Ask, Don't Tell" policy, which prohibits openly gay and lesbian people from serving in the US military.
Lady Gaga followed Obama's speech with her own comments on equality, as well as a modified performance of John Lennon's "Imagine", during which she sang: "People of the nation, are you listening? It isn't equal if it's sometimes. I want a real democracy. Imagine all the people could love equally."
The performances and speeches were stunning reminders of how far the United States has come since the Stonewall Riots of 1969, not to mention how far the nation has yet to go in terms of treating its entire population with dignity and respect.
Fortunately for the LGBT community, Lady Gaga is using her star power as a means to bring national attention to unresolved human rights issues. She has committed herself to being a staunch advocate, and she plans to become a representative for gay youth.
As for Obama, who was recently awarded the Peace Prize for his contributions to "climatic change," teaming up with Lady Gaga is a sure way to take America's social climate by storm. Working together, the superstars are bringing the nation one step closer to a new reality that embraces the fundamental ideals of equal opportunity and protections for all people, regardless of sexual orientation.
So in the end who was it that I chose to meet, you may find yourself asking. Gaga or Obama?
For now that will remain my little secret - at least until the "Don't Ask, Don't Tell" policy gets repealed.

Popular in the Community