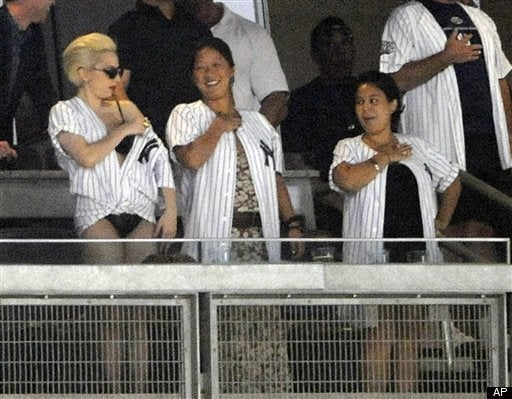 Lady Gaga has been banned from the New York Yankees clubhouse after she was drunkenly slurring her words and groping her breasts while trying to meet players, reports the NY Post.
But after the game (the Yankees lost) Gaga retreated to the team clubhouse drinking Jameson Irish Whiskey, meeting players including Alex Rodriguez, and repeatedly "groping her chest over her jersey."
Worse, she didn't have permission to be there, talked her way past security, and GM Brian Cashman was furious when he found out.
When a Post reporter told Cashman about Gaga's presence, Cashman said, "What? I didn't know that," and stormed off.

Sources said Gaga, who left through a private exit, smooth- talked her way past stadium security.
She is already less than welcome at Mets games, having flipped off photographers at a Shea home game.
Popular in the Community