In just under two weeks, the Atlanta Falcons and New England Patriots will face off at Super Bowl LI in Houston, and roughly 1 million people (including 140,000 out-of-towners) are expected to attend at least one component of the 10-day Super Bowl experience.
While the big game is certainly the biggest draw for locals and tourists alike, the theme, as always, is larger-than-life entertainment. Historically speaking, the Super Bowl does not disappoint. Lady Gaga is slated to perform the glorified halftime show in Houston, but several artists, including Bruno Mars, Taylor Swift, and Sam Hunt, will perform at various parties and pre-Super Bowl events throughout the city. From the NFL Experience at the George R. Brown Convention Center to the Rolling Stone Magazine Super Bowl party at the Museum of Fine Arts, Houston will cater to a large variety of live entertainment fans.
For musical performers, there is no bigger stage than Super Bowl Weekend, and few artists have turned down the chance to capitalize on the exposure. It should come as no surprise that in the last five years, nearly every halftime performer has announced a major tour within 24 hours of their Super Bowl slot. Lady Gaga has already booked her upcoming tour, and reports indicate that she's likely to announce the official dates following the halftime show. Although overall viewership was slightly down last year, Gaga's show is expected to garner the attention of well over 100 million viewers -- a captivated viewership that few artists will ever see in their lifetime. For comparison, the 2016 Grammy Awards racked up just 24.95 million viewers overall from 8-11:30 p.m, and the 2016 MTV Video Music Awards drew a comparatively meager 6.5 million viewers.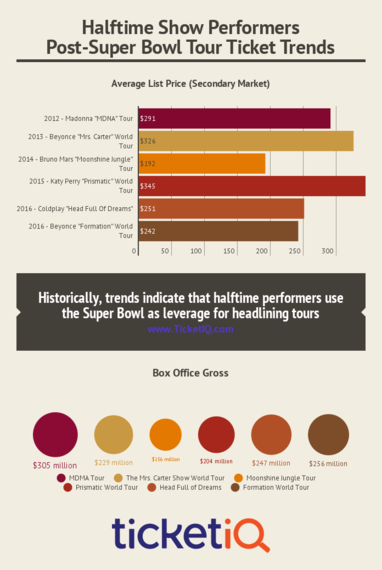 Last year's Super Bowl at Levi's Stadium in Santa Clara featured Coldplay, Beyonce, and Bruno Mars in the halftime slot. The show drew the third largest audience in TV history, captivating 111.9 million viewers. Following the halftime, Beyonce announced the dates for her Formation World Tour, and Coldplay further promoted their A Head Full of Dreams world jaunt. With just 49 total shows, Beyonce's 2016 trek grossed $256 million in ticket sales, pushed countless sold out stops, and saw heavy demand on the resale market, where tickets averaged $242 across the board. Beyonce saw similar success after performing the halftime show for Super Bowl XLVII in 2013, which at the time gained the accolade of being the most-watched halftime show of all time. That summer she launched The Mrs. Carter Show World Tour, which went on to gross $229.7 million across 132 dates, with resale tickets averaging $326 across the tour.
Bruno Mars has seen similar Super Bowl success over the years, performing in both 2014 and 2016. The singer's Moonshine Jungle Tour in 2014 grossed $156.4 million to 132 performances, and although Mars won't see the halftime stage this year (or will he?) he's already set to perform at the brand-new Club Nomadic in downtown Houston. The 31-year-old already has plans to tour this summer in support of '24K Magic,' and you can bet his continued Super Bowl press will help move tickets across the U.S. Tickets to see Bruno Mars at Club Nomadic on Feb. are averaging a lofty $443 on the secondary market. The cheapest ticket to the show is priced at $262, according to data provided by TicketIQ.
Even Taylor Swift, who has been relatively quiet since her 1989 World Tour in 2015, will capitalize on the weekend. The 27-year-old singer also has a show lined up at Club Nomadic, in addition to Sam Hunt and the The Chainsmokers, who will perform at the venue's opening night. Other Super Bowl festivities include performances by Leon Bridges, ZZ Top, Gary Clark Jr., Shakey Graves (The Super Bowl LIVE event), as well as Lady Antebellum and Tyler Farr, who will perform at the official pregame party at the NRG Center.
There are rumors swirling over whether or not Lady Gaga will take her performance to the stadium's roof, and in typical Gaga fashion, heads are likely to turn for whatever she has planned in Houston. If history complies, her upcoming tour may see some of her heaviest ticket demand yet.
Calling all HuffPost superfans!
Sign up for membership to become a founding member and help shape HuffPost's next chapter