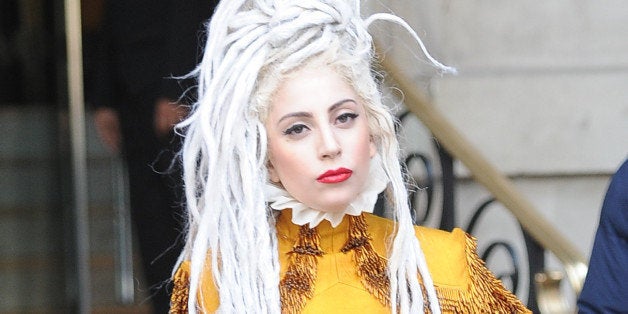 Lady Gaga took to her Little Monsters fan site this past weekend to give an update on her latest projects and to interact with fans.
The music video to her single "Do What U Want" with R. Kelly is seeing major delays, an issue Lady Gaga addressed in a post to fans. "It is late because, just like with the 'Applause' video unfortunately, I was given a week to plan and execute it," the 27-year-old singer explained. "It is very devastating for someone like me, I devote every moment of my life to creating fantasies for you. All my most successful videos were planned over a period of time when I was rested and my creativity was honored."
Lady Gaga wrote on, placing the blame for the situation on the team around her. "Those who have betrayed me gravely mismanaged my time and health and left me on my own to damage control any problems that ensued as a result. Millions of dollars are not enough for some people. They want billions. Then they need trillions. I was not enough for some people. They wanted more."
The "millions of dollars" that "ARTPOP" brought in counts as Lady Gaga's lowest sales figures to date. The singer's third studio album sold 258,000 copies in its first week, a massive drop from the 1.1 million copy debut her sophomore album, "Born This Way," posted. "ARTPOP" has largely been seen as a flop, with rumors circulating that the project lost her label Interscope millions of dollars.
Though her album hit stores in November, Gaga claims in the post that "the next few months of 'ARTPOP' will truly be its beginning." She attributes the rebirth to the fact that "those who did not care about 'ARTPOP's success are now gone, and the dreams I have been planning can now come to fruition." Only one music video from the album, the single "Applause," has seen the light of day.
Gaga also responded to a member of the community who voiced concern about the singer, and emphasized that the fans "don't care about charts and awards."
"There are always ups and downs," Lady Gaga wrote in response. "My heart breaks from the people I have trusted and loved who I've worked so closely with, who have used me, lied to me, worked me into the ground for the personal gain."
She continued, addressing rumors that her relationship with her label, Interscope, has turned sour: "When I woke up in the hospital after my surgery there were many people that were not there. My health did not matter. I did not matter unless I could perform. This is a very hard lesson. I have lost love ones to the greed of money. It is not Interscope. They in fact love me very much and will see 'ARTPOP' to the end."
Calling all HuffPost superfans!
Sign up for membership to become a founding member and help shape HuffPost's next chapter
BEFORE YOU GO