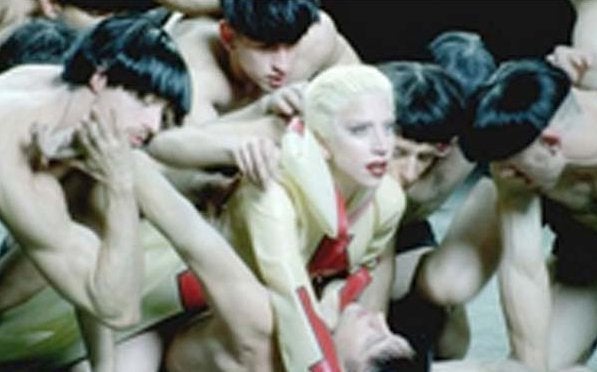 Gaga assured fans she is all female with her skimpy Grammys costume (NSFW), but that's not to say she's glad people are no longer wondering if she has a small penis. Gaga said in an interview with a French TV station:
"I love the rumor that I have a penis. I'm fascinated by it. In fact, it makes me love my fans even more that this rumor is in the world because 17,000 of them come to an arena every night and they don't care if i'm a man, a woman, a hermaphrodite, gay, straight, transgendered, or transsexual. They don't care! They are there for the music and the freedom. This has been the greatest accomplishment of my life- to get young people to throw away what society has taught them is wrong. Gay culture is at the very essence of who I am and I will fight for women and for the gay community until I die."
Gaga also talked about her upcoming video for 'Alejandro' (pictured), which will explore her love of her gay friends:
"I've been unable to find that with a straight man in my life. It's a celebration and an admiration of gay love - it confesses my envy of the courage and bravery they require to be together. In the video I'm pining for the love of my gay friends - but they just don't want me."
Her hit song 'Poker Face' is about being with a man while fantasizing about a woman.
Popular in the Community