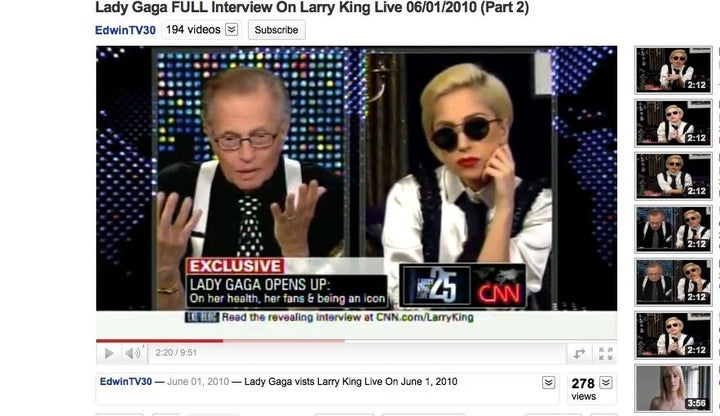 Lady Gaga was interviewed by Larry King on Tuesday, part of a busy anniversary week for "Larry King Live" that includes segments with Barack Obama, Bill Gates and LeBron James.
King dressed in black and white with his usual glasses, tie, suspenders and slicked back hair. So did Gaga. In fact, her entire outfit seemed to be a photographic negative of King's. When called "Lady Gaga," she offered to call the host "King Larry." They settled on Larry and Gaga, later joking about palling around as "The King And The Lady."
During a wide-ranging interview, the pair covered the singer's career and coronation as pop royalty. In the first segment, they discussed her name, how she started performing, her odd jobs before she hit it big, being "borderline positive" for lupus, and her icons -- as well as her thoughts on death and desire to be thought of as an icon when her time comes.
The second segment dove into a tour that never materialized with Michael Jackson, her unique costumes ("I'm a feminist"), quitting cocaine, picking up bar tabs, and rejection -- including what she meant when she said the single "Just Dance" saved her life. She also praised her fans ("my little monsters"), talked about the boundaries she won't cross (violence, negativity, prejudice, and hatred), and discussed the pressure of her next tour:
"It's a wonderful pressure. It's the most amazing pressure. It's not like any other kind of pressure. It's not under pressure. It's not water pressure. It's not pressure cooker. It's just wonderful."
The third act kicked off with a question from a listener. "We have a tweeter question twitted to us," as King put it. Things took a turn for the esoteric, talking about show business and the meaning of "freaks." Before the commercial break, they moved to fan parodies of Gaga's videos, including ones done by the military and her thoughts on "don't ask, don't tell."
Segment four dealt with comparisons between Gaga and Madonna, her feelings towards Catholicism and religion in general, more thoughts about her relationship with the gay community, and featured a sneak peak of her next single, "Alejandro." (Earlier in the program, Gaga told King that the new video is a "celebration of my love and appreciation for the gay community, my admiration of their bravery and their love for one another, their courage and their relationships -- it's something I have yet to nail on the head with a man, Larry.")
Towards the end of the show, Gaga spoke more about gay rights, her own sexuality, having children, her next album, and fame vs. fans. (Bonus: Footage of King interviewing Marlon Brando).
Popular in the Community