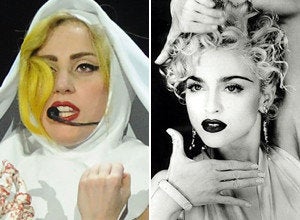 Lady Gaga has heard the accusations that her new singles sound like old Madonna songs, and she's not taking kindly to them.
In a new interview with NME, the popstar has hit out against those saying her smash hit "Born This Way" is a ripoff of Madonna's "Express Yourself."
"That's retarded," she said about the accusations (via Oh No They Didn't). "If you put the songs next to each other, side by side, the only similarities are the chord progression. It's the same one that's been in disco music for the last 50 years. Just because I'm the first f**king artist in 25 years to think of putting it on Top 40 radio, it doesn't mean I'm a plagiarist, it means I'm f**king smart. Sorry."
She's also getting criticism, this time from religious groups, over her new song, "Judas," told from the point of view from Mary Magdelene.
"I feel like honestly that God sent me those lyrics and that melody," Gaga shot back, getting emotional. "When you feel a message to give to the world and people are shooting arrows through it ... there's no way for something that pure to be wrong."
The conservative Catholic League disagreed, though they've also lashed out at her music video, which hasn't even come out yet.
"This is a stunt... Lady Gaga tries to continue to shock Catholics and Christians in general: she dresses as a nun... she swallows the rosary. She has now morphed into a caricature of herself," Catholic League President Bill Donohue said in a statement.
Gaga's creative director, a religious Christian named Laurianne Gibson, disagreed with Donahuge, telling The Hollywood Reporter that she doesn't believe the song is offensive.
"We don't touch on things that we have no right touching upon, but the inspiration and the soul and idea that out of your oppression, your darkness, your Judas, you can come into the marvelous light. So it's about the inspiration and to never give up... We've created a new Jerusalem," Gibson offered.
WATCH
:
Popular in the Community