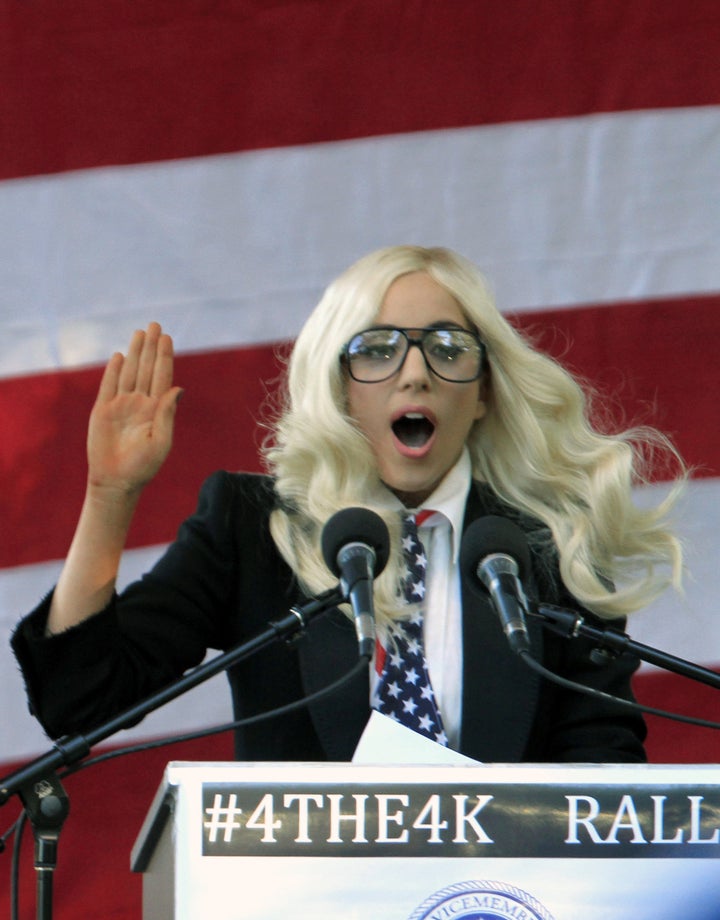 Multi-platinum artist Lady Gaga continued her onslaught against the military's "don't ask, don't tell" policy Monday, with a self-written political speech delivered in Maine on the eve of a Senate vote to overturn the anti-gay policy.
The bespectacled singer stood before the crowd wearing a star-spangled tie and suggested, among other things, that the military exchange "don't ask, don't tell" for an "if you don't like it, go home" policy that would allow for the discharge of homophobic troops unable to cooperate with their gay and lesbian comrades.
"Doesn't it seem to be that "don't ask, don't tell" is backwards?" said Lady Gaga. "Doesn't it seem to be based on the Constitution of the United States that we're penalizing the wrong soldier? Doesn't it seem to you that we should send home the straight soldier who hates the gay soldier? The straight soldier whose performance in the military is affected because he is homophobic. The straight soldier who has prejudice in his heart in the space where the military asks him to hold our core American values."
Lady Gaga also described equality as the "prime rib of America" that was being denied to gay soldiers around the nation.
"I don't get to enjoy the greatest cut of meat my country has to offer. Are you listening?" she screamed, directing her question at Republican Senators Olympia Snowe and Susan Collins of Maine, as well as Scott Brown of Massachusetts, who may well decide the fate of a potential "don't ask, don't tell" repeal as currently drawn up.
The present provision to repeal DADT has been attached to the annual defense authorization bill and will require the vote of at least one of the 41 Republican Senators in order to be passed.
Watch Lady Gaga speak out against "don't ask, don't tell" in Maine:
Calling all HuffPost superfans!
Sign up for membership to become a founding member and help shape HuffPost's next chapter