When preparing ourselves for Lady Gaga's perfume launch party on Thursday evening, we assumed we should expect the unexpected. But that still didn't ready us for the actual events of the evening, which included watching Lady Gaga sit and get a tattoo ten feet away from us.
Lady Gaga, along with the Haus Laboratories in Paris, Steven Klein and perfume giant Coty Inc., threw a black tie masquerade-themed party to celebrate her new fragrance, Fame (y'know, the one with the black liquid).
Held at the Guggenheim Museum in New York, the fete was packed with an odd mix of fashion heavyweights (Alexander Wang, Jason Wu, Marc Jacobs), a smattering of random celebs (Lindsay Lohan, Paris Hilton, Yoko Ono) and a lot of people who looked like they didn't belong at all, save for their curiosity to see Gaga in the flesh. (We obviously fell into the latter group.)
Steven Klein kicked the party off with a short film he and Gaga made in honor of the fragrance, which was essentially an extended version of the Fame video that debuted on Youtube last month. When the video ended we all craned our necks, awaiting a dramatic Gaga entrance -- would she drop from the ceiling? Shoot out of a cannon?
Then we realized she was already in the room: nestled inside a giant replica of her Fame perfume bottle, Gaga lay napping as a videocamera livestreamed her slumber on a massive screen. Then, one by one, party guests were given a turn to ascend to the bottle, stick their hands through a small peep hole and caress Lady Gaga's hand while she "slept." The title of this performance art piece? "Sleeping With Gaga."
After having her hand poked and prodded by eager partygoers, Gaga exited the bottle for a 15 minute break then went back in. Off came her Prabal Gurung dress, Kwiat jewels and long wig as tattoo artist Mark Mahoney touched up her newly shaved neck with a razor then proceeded to give her a detailed neck tattoo.
We all watched for nearly an hour, befuddled... until we got bored and went home. Apparently we missed Lindsay Lohan's arrival.
Check out pics of the event, including the pop star's "Sleeping With Gaga" performance.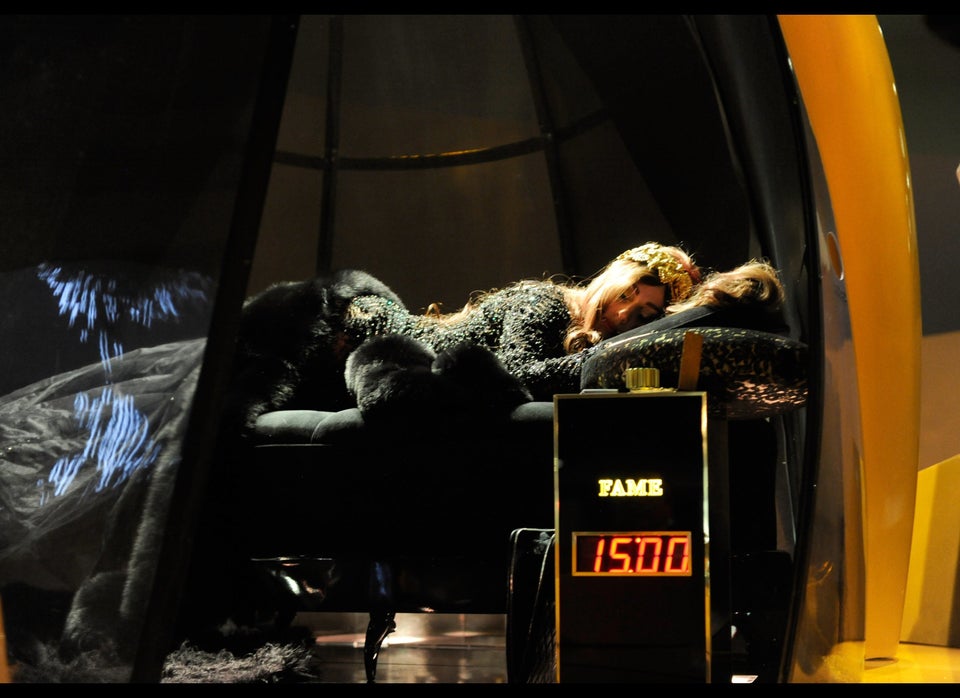 Lady Gaga's Fragrance Launch Party
Support HuffPost
A No-B.S. Guide To Life
Related
Popular in the Community