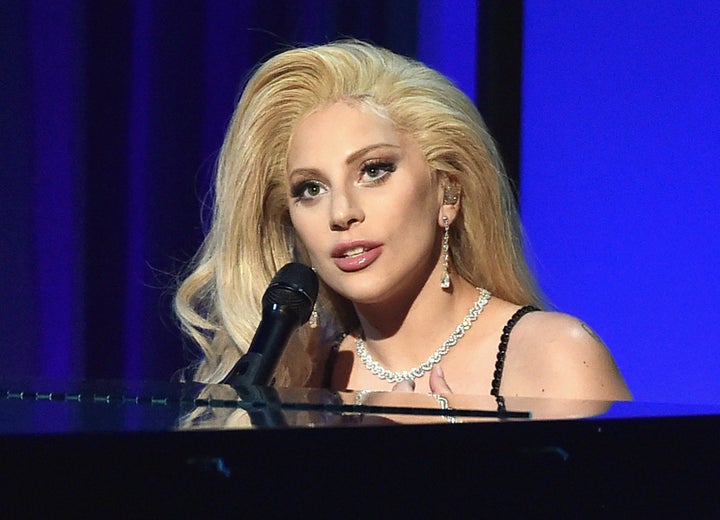 Lady Gaga delivered a tour de force performance of her Oscar-nominated song "Til It Happens to You" at the Producers Guild of America Awards on Saturday night. (Before we get into this, what in the sweet name of Cher is going on with your lace-front wig, Gaga?! Something must be done.)
The powerful ballad, co-written by Diane Warren, is featured in "The Hunting Ground," a documentary exposé on campus rape. 
Before performing, she spoke to the importance of advocating for sexual assault victims in her own family. 
"A big thank you to everyone who has supported this song. It's not only an important issue to me, but it's an important issue to my family," she bravely told the star-studded audience. "Because when my father's sister was in college, she was sexually assaulted and then it tormented her so emotionally that it caused the lupus that she had to get so bad that she died."
"My father was 16, and it affected my family really tremendously my whole life," she continued. "That's one of the centerpieces of our family. So this song means so much to me and so much to my parents."
Watch her beautiful performance below. 
Gaga recently drew fire from critics, namely rocker Linda Perry, over her involvement in the songwriting process for "Til It Happens To You." Although she later retracted her statements, Perry originally claimed that Gaga could have only rewritten one line in the song and is therefore undeserving of the recognition. 
Whoever did or did not write the song, we're glad everyone is back to focusing on the important issue at hand: sexual violence and assault on college campuses across the country. 
REAL LIFE. REAL NEWS. REAL VOICES.
Help us tell more of the stories that matter from voices that too often remain unheard.