Lady Gaga wore a pantsuit for an important reason during Monday night's Elle Annual Women in Hollywood Celebration.
"I tried on dress after dress today getting ready for this event, one tight corset after another, one heel after another, a diamond, a feather, thousands of beaded fabrics and the most beautiful silks in the world," Gaga said while accepting a Women in Hollywood award from the magazine. "To be honest, I felt sick to my stomach."
Gaga, a musical superstar whose movie debut in "A Star Is Born" has been widely hailed, told the crowd that she began to reflect about why she cared so deeply about what she wore to an event created to honor women for their talent and power. She discussed how women in Hollywood are often valued for their bodies, and how the pressure can exacerbate her struggles with PTSD, eating disorders and mental health.
"I asked myself: What does it really mean to be a woman in Hollywood?" she said.
"We are not just objects to entertain the world," she continued. "We are not members of a giant beauty pageant meant to be pit against one another for the pleasure of the public. We women in Hollywood, we are voices. We have deep thoughts and ideas and beliefs and values about the world and we have the power to speak and be heard and fight back when we are silenced."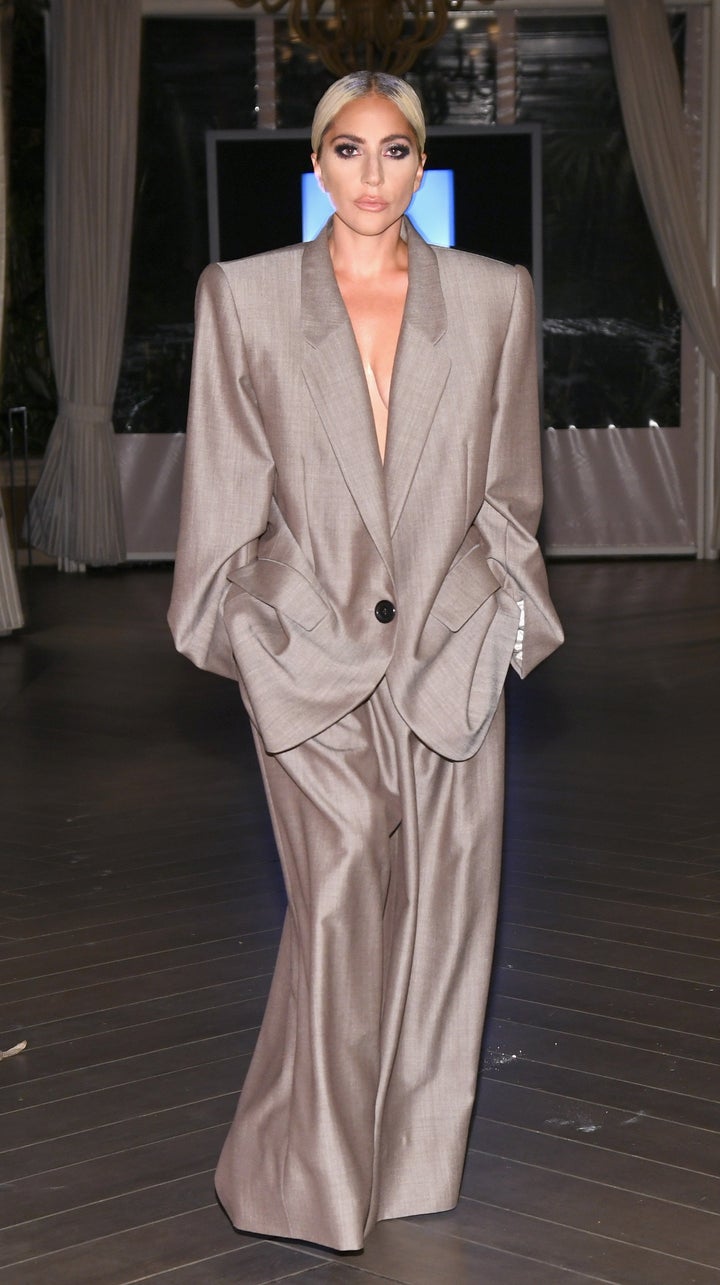 After trying on several dresses, Gaga said she finally found the oversized Marc Jacobs pantsuit she decided to wear to Monday night's event. Despite her staff's confusion and disapproval, Gaga said the outfit allowed her to feel like herself.
"This was an oversized men's suit made for a woman. Not a gown. And then I began to cry," she said. "In this suit, I felt like me today. In this suit, I felt the truth of who I am well up in my gut. And then wondering what I wanted to say tonight become very clear to me."
Gaga added that for all of the injustice in the world, wearing the pantsuit was a small act of self-empowerment.
"As a sexual assault survivor by someone in the entertainment industry, as a woman who is still not brave enough to say his name, as a woman who lives with chronic pain, as a woman who was conditioned at a very young age to listen to what men told me to do, I decided today I wanted to take the power back. Today I wear the pants."
She concluded with a powerful call to action, asking audience members to resist damaging beauty standards and to use their voice for good.
"I had a revelation that I had to be empowered to be myself today more than ever," she said. "To resist the standards of Hollywood, whatever that means. To resist the standards of dressing to impress. To use what really matters: my voice."
Head over to Elle to read Gaga's full speech.
Popular in the Community