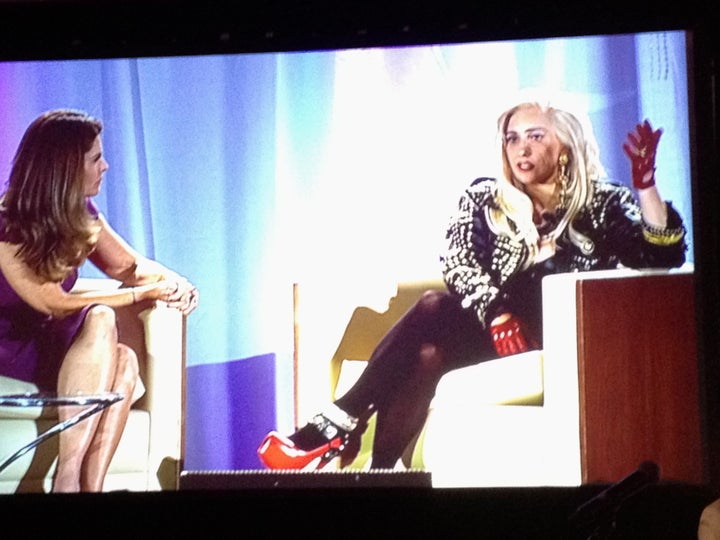 Los Angeles' Brentwood School hosted on Saturday what it considered to be one of the first young women's conferences, called "It's Our Turn." The rumors about its surprise guest started circulating days before. A few details provided some clues: the tight security, an even tighter schedule, and absolutely no announcement about the guest before the moment she walked on the stage.
Tension in the Brentwood School gymnasium built to a climax around 3:30 p.m. as student Jade Iovine, who co-organized the conference, dropped a few hints. Then out walked the biggest pop star on the planet: Lady Gaga.
Camera phones were flipped on, girls screamed and an entire gymnasium crowd rose to its feet to cheer. Journalist Maria Shriver and Lady Gaga took seats on the stage and began a candid 30-minute conversation about growing up, knowing yourself and using your voice to be kind. The action-packed day also featured conversations with performer Mary J. Blige, U.S. women's soccer star Alex Morgan, William Morris Endeavor's talent agency partner Nancy Josephson, 20th Century Fox Television's Dana Walden and CBS' entertainment president, Nina Tassler.
Maria Shriver began the dialogue by noting that Lady Gaga is an incredible example of being brave and having an authentic voice but that she wasn't always that way. "I started having trouble with girls in middle school," Lady Gaga said. "I always knew that I wanted to do something very career oriented, and I always wanted to be a musician."
"That alone set me apart," Lady Gaga added. "I had such strong convictions and I was pretty delusional, in the same way that I am now ... in wanting to change the world and end bullying in America and do whatever I can to promote peace around the world.
"It might sound kind of silly coming from someone in red lipstick with a bunch of jewels on my jacket," Lady Gaga said. "But that's just the way I have always been."
Some of the biggest themes in Lady Gaga's cause-related work are equality, bullying and individuality. She spoke to the young women in the room about being left out, teased and treated as someone invisible. "Being excluded is painful," she said.
When Shriver asked her if she spoke to her parents about her exclusion, Lady Gaga replied with a laugh that her Italian father would say things like, "Well good. You don't want to be going out anyway."
"He wanted to lock me up," said Lady Gaga. "Sometimes your parents don't always help because they just want you to be safe and be home."
The conversation was full of personal stories of how Gaga struggled when she was the age of many of the young women in the audience. "It wasn't until my senior year in high school when I finally confronted my main bully," Lady Gaga said. "She was always kind of mean to me, but I was always trying to be nice to her."
One day the bully was discussing her after-school internship and the young Stefani Joanne Angelina Germanotta asked, "Oh, hey, how's that going?" only for the bully to reply, "Why are you talking to me?"
Lady Gaga recalled finally asking her, "What the f*ck is your problem?"
To this, the Brentwood audience laughed, cheered and clapped. "She couldn't believe that I stood up for myself," Lady Gaga said. "And I said, 'I am always nice to you. What is your problem with me? Maybe if you just tell me, we can figure this out.' And she said something like 'Well, I just don't know why you're so serious about music.'"
Lady Gaga laughed in recalling this. And in that moment, the audience had a chance to see her as both the teen in that senior lounge and as the mega sensation that she is today, famous for being serious about her music.
"You don't always know why people exclude you or aren't nice to you," Lady Gaga said. "But I will tell you to this day it helped me so much to stand up to that person."
Before anyone else had the chance to even suggest it, Lady Gaga asked if any students wanted to speak. Lines formed instantly around microphones and dozens and dozens of girls waited patiently to ask questions. A student from another school who introduced herself with a small quiver in her voice said, "I struggle with body issues, and I know you're so confident in the way you dress. And I am wondering how you deal with such issues?"
The room was silent for a moment, and with utter poise, Lady Gaga spoke to her directly: "I used to throw up all the time in high school. So I'm not that confident. And maybe it's easier for me to talk about it now because I don't do it anymore."
"I wanted to be a skinny little ballerina but I was a voluptuous little Italian girl whose dad had meatballs on the table every night," Lady Gaga revealed. "I used to come home and say, 'Dad, why do you always give us this food? I need to be thin.' And he'd say, 'Eat your spaghetti.'"
"It's really hard," she continued. "But ... you've got to talk to somebody about it. And the fact that you stood up in front of this whole room and said that is so incredible."
"Every video I'm in, every magazine cover, they stretch you; they make you perfect," Lady Gaga said. "It's not real life. I'm gonna say this about girls: The dieting wars have got to stop. Everyone just knock it off. Because at the end of the day, it's affecting kids your age. And it's making girls sick."
Shriver asked Lady Gaga how she got through that struggle in her life. It was a specific set of circumstances, the pop star said. "It made my voice bad."
"So I had to stop," she said. "The acid on your vocal chords -- it's very bad. But for those of you who don't sing, you maybe don't have that excuse until it's too late. It's very dangerous."
Lady Gaga's words echoed throughout the hushed gymnasium: "I'm encouraging you to know what you're worth. And know that no matter who has more money in class, who has more stuff, who has a country house - nobody is worth more than anybody else."
Lady Gaga is one of the most recognizable faces on the planet and epitomizes 'cool' for so many teens - but on Saturday it was her deep focus on kindness and acceptance that stood out much brighter than the shade of her blood red pumps or the glean of her gold-studded leather jacket. She took her sunglasses off and addressed the students in the room as if they were her family.
Click here to continue reading about who else spoke at Brentwood's young women's conference.
Browse photos of the "It's Our Turn" conference below: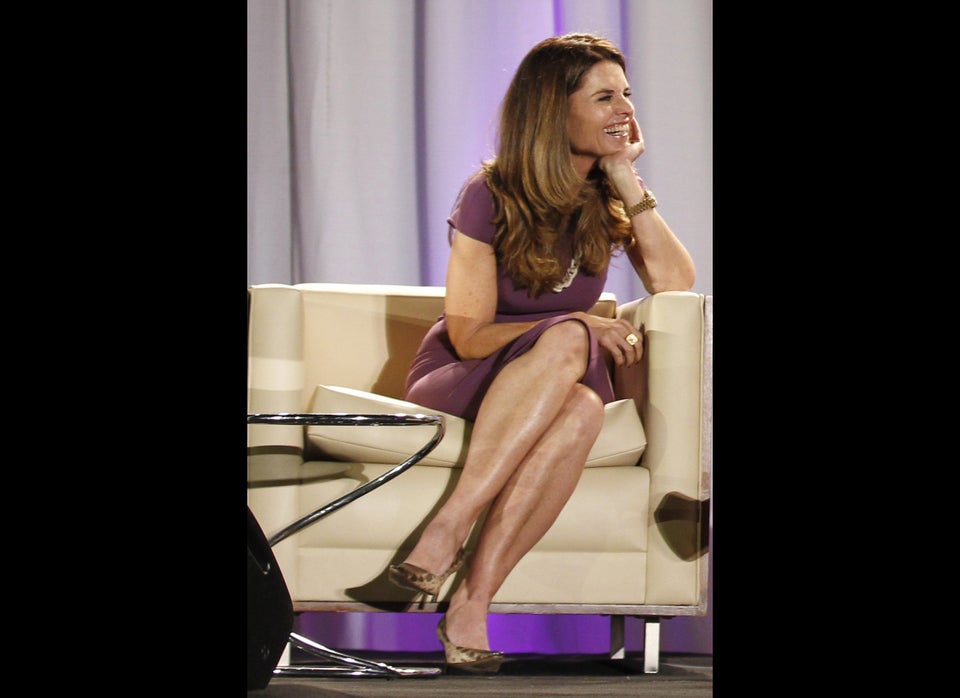 Popular in the Community