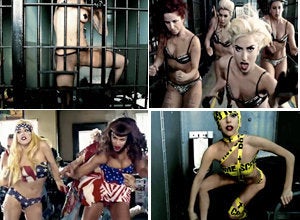 Lady Gaga's 'Telephone' with Beyonce is out and it is wilder than their last collaboration.
The nine-minute video starts with Gaga being escorted into a prison cell and stripped of her clothing by two female guards.
"I told you she didn't have a dick." says one of them.
"Too bad," the other replies, and Gaga leaps against the bars of her cell, exposing a blurred out view of her genitals. (She already proved she is not a hermaphrodite with her skimpy Grammys costume.)
Gaga goes on to don sunglasses made of smoldering cigarettes, nothing but yellow security tape and an array of bodysuits and lingerie. As usual there is murder, masturbation, product placement, Tarantino referencing and lots of impractical headwear.
WATCH:
Popular in the Community