 Chicago-based sex journalist and blogger Rachel Rabbit White was ready to have an open conversation about pornography and masturbation with other women in the blogosphere--so she decided to dedicate an entire day to doing just that.
White, author of the popular sex blog Rabbit Write, named February 22nd Lady Porn Day, and is asking women to talk about their favorite female-friendly pornography, their experience with masturbation and their history with pornography in general.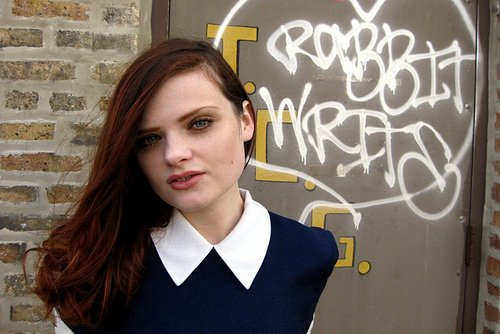 Rachel Rabbit White.

Aside from starting a big Twitter conversation, White recruited some well-known sex writers to share their own stories. Check her site for legendary sex educator Betty Dodson's porn picks, a defense of porn from porn star and performer Miss Maggie Mayhem and more. There is also a great interview with F-M trans pornstar Buck Angel here.
Ms. White herself spoke with HuffPost Chicago via email about what motivated her to start Lady Porn Day. Follow her on Twitter here to get in on the action.
HP: What is Lady Porn Day about and why did you think it should be done?

Lady Porn Day is essentially to celebrate porn and masturbation. I'm inviting everyone to talk about their porn experiences, share stories and to ultimately share their porn recommendations. This is about not only opening up a dialog about how porn is good, but also how porn is hard, how it can be an issue for women, in terms of dealing with guilt or body image or their sexuality.
RRW: This whole thing started because a few years ago, I realized I wanted to be more comfortable with porn that I was. I wanted to be the cool, sex positive girlfriend you could share porn with. Instead, I felt guilty after watching porn, or jealous when my partner watched. So, I explored these issues, explored just what made me feel icky and what I was told about porn growing up. In doing this, I also allowed myself to find porn I actually liked. Now I occasionally use porn as a sort of a sex toy, like a vibrator it's just another tool to help get you off. So, this is what I am inviting everyone to do with lady porn day, to explore their feelings around porn and to open up a dialog about what they like.
A lot of readers have been submitting lady-friendly porn suggestions.
Have you noticed any themes in these selections?
Everyone submits "I Feel Myself"! It has been by far the most popular selection, even amongst straight women! Which I find curious. This is a solo-girl masturbation video site that is really pretty intense (and honestly very hot) in that the girl is looking at you/the camera. It is quite, vulnerable. And in that vulnerability is something very feminine about the videos. For me, it brings up the question, what is the "female gaze" in porn? For some straight girls it might be ogling men, but maybe for a lot of girls it's imagining themselves in the woman's shoes...their desire is perhaps being desired, which is something we aren't really taught is a valid option. Also, I've found that girls like naked photo Tumblrs, and they totally count as porn.
Why do you think some women are turned off by porn?

Two things. First, the majority of porn out there is NOT made for or by women. But from this project I am learning there is porn out there most women would probably like! But it's kinda hard to just Google "porn I would like". Unless you are already "in the know" it's hard to know where to start. And our idea of what porn is---bad VHS tapes or pop-up sites are a kind of daunting place to start. (This is what I created the Lady Porn Day "Jilling off Hall of Fame" for.)
Second, It's socially not okay to explore porn as a woman. I think this is because for so long the feminist stance was, porn is wrong, porn harms women, and this echo remains culturally. This is the message I grew up with and it's hard to shake. Also, women are not socialized to own their sexual desires. It seems women are allowed to be the objects of desire, but not allowed to own having their own. And there is no denying porn gives our masturbation a desire.
What is missing in the porn world that you think women would appreciate?

"Feminist" porn has become a buzzword in the sex sphere. And for good reason, a lot of women have stepped up to the plate to make the porn that they want to see. It's not the faux lesbian scenes between blonde 17 year olds, but real, hot, queer porn. It does almost seem that feminist porn has become synonymous with queer porn, or porn that celebrates an array of body types and genders...except for men (cis-men.) The thing is, I've not seen a lot of porn that seems to be for straight women. What is a red blooded cock-loving girl to do? I think there is a want here, women would appreciate porn that ogles men from the woman's POV. Because gay male porn doesn't cut it, for me gay porn just says "Hi girl. Uhm. Sorry...this kinda isn't for you."
And what also is missing here is the idea that whatever you like is okay. I've felt something of a pressure to post feminist porn, and before this to like and watch feminist porn. I think women would appreciate the permission to just like whatever they like. I think women would appreciate more women making porn. And just the idea of women making porn is feminist in itself.
What have the reactions to Lady Porn Day been so far?

A lot of girls have come out of the closet about liking porn! And others seem to feel totally alienated by the fact that girls like porn. Or maybe pressured that they should like it. And I don't want to glamorize liking porn, I want to empower girls who do like it, without erasing the voice of those who don't. But I think for all of the girls it is key to explore the feelings behind your reaction to porn and your history with porn. Because porn can be a wonderful sex toy, and I just want everyone to have good sex, whether it's with themselves, with porn or not.

Popular in the Community